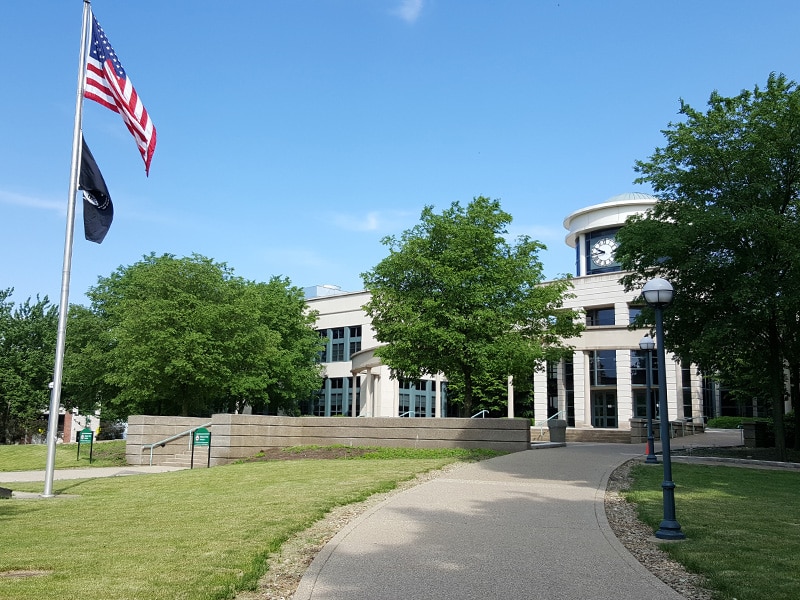 The Beaver County Board of Commissioners ended their much anticipated budget work session meeting yesterday without talking about the budget or property taxes. It was not until the Beaver Countian began asking questions about the budget during a public comment session that Commissioners acknowledged they had no answers and no plan on how they were going to finalize the county's budget for next year.
The proposed budget is due on Monday.
The seats were full in the Commissioners' conference room as members of the public and other county officials attended what was to be the final meeting before the Board formally introduced their proposed budget. Commissioners discussed several issues during the meeting, including repairs and maintenance work at the Human Services Building. What was not discussed by the Board was the budget itself, including how much each department would be allocated next year or what the final property tax rate would be set at to close a projected budget deficit — deliberations which under the Pennsylvania Sunshine Act must take place in public.
After the Commissioners concluded their agenda items and opened the meeting up to public comment, the Beaver Countian pressed the Board on how they were going to realize a budget that is due on Monday when it was not discussed at its final meeting.
"I guess at this point I am completely confused as to how the Board is coming up with a proposed budget that it is set to pass on Monday," started Beaver Countian's John Paul. "I have heard no talks publicly about what any of the numbers will be, about whether the Board is accepting numbers proposed by department heads or not, of what the tax rate is going to be […] Commissioner Camp said he had nothing today, Commissioner Amadio said he had nothing today, the Chairwoman brought up nothing […] When is the Board and how is the Board going decide what the tax rate is? When is the Board and how is the Board going to decide whether or not the Sheriff's Office is going to be granted a $700,000 increase in its budget next year? I've heard no discussion on any of that and it is going to be voted on Monday."
It was at that point the Commissioners admitted they had no answers and no plan on how they were going to formulate a budget for the county.
"I don't have an answer for you on that, I wish I did, I don't have another vote," said Commissioner Sandie Egley. "I don't have another Board member to agree."
"I think that's the problem, this Board doesn't communicate," added Commissioner Tony Amadio.
"No, it does not," Egley responded.
"The three of us, and I am not afraid to say it, we are failing the citizens of Beaver County," said Commissioner Dan Camp. "We are not coming together with a plan to move Beaver County forward."
The exchange during the public meeting revealed deep personal divides between Commissioners that have been a topic of conversation among politicos since the new Republican majority Board took control in January. The Beaver Countian proceeded to ask dozens of questions during the meeting, continuing to press the Board of Commissioner into providing information — both to the public and to each other — about where they individually stood on the budget.
Commissioner Tony Amadio committed to not raising taxes by more than 2.8 mills, a number which would still leave a budget deficit for next year of approximately $3 million that would have to be closed by additional cuts. Commissioner Sandie Egley said she would not vote for any budget that did not close the spending deficit and got the county on solid financial footing to avoid future financial crisis moving forward; she is seeking a tax increase of 6.85 mills.
Commissioner Dan Camp said he did not want to raise property taxes at all and that he believed additional budgetary cuts could be made to avoid it. The budget is currently facing a projected spending deficit of over $9 million, but Camp declined to talk about any specific budgetary numbers or proposal on how to close that gap.
Commissioner Camp avoided answering questions by the Beaver Countian about whether he would support the blocking of a $700,000 increase to the Sheriff's budget, prevent the Sheriff from hiring the 16 additional part-time deputies he is seeking for next year, or whether he would agree to trim the Treasurer's Office budget by nearly half — all specific budgetary proposals made during the meeting by Commissioner Egley.
Although the budget is due Monday, Camp dodged attempts by Commissioner Egley to commit to specific actions throughout the meeting, something which drew criticism by some members of the public in attendance.
"Mr. Camp what would you like to cut," asked Tim Sempf, a Republican who ran for Recorder of Deeds last year. "I agree with you 100%, but it seems vague to me."
"It is vague until you look at the several hundred pages of budget you'll realize it," responded Commissioner Camp. "I think that, you know I stated before, and I'm not sitting here, that's probably one of the hardest things to do is say you want to lay someone off, but when you walk up and down these halls, when you see, when you hear the citizens… I'm sure there's somebody in this room that can sit here and tell me they came to this courthouse and had to wait at a counter while employees sat there and did nothing and just looked at you. I see people shaking their heads. Well is that efficiency or is that laziness."
Commissioner Egley again pressed Camp, "So what would you like to do? Would you like to go page-by-page? We can do this right now."
Camp shot back, "I'm speaking."
Camp continued on to mention President-elect Trump and Obamacare before talking about the county's healthcare benefits — currently mandated by union contracts and can not be changed for next year's budget.
"I would like the decisions to be made, what are the cuts," said Egley again.
"Maybe you should discuss right now what you would like to cut," said Sempf. "I agree with you 100% Mr. Camp, I think your track is exactly the way to go. There may have to be a tax increase, nobody wants that, but I think cutting government is the solution. But once again, that's vague and if it needs to be discussed and it hasn't been discussed it seems like we're running out of time."
Commissioner Egley said her fellow Board members have refused to be committal on any budgetary decisions, leading to an impasse.
"These decisions need to be made but you need two votes," said Egley. "First you have to have the statement, I want to cut — fill in the blank. Then you need another person to vote. That is what we're not doing because we can't get two people to vote."
Tim Sempf again pressed from his seat in the audience, "If everybody sits around and lets everything remain vague then it's going to stay there. Then we're all going to get up and leave and nothing is going to get accomplished."
That is exactly what happened.
Although several other members of the audience also pushed the Commissioners to begin getting specific and work through the budget, the Board remained ambiguous and made no progress. At the urging of Commissioner Dan Camp the meeting ended without any decisions being made or even specific deliberations about the budget taking place.
The Board of Commissioners set a new meeting date, 1:00 p.m. on Friday afternoon in the Commissioners' Conference Room, to discuss the budget… or not. The meeting will be open to the public.