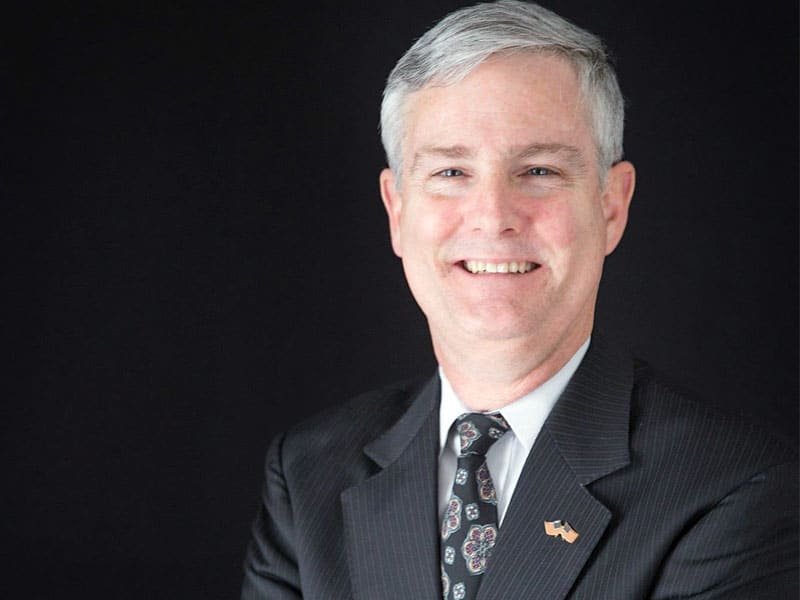 Beaver County District Attorney David Lozier discussed his budget with Commissioners during their work session last week, telling the Board his office is in desperate need of technology upgrades, safety gear, and staff.
"We have received [Financial Administrator Ricardo Luckow's] recommendations and I think we are largely in agreement with what he suggested, but there are a couple of line items that I would like to talk about," said Lozier in beginning his public discussion with Commissioners.
The public meeting occurred as a result of the Board rejecting a request by Lozier to meet privately to talk about his budget. The Beaver Countian had raised objections to a private meeting, believing it would have constituted a violation of the Pennsylvania Sunshine Act. Members of the general public were present for the meeting and the Beaver Countian obtained an official audio recording of the discussion in response to a Right-To-Know request.
Lozier told the Board his office currently has 8 full-time and 5 part-time Assistant District Attorneys who help to prosecute cases; he is asking for that number to change to 9 full-time and 4 part-time employees next year. Lozier told the Board he currently has one vacancy for a part-time prosecutor.
"Instead of hiring a part-timer to fill a vacancy, I could hire a full-timer," said Lozier, who noted the change would add about $23,000 to his yearly payroll budget. Lozier said he needs the flexibility which comes with having prosecutors on staff full-time and has difficulty scheduling part-time prosecutors to meet the demands placed on his office by the judiciary. He said he would eliminate his office's vacant part-time position if Commissioners agreed to the change.
Lozier told the Board he would have been willing to reduce his part-time staff even further to help off-set the costs of hiring an additional full-time staffer.
"I wanted to go 9 and 3 but [the union] wasn't game for that," he said. Union contracts for Assistant District Attorneys and County Detectives mandate the number of staff maintained by the office.
District Attorney Lozier told Commissioners his office is also in desperate need of capital funds to upgrade technology and replace necessary safety equipment for the County Detectives and Emergency Services Unit (Beaver County's equivalent of a SWAT team) — a total of about $45,000.
"What happened in the past is the federal government through grants would replace all of the [bullet proof] vests for our team," explained Lozier. "That money is gone. So we're looking at having 29 vests expire in 2019 […] This allows me to put money in the bank to buy at least a third of these vests each year for the next couple of years — it's to avoid having to come back and ask to replace all 29 vests at $2,500 each in one year and 29 [Kevlar] helmets at $600 each."
Commissioner Sandie Egley — who has been seeking to downsize the total number of employees on county payroll — told the District Attorney she is against the hiring of another full-time person for his office. She also suggested the District Attorney might not need to continue the expense of maintaining an Emergency Services Unit if the county reconsidered who makes entry into high-risk situations.
"My thought is I want that person to be the State Police," said Egley. "Why isn't that the State Police? Why is that the county?"
Lozier said the State Police is unable to deal in a timely manner with emergency situations requiring a swat team.
"Because this county made a choice about 15 to 20 years ago that they couldn't afford to wait 4 hours for the swat team to show up from the State Police," said Lozier. "The one time in my 18-months we called in the State Police it took around 4 hours to get here. If you have a school shooting in Industry or Ohioville or Hopewell I can have people on scene within 3 minutes and a full team within 20. If this is Las Vegas — they were on scene, they were at the door within 12 minutes because they had highly trained local officers throughout the municipality. I can do that in Beaver County with our swat team."
Commissioner Egley told the Beaver Countian she wanted to conduct her own research into what resources the Pennsylvania State Police may be able to offer the county for major criminal investigations and high-risk situations.
District Attorney Lozier also told the Board that the county has not provided funding through the years to routinely upgrade technology — resulting in aging equipment which is starting to have a negative effect on his office. Lozier spoke of an 8-year-old laptop his detectives use for trials as an example.
"It failed in two homicide trials this year, where the laptop computer could not play the videos," said Lozier. "So we're sitting there with Judge Tesla yelling at us because we have a piece of equipment that couldn't play — we're sitting in front of a jury with a 30 or 45 minute interrogation video and it just stops and spins because it just doesn't have the capacity to play the higher and higher quality video that we're getting for use in trials."
Also included in his budget proposal are items like alternative light source equipment for use in forensic examinations and crime scene mapping software.
"It may seem bizarre, but when you actually lose cases because you're not meeting [a jury's] forensic expectations," said Lozier, "they are expecting certain things that they see on TV."
District Attorney Lozier told Commissioners he is going to be cashing in a bond to help fund efforts of his Anti-Drug Task Force next year.
"We're changing the way we're funding the Anti-Drug Task Force and about two-thirds of the [Emergency Services Unit] expenses," he said. "So what I am doing is I have a $148,000 CD of money that I've saved up over time, Anti-Drug Task Force money. I'm cashing in the CD and we're putting part of it into the General Fund to help pay some of the Anti-Drug Task Force expenses."
The District Attorney's proposed budget for next year is $3.1 million compared to $2.7 million last year — included in the total are pay increases mandated by union contracts negotiated by County Commissioners.
Commissioners Dan Camp and Tony Amadio did not express opinions about Lozier's budgetary requests during the meeting.