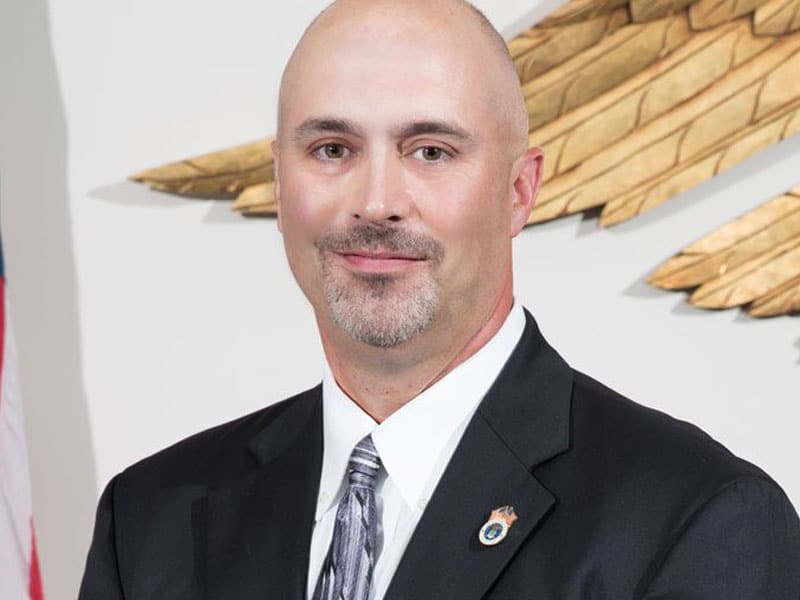 The Beaver County Board of Commissioners has unanimously appointed former Democratic Sheriff candidate Wayne Kress to a position on the county's Drug and Alcohol Advisory Council. The appointment of Kress comes despite weeks of Republican infighting that saw prominent officials in the party applying political pressure in a failed attempt to prevent it from happening.
Republican Commissioner Sandie Egley first recommended Wayne Kress (a retired Pennsylvania State Police Trooper) be considered for the Drug and Alcohol Advisory Council's vacant law enforcement seat in December of last year. The suggestion came as the Board of Commissioners rejected a recommendation by the Advisory Council to appoint controversial retired Sheriff's Deputy Randy Tallon to the seat.
Egley's bipartisan proposal to appoint Democrat Wayne Kress — Republican Sheriff Tony Guy's political rival — infuriated several prominent figures in the Republican Party, including State Representative Jim Christiana who shared a copy of the leaked recommendation note to his Facebook page.
Commissioner Egley responded to what she called Representative Christiana's "backdoor sneakiness" by calling for a meeting of the Executive Board of the Beaver County Republican Committee. Egley was lambasted during the closed-door meeting, with elected officials including Sheriff Tony Guy and Coroner David Gabauer attempting to pressure the Commissioner into ceasing communications with the Beaver Countian, which had exposed the political controversy to the public.
Several Republican officials including State Representative Jim Marshall and Sheriff Tony Guy then goaded Republican David Piuri, who serves as acting Police Chief of Monaca and President of the Beaver Valley Fraternal Order of Police, into applying for the open position on the Advisory Council. Randy Tallon formally withdrew his name from consideration.
The Drug and Alcohol Advisory Council reviewed the applications submitted by Wayne Kress and David Piuri, then sent a letter to the Board of Commissioners recommending both men for the one position without preference.
Newly elected Republican Party Chairman Chip Kohser again encouraged the Republican majority Board of Commissioners to avoid appointing Wayne Kress by instead installing David Piuri into the seat.
Despite all of the pressure from their fellow Republicans, Commissioners Sandie Egley and Dan Camp bucked their party and were joined with Democratic Commissioner Tony Amadio in unanimously appointing Wayne Kress to the county's Drug and Alcohol Advisory Council. Piuri formally withdrew his name from consideration after the Commissioners decided on Kress.
"It was just ridiculous that people like Tony Guy and Jim Christiana would go to such lengths to try to intervene in the way they did," Wayne Kress told the Beaver Countian. "What are they afraid of? I'll tell you what they're afraid of, they're afraid that I don't answer to anybody and that I speak my mind. If I see something that's not legit I call it out and they know it. That's why they don't like me and that's why they don't like [Commissioner] Sandie Egley, because she calls them out too […] Good luck to them trying to keep either one of us quiet because change is long overdue in that courthouse."
Kress said he hopes to bring a fresh perspective and his signature plain spokenness to the county's Drug and Alcohol Advisory Council.
"On the law enforcement side we know that we need to deal with the dealers because targeting the end-user accomplishes nothing except to clog courts and fill jails," said Kress. "On the other side, I think we need to take a fresh look into finding ways to make treatment centers more accessible and relevant in this area than they are now. We're not doing a good enough job making treatment available for people who need it."
Commissioners Sandie Egley and Dan Camp each declined comment, with both saying their signatures on Wayne Kress' appointment letter spoke loudly enough.