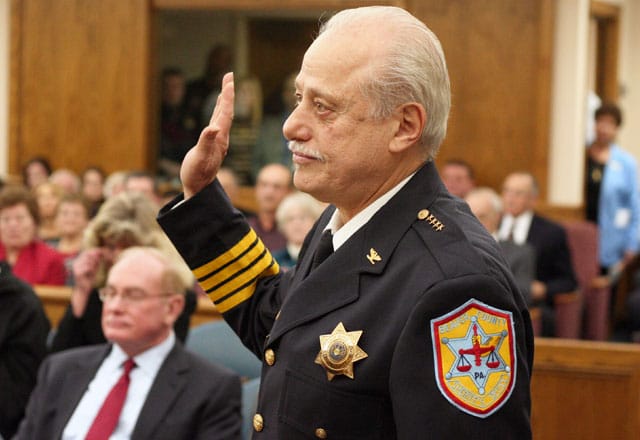 The Beaver County Deputy Sheriff's Association has filed a response to a petition for contempt by County Commissioners, telling a judge they have not been patrolling Aliquippa or corporate properties owned by local real estate tycoon CJ Betters, and have not violated an injunction filed against them by the court. But several Deputies within the Sheriff's Office tell the Beaver Countian their own Association's response is materially false, and County officials are agreeing with them.
Judge Bozza issued a preliminary injunction against Sheriff David and his Deputies in February of 2013, directing them to cease and desist from performing private security services for outside organizations. The Commonwealth Court of Pennsylvania upheld that preliminary injunction earlier this week following an appeal filed by David and the Deputy Sheriff's Association.
Several Deputies approached the Beaver Countian last October expressing concerns about directives still being handed down by Sheriff David. The County's Law Department conducted an investigation of their own following that report. As a result, County Commissioners filed a petition in December of last year asking Judge Bozza to find David and his Deputies in contempt of court. Among the County's allegations are that Deputies have been providing private security for properties owned by CJ Betters, and were continuing to patrol the streets of Aliquippa at night.
A copy of a weekend night schedule for the Sheriff's Department obtained by the Beaver Countian showed Deputies being ordered to "Continue patrol of […] the Betters Property."
In their response filed with the court late yesterday, the Beaver County Deputy Sheriffs' Association denied they have been doing those patrols.
"The deputies do not patrol Betters Property, despite the language on the schedule," read the Affidavit signed by Association President Deputy David Mangerie. "Beaver County Deputies travel to the County Jail on a daily basis and to the Aliquippa gun range where they practice and qualify with their weapons per state law. The Jail is completely surrounded by Betters Property and the Aliquippa gun range is on Betters property. Thus, the deputies travel on and through Betters Property in the course of performing their regular County Duties."
The Affidavit went on to deny that Deputies were conducting patrols in Aliquippa.
"It is admitted that the Log references Aliquippa. It is denied that [Deputy] Costanza violated the Court's order. He traveled through Aliquippa when performing regular checks of the MDJ and Adult Probation Offices, both of which are County properties located in Aliquippa. Aliquippa is simply a point of reference for Costanza to account for his location during the shift. Furthermore, the City of Aliquippa has its own full-time police department that patrols its streets."
Deputy Ronald Costanza wrecked a new patrol vehicle in Aliquippa back in November, but the Deputy Sheriffs' Association denies he was violating Judge Bozza's order at the time. "It is admitted that Deputy Costanza had a vehicle accident in Aliquippa on November 26, 2013. It is specifically denied that he was patrolling the City of Aliquippa. The City has its own full time police department that patrols its streets."
According to a report filed by Aliquippa Police, that accident took place sometime around 4:30 in the morning.
The Deputy Sheriffs' Association also denied that security patrols were taking place in other municipalities, including Beaver Falls and Ambridge.
Several Sheriff's Deputies, who spoke to the Beaver Countian on condition they not be identified by name, allege their Association's assertions that security patrols were not taking place are simply false. "I would tell you someone's going to get in trouble for lying, but I guess we all know that won't happen," said one Deputy. "I don't know how they can say Deputies haven't been cruising Aliquippa at night, everyone knows we're there."
Beaver County Commissioner Joe Spanik said the County has evidence which backs up claims made by those Deputies.
"Sure we originally thought the Sheriff was just having his Deputies patrol the jail," Commissioner Joe Spanik told the Beaver Countian. "Then we found out otherwise a few months ago […] They've been doing all sorts of things I don't think they should be doing. Bernie Rabik has all the specifics on that."
Assistant Beaver County Solicitor Bernie Rabik was blunt in his reaction to the filing by the Deputy Sheriffs' Association.
"The Sheriff's problems are quickly mounting," Rabik told the Beaver Countian. "Succinctly put, that document is a creative manipulation of reality […] The County intends to file a motion with the court seeking permission to subpoena for sworn deposition both Sheriff George David and his Deputies […] I also intend to subpoena CJ Betters and anyone else we need to as well. Let's finally get the truth out to the public because this document is not the truth."
Sheriff George David pleaded his Fifth Amendment Right against self incrimination and refused to answer any questions at a hearing held last January about private security services being performed by his office.
Although the Deputy Sheriffs' Association had denied violating Judge Bozza's injunction, their response also noted that their membership is subject to Sheriff George David's directives. "Beaver County deputies serve under the exclusive control and direction of Beaver County Sheriff (including his management team) […] The Deputies are required to follow the orders of the Sheriff and failure to do so may result in their discipline, up to and including discharge, with no right of appeal."
Sheriff George David is individually named as a defendant in the case, but has not yet filed a response to the contempt petition with the court. Attorney John Havey, who had been representing David in the matter, resigned from the case last month. Court records show no other attorney has entered their appearance on David's behalf.
A hearing on the County's petition for contempt is scheduled for Monday.
Note: In the interest of full disclosure, this reporter is a named victim in criminal charges filed against Sheriff George David by the Pennsylvania State Police.