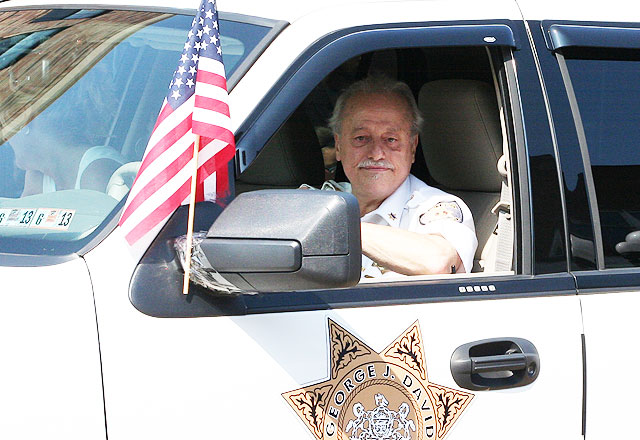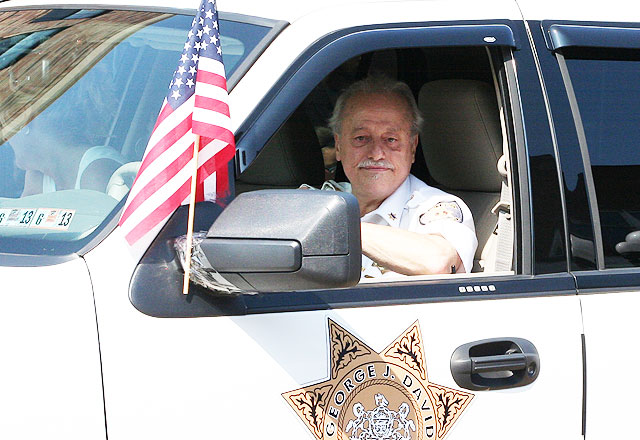 Sheriff George David is ordering county deputies to patrol properties owned by local real estate tycoon Charles "Chuckie" Betters, according to several deputies within the Beaver County Sheriff's Office.
The deputies spoke to the Beaver Countian on condition they not be quoted by name, saying they feared retaliation by Sheriff David and his loyalists within the department.
County Deputies say Sheriff David routinely orders security patrols of various properties owned by Chuckie Betters, including his multimillion-dollar slag mining operations in Aliquippa. "We had to have more than a few tires replaced after popping them down at his slag dump," said one deputy. Other deputies say they are concerned the patrols may be in violation of an injunction issued against Sheriff David prohibiting his office from providing private security work for outside entities.
As a result of a lawsuit filed against Sheriff George David by the Beaver County Commissioners, Senior Erie County Judge John Bozza issued a preliminary injunction on February 7th prohibiting the Sheriff's Office from performing private security work. Under the Pennsylvania County Code, any Sheriff or Deputy who performs private security services for outside organizations is guilty of a misdemeanor. Sheriff George David pleaded his Fifth Amendment Rights against self incrimination to avoid testifying at a hearing held on the matter back in January.
"The Sheriff and deputy sheriffs Beaver County shall refrain from performing, directly or indirectly, any official services or official duties for any person, association or corporation, during a period of official service as a sheriff or sheriff's deputy," read Judge Bozza's order.
Assistant County Solicitor Bernie Rabik said patrols of private property or any other security work provided to corporations would be a clear violation of Judge Bozza's injunction. "I am reviewing this matter, and will take appropriate actions accordingly," Rabik told the Beaver Countian.
The Beaver Countian was provided with a copy of the Beaver County Sheriff's Office (BCSO) weekend schedule for September 28th and 29th of this year from a confidential source within the department. The schedule contains operational directives ordered by Sheriff David, including an order for deputies to "continue patrol" of "the Betters Property."
Chuckie Betters has been a long time political supporter of Sheriff George David, and donated thousands of dollars to local officials in the last election including $2,500 each to Commissioners Amadio and Spanik.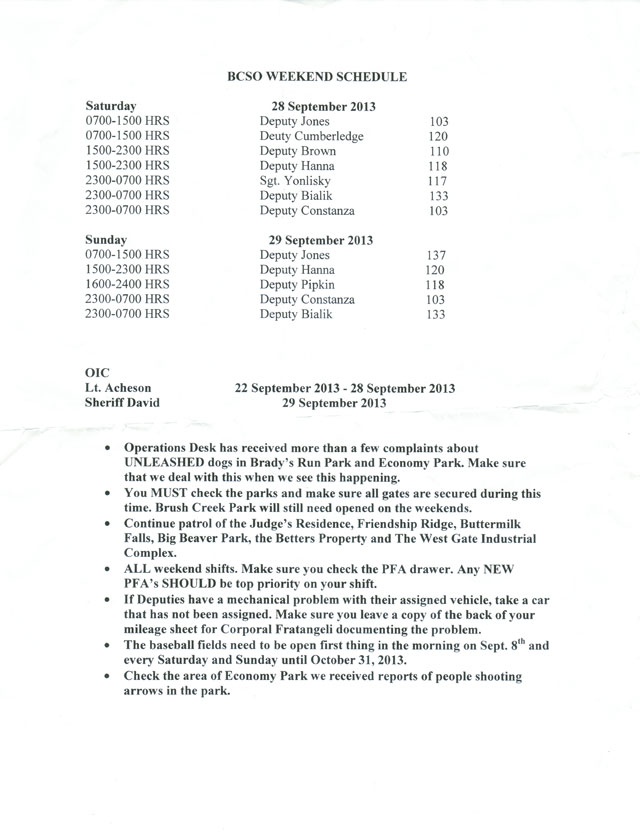 Note: In the interest of full disclosure, this reporter is a named victim in criminal charges filed against Sheriff George David by the Pennsylvania State Police.