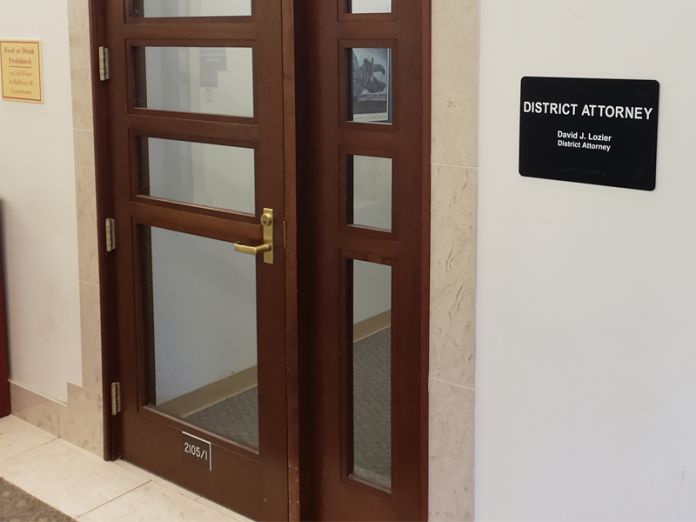 A defense attorney is accusing Beaver County District Attorney David Lozier of seriously mishandling a search of a county inmate's cell in connection with the Mother's Day murder of an Aliquippa woman.
Gerald Benyo Jr., who represents Wayne Cordes, 21, of Hopewell Township, filed a court motion today seeking sanctions against Lozier, which could include dismissal of all criminal charges pending against his client.
Benyo said Cordes' Constitutional rights and state laws were violated when Aliquippa Police and Beaver County Detectives searched his cell on May 29 at Lozier's direction.
"District Attorney David Lozier can not make his own rules," attorney Benyo told the Beaver Countian. "As the head of law enforcement in Beaver County, he should be particularly cognizant of any breach of the rules of criminal procedure and should be particularly vigilant in upholding Constitutional rights."
District Attorney Lozier believes attorney Benyo has ulterior motives.
"Baseless. He appears to be filing a motion in an attempt to skirt a court order not to discuss certain matters," said Lozier. "I try to obey court orders."
Wayne Cordes is in jail awaiting trial on 13 felony and misdemeanor charges for allegedly assaulting and robbing a man in Aliquippa on Oct. 26. The charges against Cordes were filed by Aliquippa Police Sgt. Kenneth Watkins.
Cordes told the Beaver Countian prior to the search that he received a letter days after Rachael DelTondo was murdered on May 13, allegedly revealing details of how she died.
Benyo said officers took part of the letter from a Bible during the search. Cordes' mother told the Beaver Countian that her son had given the other half of the letter to Benyo.
The jail cell search is one of two known searches apparently related to the letter. On June 8, county detectives raided Benyo's office and a county judge placed him under a gag order for all matters connected to the homicide case. The search warrant for Benyo's office was sealed.
Cordes' search warrant also was sealed and therefore didn't require the officers to provide the affidavit of probable cause for the search, Benyo wrote. But the law did require them to provide Cordes with a copy of the warrant and a copy of a receipt detailing what property was taken.
Cordes was provided with nothing. In addition, when Benyo sought the records, nothing had been filed at the county courthouse as required.
Further, Benyo is alleging that Cordes' Constitutional rights were violated because Lozier failed to direct the officers not to confiscate confidential attorney-client records.
The officers did just that, Benyo wrote, taking all of Cordes' records pertaining to his unrelated case. They included Cordes' discovery package, which is a compilation of the prosecution's information in his case, including everything from the explanation of charges to witness statements and investigation notes.
Benyo said Cordes had made notations on the documents, noting the errors in the investigation, corrections on the factual allegations, highlights of the inconsistencies of witness statements and other thoughts on possible defense points and strategy that could be used in his defense.
Benyo wrote that the Aliquippa Police Department, which had charged Cordes, and Lozier's office, which will try Cordes on the charges, now have access to his personal thoughts concerning his defense strategy.
"In this case, District Attorney David Lozier set into motion a course of events that violated attorney-client communications and directly extracted the personal thoughts of how Mr. Cordes was going to defend himself against the charges filed against him by the Aliquippa Police Department," Benyo told the Beaver Countian.
The seizure has "significantly impacted and made impossible" Cordes' right to a fair jury trial, Benyo wrote.
Along with seeking sanctions against the District Attorney's Office, Benyo is asking the court to direct the Clerk of Courts of Beaver County to make available all documents concerning search warrants issued in the DelTondo homicide case, with the exception of the affidavits of probable cause — the only portion of the documents that can be sealed by law according to the attorney.
See Also:
– Mysterious DelTondo Murder Letter Leads To Raid Of Attorney's Office – Court Gags Defense Lawyer