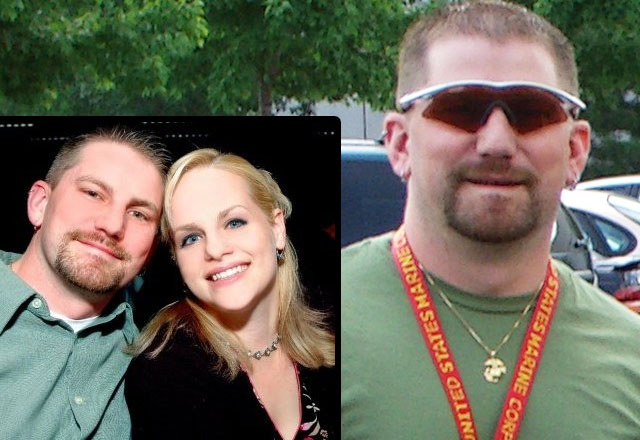 On July 17th 2011, thirty-four year old David Cook was killed near his home in Harmony Township, after his motorcycle was struck by a drunk driver. Robert Banko, 24 at the time, fled the scene after the crash.
Yesterday, Banko pleaded guilty to charges including Involuntary Manslaughter, Causing An Accident Involving Death, DUI, and Driving On A Suspended License. He was sentenced to 2.5 to 5 years in prison, followed by 2 years of probation, as part of a plea agreement. He was ordered to pay $21,782.14 in restitution — The cost of David Cook's funeral.
But before Banko was sentenced by President Judge John D. McBride, David Cook's family was given the opportunity to read "victim impact statements." With the family's permission, we republish their words here, as they were read in open court.
It is the family's hope that by offering a glimpse into their very personal tragedy, perhaps one person, one day, will make a different decision — It is their hope these words may help to save a life.
Megan Cook – David's Sister
David Cook was my little brother. To be able to put in words the effect his death has had on my life is impossible. I have written this statement in my head over and over since the day that Robert Banko decided that he was going to get behind the wheel after drinking in excess to impress a girl. That decision killed my brother. It has caused me so much emotional and physical pain that I am living life in a foreign world as a person I no longer know. I would like to tell you what a day in that world is like.
Up until the day he died Dave was my other half. People often thought we were twins because we shared such a strong bond. We knew each others thoughts. We could finish the others sentences. I believe our relationship was stronger than that most brothers and sisters experience. We spoke or texted every day and he was at my house several times a week to help with a "project" which in reality never seemed to get done. We shared our hopes, dreams, secrets and fears. We laughed and cried with each other because we knew that it didn't matter if it was good time or bad we were there for each other. Dave was leaving my house the night he was killed.
Each morning I wake up to a world I don't recognize. I have nowhere to go and nothing to do because Robert Banko's actions cost me my job. I am a nurse. I worked for years in the trauma ICU at AGH but had recently taken a job that I felt made a true difference. I was an organ transplant nurse who recovered organs to help save the lives of others. Dave used to laugh that before I put them back together and now I take them apart, but he also knew what a difference that gift made to others. We had a cousin who got a chance to live life because someone gave her that gift and we're always thankful to the family that made the decision to help others during the worst moments of their lives. Dave was a donor and because of this it was felt that it would be too difficult for me to continue to do my job. All the years I worked toward achieving that goal were squashed after Robert Banko's fourth shot of Jagermeister. The economy and job market are tough and I am financially devastated. Nothing like adding insult to injury, Robert Banko didn't feel the need to have car insurance. He stole Dave from us and left us nothing but debt.
If I do decide to leave my house I have to face my worst nightmares straight in the face. I have to drive past the police station to go anywhere and that means I have to look straight into the impound lot where the truck that killed my brother sits beside his mangled motorcycle. Now I have to turn onto the road where it all happened. He was only a mile from my house. I feel like vomiting every time I see the outline of where he lay spray painted on the road right across the street from where he got married. That spot was where he had the happiest day of his life. It is also where that life ended. I have stopped there so many times to apologize to my brother because I broke our promise that we would never let the other die alone. It makes my heart ache that he lay dying alone in the middle of the road, but it makes me sick that Robert Bank didn't even stop to help him. He ran like a coward. Neither he nor his brother, who I hold equally responsible, bothered to call 911.
Another thing that Dave and I shared was the military. We both served with pride, Dave in the Marine Corps and myself in the Army. We fought for the freedom of America and were lucky enough to walk away unscathed. We shared the bond of knowing what it was like to wear that uniform and face the enemy straight on and never leaving a fellow soldier behind. There is a badge of honor that we wear that can only be seen by another soldier. Death before dishonor. It sickens me that Dave was taken down by a person like Robert Banko. I can't even call him a man because a man would have stood up and taken responsibility for his actions and accepted the consequences. Robert Banko didn't feel the rules applied to him. A real man would have stopped driving when his license was suspended, instead of being stopped three times and lying about who he was. A real man would have asked someone to drive him home. A real man would have called the police and done whatever he could to help. Dave was a real man. Robert Banko ran away to hide. When told he killed someone, he laughed and made jokes.
The hardest part of every day is the loneliness. I am now an only child, something I never wanted to be. Everyone is concerned about Becca and the kids or my parents. People tend to forget about the sister. I struggle every day to rebuild who I am, but I am struggling to make it work because I am missing a key piece in the puzzle. I suffer from Major Depressive Disorder, a battle I have fought since my early 20's. My brother was always there when I was at my lowest point. He was the one who told me it was going to be ok. He held out his hand to pull me from the perils and pain that come with this devastating disease. Now when I reach out there is nothing there. I wonder how I am going to go on. I am now solely responsible for my parents when they get older. How can I make decisions without Dave? I am not married and have no children so I am truly alone.
I know that Robert Banko will never receive the sentence I feel he deserves, but please keep in mind that he killed two people that night for I feel truly dead inside. I not only lost my brother, but my confidant, my protector and my best friend. Make an example of Banko. Show others that their actions have consequences. Make him learn what it truly means to be a man. Make him actually care about what he did.
[divider /]
Rebecca Cook – David's Wife
I am David's wife and I am now living out a life sentence. One that says I will never see my best friend, my protector, my provider again. The man that loved me more than anyone or anything in this world was taken from me in a violent way, one that he did not deserve. I am haunted by the fact that my David was killed in such a senseless way, left lying face down on a cold dark road like he wasn't even human. I am haunted by the fact that he was on his way home to see me and never made it. We were weeks away from our tenth wedding anniversary.
I want you to know my everyday struggles to raise three children alone, to manage a household, to keep up with a job on top of that and to deal with the emotional problems my children face. I often get no sleep at night, not because I get to cry but because my children are. They are shattered, devastated.
Makaylah is eleven years old and was daddy's girl. Ian is nine and is now obsessed with the Marine Corp because David was a Marine. Christopher is five and misses his daddy so much. He talks about riding in Daddy's truck and following him around the garage. I am left to be a single parent, a grief counselor, the sole provider. This is a very heavy burden and I am constantly being watched by family to see if I will fail. I don't have the money to see a therapist and sometimes I am absolutely overwhelmed by the responsibilities, the suffering, the sadness in my house. I am surrounded by memories I can not escape.
Please take into account what I am facing for the rest of my life. There is no parole, no pardon for me or my children. My husband is gone, they have no father. The boys were looking forward to daddy teaching them soccer and playing sports with them. My daughter will never be able to walk down the aisle at her wedding with her father by her side.
I alone must try to nurture, protect, teach, discipline, give constant attention to these children. I must keep them fed, bathed, dressed, answer their questions, cries, comfort them when they call out for their daddy at night, teach them manners, safety, resourcefulness, creativity, empathy… alone. I alone am left this great responsibility. And I am never done with my sentence.
I am scared, stressed, overwhelmed and most of all heartbroken. No one has ever loved me as much, as completely as David did. Please remember us when you sentence Mr. Banko.
[divider /]
Pamela Ondash – David's Mother
It has been ten months, ten long months missing my son more every day. We have celebrated birthdays, anniversaries and holidays without David. Those events were filled with emptiness and sadness when they should have been filled with joy and laughter. We put on our best faces for his children so as not to spoil their day. We went on our annual family vacation which is always the week of David's birthday. Ian, David's son, had the idea that we could send messages to David by attaching notes to balloons and sending them off. We celebrated his birthday on the beach letting balloons go, watching them disappear into the sky. Later in the evening Ian said "I hope Daddy likes my note, I told him I miss him and love him."
My heart aches when I put the little guys to bed and look into their innocent faces wondering what goes through their minds but is not spoken. How do I assure them it is ok to be sad, to cry and to talk about Daddy when it is hard for me to do the same. David is not here to smile with pride as Makyalah graduates from sixth grade and Christopher from kindergarten this year. He wasn't on the side lines cheering the boys on during their soccer games, something both boys missed. No child should have to go through the loss of a parent or a parent the loss of their child. We are left with photos and memories, we cannot hug a memory, the little guys cannot be consoled by a memory or create new memories because David is not here.
I am told that we will create a new "normal" in our lives, what exactly does that mean? The normal in our life is gone, taken without thought of consequences or action. I know Mr. Banko's punishment will never fit the crime; it will never equal the void he created in our lives. I realize once he serves his time the "normal" will return to his life. He will be re-united with his family, share birthdays, holidays and other special times. His life will go on, David's will not. Normal for us is everyday with David in our lives without him there is no normal, I don't want a "new normal", I want David.
[divider /]
Roy Cook – David's Father
For some time since I was informed that I would have the opportunity to express to the Sentencing Judge in a Victim Impact Statement my feeling regarding this case, I struggled in my mind and heart to find effective and adequate words to describe how this crime had changed my life and the lives of all of our family following the sudden, senseless, and tragic death of my son, David Andrew Cook. Because the Defendant, Mr. Banko, chose to disregard the law, drove a vehicle that he had not obtained legally, drove that vehicle without a license to drive due to a prior DUI suspension, and operated the vehicle under the influence of alcohol and having lost control of the vehicle, he struck my son in a head-on collision, causing injuries which shortly after caused David's death, my entire family have become victims. This description of "victim" is not a categorization which anyone would ever want to imagine. Nonetheless, we are victims of this tragedy.
On July 17, 2011, and ever since David's death, my life has become very quiet. The silence is unbearable at times. My son was the noise in my life. By that I mean, noise in a good way. David was the true meaning of happiness and excitement in my life. He was the job and excitement every father imagines when he first holds his only son at birth. He was the fulfillment of every wish that a father would dream of in a son. I cherished raising him from childhood to adulthood. I watched him grow in faith in God and love of family and country. I guided and at times even prodded. I experienced so much joy being his father, because of the person he grew to be. Every moment of every day since his death has been full of anguish and unrelenting sorrow. My mind is constantly searching for answers to the unanswerable question — Why?
Why is my son, full of life, with a deep faith and trust in God, who was inexplicably devotes to his loving wife, Becca, adored and admired by this children, Makaylah, Ian, and Christopher, and cherished by his mother Pam and Sister Megan, dead? I know there is only one answer and that is that Mr. Banko made an irresponsible and unlawful decision to drive drunk, lost control of his truck, struck and killed my son, and then cowardly ran away from the scene, leaving my son dying in the middle of the road. The violence of this act makes me physically and mentally sick. The image of David, lying alone on that road, frequently screams in my mind. For countless days following his death, I have been overcome with the anguish of the way he died. He didn't have to die like that, he didn't deserve to die like that, and yet, yes, David is dead, a harsh reality that my entire family has to live with forever. The physical and psychological effects and emotional stress of this reality are very difficult to effectively describe. At times, I feel that I can not breath, the crushing weight of this reality sits on my chest and seems to smother me. The quiet of the night, as I struggle to sleep, is full of horrific images of my son seeing that truck bearing down on him. I often pray that he never knew what hit him, but the reality is that I am certain, for even a brief moment, he knew, and that terrifying thought is seared into my mind forever. How can I tell you the anguish I feel when every hope for the future for my son and his family has been taken away?
David was a caring, loving, and dedicated son, husband, father, and brother. He was a true friend to many extended family members and countless others he made to feel special. You see, he had a wonderful gift of making everyone he cared for feel very special. So many people have told me this … and I know it to be true. He was a very special confidant to me. We shared our life together in every sense that you can imagine. He shared his hopes and dreams with me, his joys and sorrows, his accomplishments and failures, his very life. He sought out my feelings on problems and together we would talk frankly and openly about solutions to those problems. How can I tell you how proud I was to share my life with my son? I felt fulfilled as a father, I felt I was meeting the most important responsibility that any man who has the privilege to be a father, can have. I can never gain, sit down with him and share those special moments, when it was just him and me, talking, and sharing our lives together. That loss is an emptiness that I can not adequately describe. Every father seeks to provide security, love, understanding, guidance, and friendship to his children. That responsibility never ends, even when they mature and become adults. Every father has dreams for happiness and success for this children, those dreams for my son were tragically and senselessly ended. Emotionally, I am a different person. My confidant can no longer hear my words of pride in him as a son, and I can not hear his expressions of the love he had for me. That emptiness overwhelms me and literally, at times, takes my breath away. I find little joy in life. Things I naturally embraced to bring me happiness, no longer fill the void.
His death leaves so many hopes and dreams unfulfilled. David was an accomplished Engineer. He learned his skills and craft of Network Engineering while serving his country in the United States Marine Corps, where he proudly served his country for four years. I vividly remember the pride his mother and I felt when he told us that he was going to join the Corps. This was his decision and one which he was most proud of. He wore the uniform with grace and integrity, and he made me a very proud father. Imagine, however, the fear a parent has for their child in assuming this responsibility for their country. I still pull out the letters he wrote to me while away, and read them for comfort. Fortunately, David served his tour of duty without any harm. It is utterly disgusting that he would serve four years in the Marine Corps and be killed at home in a senseless act by a drunk driver. He returned home after being away for four long years and shortly after met the woman he intended to share the rest of his life with. He shared his feeling with me freely, and I knew in my heart, he was a happy man. I also knew upon his return that he had become a new man. He had a new enthusiasm and hopeful commitment and purpose towards life; he had learned the discipline and that strength of purpose and commitment to all that is right and good while in the Marines. He started his new married life, full of hope and desire to be the best he could be. I was so full of pride and love, I knew I raised a son any man would be proud to call his "son."
Together, Becca and David have three children. Makaylah turned 11 years old during the week of his funeral. Ian turned 9 years old one month after his death. Christopher, the youngest, was 5 years old last April. David and Becca's wedding anniversary was one month after his death. I took flowers to his grave for his birthday less than two months after his death. So many normally joyful moments are now spent imagining what could have been. How can I tell you the pain I feel when trying to help my grandchildren deal with the loss of their father? How can I express clearly, the emptiness and fear that I see in Becca's face? Hopes and dreams ended so abruptly and senselessly. The burden of his death on their future is truly immeasurable. Their bright future and happiness is gone forever.
Recently my grandson Ian said, "My life is a mess without my dad." How can we tell him, everything is going to be alright? We don't believe it ourselves. How do we console Christopher when he cries at night for his daddy? The children could not sleep in their own beds for weeks and they don't play in their yard because they are fearful without the comfort and strength of their father. In the fall of 2010, Ian played midget football. David was the ever-present parent for every practice and every game. At the end of the season, the team won their championship game and the team was escorted through the town of Ambridge by the local police department for a victory parade. In my mind, I still see David hoisting Ian on his shoulders with love and pride, and then driving his truck on the victory parade route with his teammates joyfully celebrating their championship. This fall, Ian did not play football, his mentor, his coach, his father was not there to give him the encouragement and comfort that only a father can give. I watch painfully the many ways my daughter and her children struggle through days without David's strength and enthusiasm. You see, he made them all feel, that no matter what life threw at them, they, as a loving and hope-filled family, could endure. Hopes and dreams are gone. But, realistically, life still goes on. The mortgage is due, the car payments, insurance, utilities, taxes, etc. etc. etc …. How can we still say … everything will be ok? The emotional, physical and psychological scares will never go away. Kind and loving friends tell you, "time health", or, "he is in a better place", or any semblance of empty words with the hope that your pain will disappear, but it doesn't really help much at all. We all realize our friends feel our pain, and struggle to help us deal with it. However they try, there is an ever-present, all-consuming feeling of sorrow and emptiness.
As David's father, I held his hand … warm and secure, protective and loving, nurturing him, laughing and crying with him through all life events … birthdays, school days, family days, military days, good days and not so good days. With a tender heart, I shared life's challenges and adventures with him. How can I possibly tell you the profound void left in my life now? My hopeful, enthusiastic, talented, caring, thoughtful, and loving son has been cruelly taken away from me and so many who loved him so deeply. His ever-present smile and shining eyes are a memory left to cherish. This is what being a victim means to me. Can you possibly understand? I pray that you can catch only a glimpse of what it has meant to me to be the father of David Andrew Cook. Before he was born, Pam and I talked about names for our child … we chose the name David because of its deep meaning. Beloved. After all is written here, it truly is a name that fully captures what it means to me to be his father.