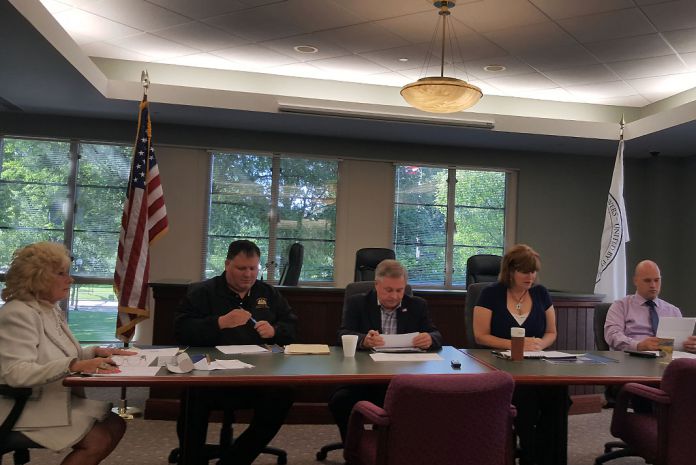 A public meeting of the Beaver County Pension Board got heated on Tuesday after county officials say managers of a investment fund failed to timely pay hundreds of thousand of dollars owed to the county pension account.
Commissioner Sandie Egley, Controller David Rossi, and Financial Adviser Frank Burnette got into a contentious debate with Anthony Tomasello, Senior Managing Director of iNetworks, about why the County Pension Fund did not receive a $466,000 distribution it was owed from last year. Officials said the county is due the money because additional investments made into the iNetworks Opportunity Fund by other parties reduced the percentage of the county's holdings.
The Beaver County Pension Board first committed to investing up to $8 million in the iNetworks Opportunity Fund in October of 2013. The Pittsburgh-based venture capital group invests in companies in the IT, Healthcare and Life Sciences sectors. Among the companies currently included in the investment fund's portfolio is Penn Alt Organics, which hopes to get involved in the medical marijuana business in Pennsylvania. Other companies in the fund include Novian Health, Vizsafe, Propel, One Logos, Unequal Tech, and Cognition Therapeutics.
In August of last year, Commissioners Egley, Camp and Amadio, and Treasurer Javens, voted to reinvest a $817,000 distribution into an iNetworks' "sidecar fund," with only Controller Rossi voting no. In November of last year, iNetworks asked the Beaver County Pension Board to reinvest an additional distribution of $466,000 into another sidecar fund, but the Board ultimately decided against any further reinvestment.
Financial Adviser Frank Burnette had advised against the initial investment into iNetworks and similarly advised against reinvestments into the fund's sidecar offerings.
The Board stated publicly at their April meeting they were declining the offer and wanted the money to be paid back to the pension account as outlined by contract. iNetworks failed to make the payment, repeatedly requesting an opportunity to meet with Board members to discuss a second sidecar investment; county officials declined to put such a meeting on their agenda.
Rather than providing the county with its entitled distribution, iNetworks sent the Pension Board a letter dated June 7th for county officials to sign, acknowledging they are passing on an opportunity to "maintain the existing invested capital amounts within the [iNetworks] Fund and the associated unrealized gains in valuation under highly favorable terms and pricing."
County officials refused to sign the letter, leading iNetworks to present themselves at the County Pension Board meeting on Tuesday.
"This was something that was discussed earlier in the year that we would get those funds back, it's in the minutes that we all agreed to get the funds back, why don't we have the funds," asked Commissioner Sandie Egley. "It doesn't matter what they think, we said that we wanted those funds back. My question is, why don't we have the funds back?"
iNetworks' Anthony Tomasello told the Board that the county's money had been "sequestered" into an administrative account and was not in use by his fund, and the investment group had every intention of making the required payment — after first being provided an ability to address the Board about its second sidecar investment opportunity. Tomasello insisted their legal counsel believed they were obligated to discuss the opportunity with the Board before making a disbursement in order to comply with regulations.
"You absolutely are entitled to this return, you have to understand," said Tomasello. "No disrespect but I'm not sure if any of you on this Board are either accredited investors or qualified investors, or quite honestly financial specialists, and you don't need to be. By the same token, the relationship you have with [Financial Adviser Frank Burnette] moves a burden to us to make sure that we've accurately communicated all of this information to you and we haven't gotten that acknowledgement. All this letter is, is saying that you have all the information that you want."
Under provisions of the Pennsylvania County Code, the County Pension Board is required to consist of the three Commissioners, Treasurer, and Controller. In Beaver County, the Board operates in conjunction with advice it receives from Frank Burnette, a contracted investment professional with Morrison Fudiciary Advisors.
Tomasello's response drew the ire of Controller David Rossi, who believes an existing contract the county had with iNetworks required them to release the funds without needing any further action by the Board.
"You have to release the money, you don't get to hold the money," said Rossi. "I'm not signing anything […] Where does it ever say that you're suppose to tell us that we have to reinvest in the fund on a sidecar. Tell me where it says that. I don't understand this. This is ridiculous."
Controller Rossi and Commissioner Egley continued to challenge Tomasello's reasoning for not releasing the funds to the county months ago, with Egley repeatedly noting the Board had brought the matter up back in April.
"You have options under the agreement, all you have to acknowledge is that you have been fully informed of the consequences of the decision," responded Tomasello, later telling the Board that he believed reinvesting the money into his fund would be a better decision for them to make. "What I'm trying to say David is I need a formal acknowledgement, however it comes, that each of you has looked at the options and you've made a decision and you have been fully informed."
After further back-and-forth, Tomasello again began touting the companies in his fund's portfolio.
"This morning I told [Financial Adviser Frank Burnette] that one of our companies, the Chinese just took a position in it and they're rolling it out in China," said Tomasello. "That affects the valuation of the company. I told Frank you all aren't aware of that. I have an obligation, if a change is positive or negative, to tell you."
Under questioning by Burnette, Tomasello said he would be willing to accept a vote by the Board as acknowledgement it had received all of the information they wanted about his sidecar investment opportunity.
"We voted months ago," said Commissioner Egley. "We haven't had our money that we discussed we were going to get for months."
Commissioner Egley said she was standing by Controller Rossi, and would refuse to sign any further documents from iNetworks. Commissioner Dan Camp said he wanted to sign iNetworks' paperwork.
"I am going to sign it because I am not going to be held liable for something in the future," said Camp.
Prior to the meeting, Commissioner Camp had been raising concerns about Frank Burnett with other members of the Pension Board. Camp had similarly raised concerns about Barnett last year while Board members were considering whether to go against his advice and reinvest $817,000 into iNetworks' first sidecar offering.
Following Commissioner Camps' confusing remarks about liability, Commissioner Egley suggested the Law Department review the issue.
County Solicitor Garen Fedeles — who had been sitting quietly during much of the lengthy debate — addressed Tomasello, "You're saying in order for that money to be released this has to be done?"
"That's what we're being told," responded Tomasello.
Rather than signing additional paperwork from iNetworks, Solicitor Fedeles advised the Board it could pass a motion stating they were aware of their options but the county still wanted its $466,000, effectively reiterating their April meeting. Fedeles had not reviewed the contract with iNetworks but reasoned that the motion, whether or not contractually required, would prevent further delays in releasing the payment to the county.
Commissioner Tony Amadio ultimately made the motion, noting he was doing so under the advisement of County Solicitor Fedeles.
"I'll second the motion," stated Treasurer Connie Javens. "As stated with the Solicitor sitting here."
The motion passed unanimously.
"That was hard work," concluded Financial Adviser Frank Burnette, who like Commissioner Egley and Controller Rossi, appeared extremely frustrated by the iNetworks representative. "Thank you though."
Commissioner Egley made it clear she expected the county would receive interest for the months the funds had remained outstanding, which Anthony Tomasello assured her would be the case.
Commissioner Sandie Egley, Controller David Rossi, and Adviser Frank Burnett said they want to see the Pension Board pass a broader motion at its next meeting which could prevent future delays in iNetworks' release of disbursements to the county.