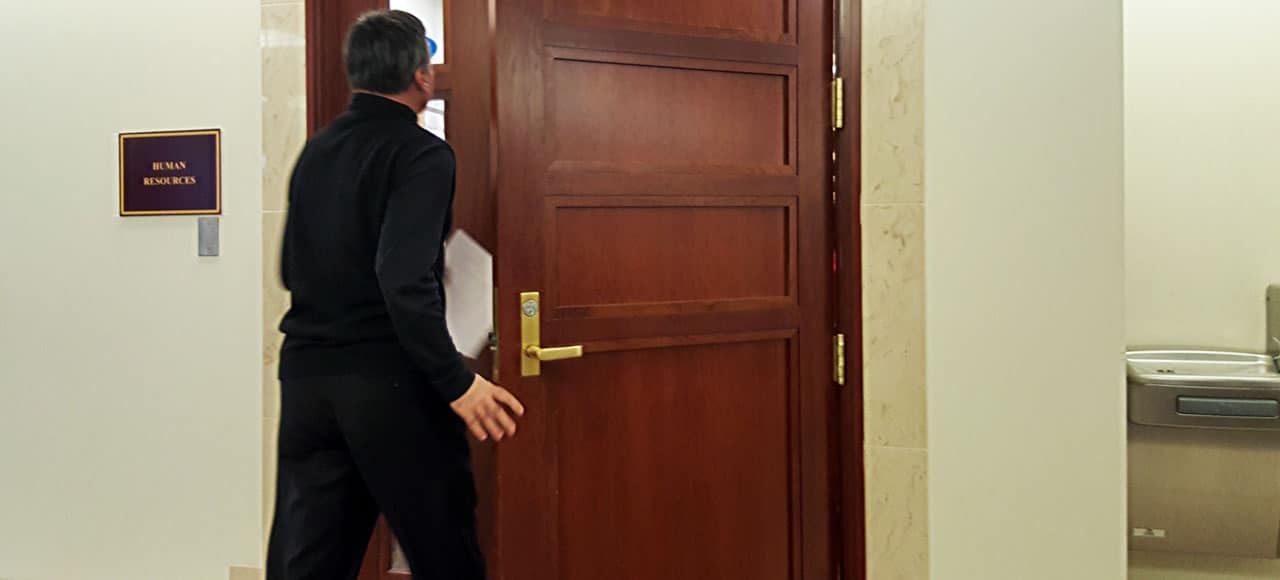 Beaver County Financial Administrator Vince LaValle has resigned his position following a series of reports by the Beaver Countian that first revealed nearly $2 million in withdrawals he made for Friendship Ridge — using just his own signature — in apparent violation of Pennsylvania County Code.
The Beaver Countian was seated outside of the Commissioners' unit this morning as Commissioners Sandie Egley and Dan Camp accepted Vince LaValle's resignation. LaValle submitted the letter to the county's Human Resources Department before beginning the process of filing paperwork to collect his retirement.
Paperwork filled out by the Commissioners list LaValle as "not eligible" to be rehired as a county employee in the future. Courthouse sources say LaValle was first told he was being terminated by the Commissioners before offering his resignation.
Sources say county officials contacted the County Sheriff's Office and the County's Information Technology Department before meeting with LaValle to tell him of their intention to terminate his employment. Commissioners likewise met with Solicitor Bernie Rabik to discuss LaValle's withdrawals of funds from county accounts for Friendship Ridge.
Incumbent Democratic Commissioner Tony Amadio, a long time confident of Vince LaValle, was against the move by Egley and Camp to terminate him; he was ultimately overruled by the new Republican majority. Amadio left the courthouse following LaValle's resignation.
Commissioners Sandie Egley and Dan Camp are now working with Controller David Rossi's Office to investigate what is believed to be an undisclosed multi-million dollar deficit contained within the county budget passed last year by the prior Board of Commissioners. Commissioner Tony Amadio has been against efforts to reopen the budget.
Beaver County Treasurer Connie Javens — who was also the subject of the Beaver Countian's reporting about single-signature withdrawals of funds for Friendship Ridge — is an elected official with independent authority and can not be fired by the Board of Commissioners.
Vince LaValle responded simply "Goodbye" when the Beaver Countian asked if he had anything to say as he left the Human Resources Office. He has previously declined to provide comment to the Beaver Countian about the unilateral withdrawal of funds from county accounts for Friendship Ridge, as has Treasurer Connie Javens.
Controller Rossi's office is in the process of reconciling the various bank accounts involving Friendship Ridge to determine what monies were paid, why they were paid, and what monies Comprehensive Healthcare Management Services may owe the county. Rossi has said he would not have authorized the release of any funds to Friendship Ridge until his office had finalized that reconciliation.
Even though the sale of Friendship Ridge was finalized back in March of 2014, the county has apparently continued to collect millions of dollars on its behalf since the closing date.
LaValle has previously said all of the funds that he withdrew for Friendship Ridge were done with the permission of County Commissioners. Javens has insisted she did not need permission to remove the funds that were in county owned accounts because the monies belonged to Friendship Ridge.
Be Sure To Read: Bank Slips Show $3.4 Million Unilaterally Withdrawn By Financial Administrator LaValle & Treasurer Javens