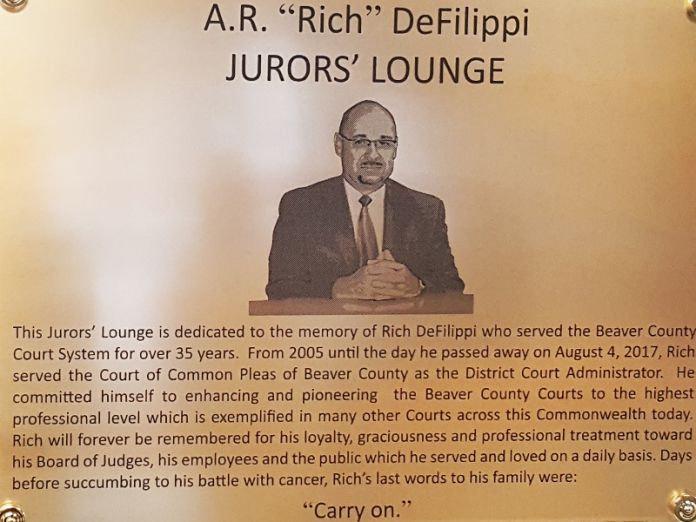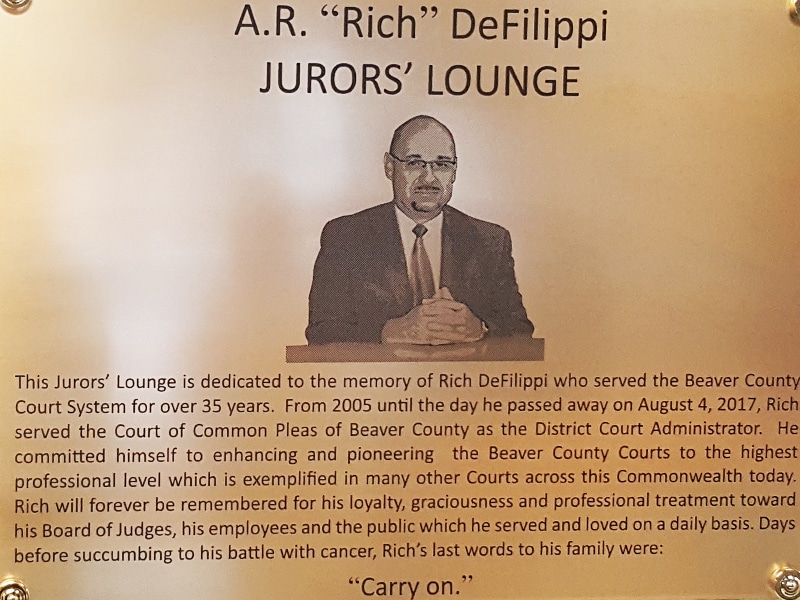 A room of the Beaver County Courthouse has been dedicated in memory of former Court Administrator Richard DeFilippi, who died in August of last year. DeFilippi worked in the courts for more than 35 years.
The Jurors' Lounge — located on the second floor of the courthouse — now bears a large plaque outside of its main door near Courtroom 1 in DeFilippi's honor. The lounge provides a place for prospective jurors to sit throughout the day while waiting to find out if they will be chosen to hear a trial.
According to county officials, the tribute to Richard DeFilippi is the first and only memorial of its kind in the courthouse.
The dedication was spearheaded in part by Domestic Relations Director Joseph Signore, a long-time friend of DeFilippi. County officials say the memorial was approved by President Judge Richard Mancini with the Board of Commissioners also unanimously consenting to the tribute, although the dedication was never discussed during a public meeting or voted on.
From The Memorial Plaque:
This Jurors' Lounge is dedicated to the memory of Rich DeFilippi who served the Beaver County Court System for over 35 years. From 2005 until the day he passed away on August 4, 2017, Rich served the Court of Common Pleas of Beaver County as the District Court Administrator. He committed himself to enhancing and pioneering the Beaver County Courts to the highest professional level which is exemplified in many other Courts across this Commonwealth today. Rich will forever be remembered for his loyalty, graciousness and professional treatment toward his Board of Judges, his employees and the public which he served and loved on a daily basis. Days before succumbing to his battle with cancer, Rich's last words to his family were: "Carry On"
See Archived Coverage By The Beaver Countian:
– In-depth: Man Believes He And His Son Were Denied Fair Access To The Courts Because Of Ex-Wife's Relationship With Court Admin
– Former Employee: Domestics Director Got Drunk In The Courthouse – Regularly Left Work To Gamble With Court Admin
– Commissioner Sandie Egley Says She Was Disrespected By Domestic Relations Director Joe Signore During Meeting
– Investigative Report: Courthouse Employees Secretly Logged Director's Absences
– Sources: Beaver County Judges At Odds As State Begins Investigation
– Commissioners Capitulate After Attempting To Block The Rehiring Of Former Sheriff George David's Wife