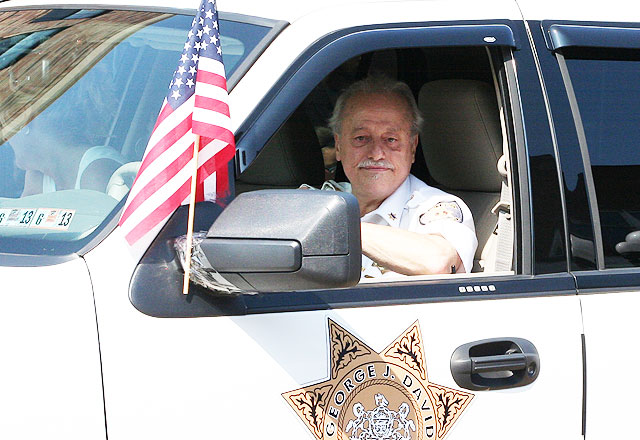 Some Sheriff's Deputies have been assigned county vehicles by Sheriff David solely for personal use, a routine audit released today by Controller David Rossi has revealed.
"In reviewing fuel records for County-owned vehicles driven by the Office's personnel we came across three vehicles that accumulated total miles near the equivalent of their drivers' commute between their homes and the court house. It appears that these vehicles are used exclusively for the personal commute of their drivers," wrote Controller Rossi in the audit. "Also, drivers of these vehicles do not submit mileage logs and receipts for gasoline purchases as required by the County's Gas Card Program Policy."
Without logs and receipts, county auditors did not report exactly how much is spent subsidizing the personal use of county vehicles. Sources within the Sheriff's Office tell the Beaver Countian that county vehicles are widely utilized by deputies for personal use, and it's likely costing taxpayers thousands of dollars per month in fuel costs, vehicle maintenance, and related expenses.
"The Office does not have written policies for the use of the vehicles under its jurisdiction and it allows drivers personal use of the vehicles," continued the audit. "The County assumes the cost of owning and maintaining three vehicles for the exclusive use of their drivers' personal commute."
Controller Rossi also noted that according to IRS Code, the personal use of vehicles should be treated as taxable income for the drivers benefiting from them — something that has not been taking place.
Along with the use of county cars for travel outside the purview of their officials duties, the audit also revealed that some deputies have "consistently disregarded the County's enacted Gas Card Program Policy."
"One of these employees repeatedly input a mileage of 0 into the gas card system for the car refueled and the other employee consistently input a mileage of 155,000," wrote Controller Rossi. "These drivers could be accumulating personal or unauthorized travel that cannot be substantiated due to lacking written evidence."
The names of those deputies were not included in the audit.
"We recommend that the Office and the County overall better monitor the use of the County's vehicles and enforce the Gas Card Program Policy," concluded Controller Rossi.
The Sheriff's Office purchased 6 new cars in August. According to county records, the department has a fleet of 36 vehicles, although it is unclear how many of those vehicles are in routine operation.
Note: In the interest of full disclosure, this reporter is a named victim in criminal charges filed against Sheriff George David by the Pennsylvania State Police.