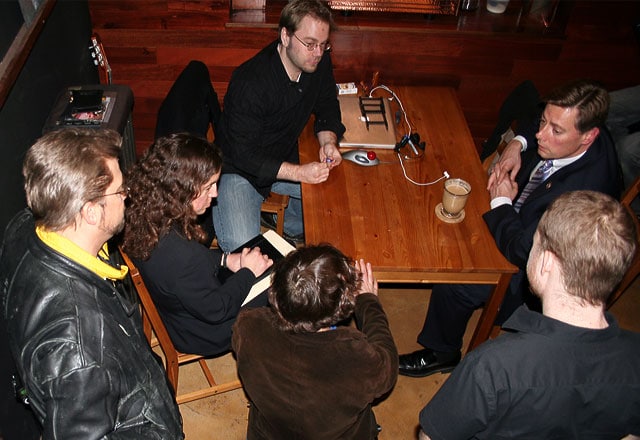 Dozens of people packed into the Fountainhead Cafe in Monaca last night, for a townhall meeting with Congressman Jason Altmire. The unique gathering was sparked by a tweet from cafe proprietor John Dalton, who contacted the Congressman after reading an article on BeaverCountian.com about a controversial piece of legislation dubbed SOPA.
The Stop Online Piracy Act was designed to fight online trafficking in copyrighted intellectual property and counterfeit goods. The proposal includes provisions to bar advertising networks from doing business with websites that hosted such content, prevent search engines from linking to those sites, and require Internet service providers (ISPs) to block access to them as well. Violators would face a maximum penalty of five years in prison.
Opponents of the legislation, including virtually all of those present at last night's meeting, say the bill would have a chilling effect on user-generated websites like YouTube, and would enable to the US Government to censor the internet in ways similar to countries like China, Iran, and Syria. Critics also say the legislation raises privacy concerns, and may force ISPs to begin analyzing all of the content being transmitted to and from its users.
Most of those at last night's meeting agreed something had to be done to protect content creators on the internet, even if SOPA wasn't the answer.
"I am not for SOPA" said photographer Kevin Cooke of Graule Studios. "But the issue of copyright infringement can't go away." Cooke said his photographs are regularly distributed online by others without his permission, a problem that has a material impact on his small business.
"There really is a problem. Piracy and copyright infringement is an enormous issue world wide" said Congressman Altmire. "It stifles innovation just as much as making the internet less free."
It was a sentiment shared by Jack Manning, former independent candidate for county commissioner "What makes us the innovation engine of the world, is that we respect intellectual property, unlike countries like China."
But several suggested the real problem was large corporations failing to evolve their business models to account for rapidly evolving technologies.
"Justin Beiber made his entire career by posting videos of himself on YouTube singing copyrighted music" noted John Dalton. "What we are seeing are the death throws of the old ways of selling things" said another voice in the crowd.
Congressman Altmire stressed a balance must be reached between a free and open internet, and protecting innovation by defending intellectual property rights — It was a balance he said SOPA did not achieve.
"I think what happened the past couple of days has been amazing" said Congressman Altmire. "You here in Monaca, here in Beaver County, have all made a huge difference […] This bill is not the answer. Thank you for helping me to come to that conclusion."
Senator Pat Toomey (R-PA) has likewise stated his opposition against PIPA, the Senate's version of the bill.
[divider /] TED presentation by Clay Shirky explaining SOPA and PIPA:

[divider /]