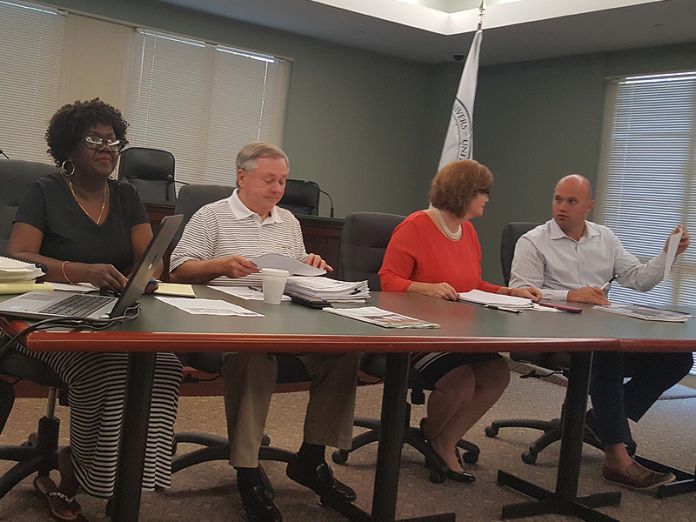 County Commissioners expressed concerns about the accuracy and integrity of their meeting minutes during a public work session held yesterday. Commissioners discovered earlier this week that their minutes had been altered after initially being reviewed by the Board in a way that did not accurately reflect their public discussions.
The Beaver Countian obtained a copy of all public work session minutes for 2017 in response to a Right-To-Know request it received this week. A review of the minutes from May 31st showed they materially misstated a question asked by the Beaver Countian and an answer given by Commissioner Tony Amadio related to former County Solicitor Joseph Askar and Friendship Ridge. Commissioners began investigating the matter and discovered the minutes had been altered after they first reviewed them, with misinformation being added about discussions at the meeting.
The Beaver Countian was initially told the weekly meeting minutes it received for January through September were "official;" the county's law department told the public during yesterday's work session that Commissioners had reviewed the minutes but the Board never actually voted to approve them. Chief County Solicitor Garen Fedeles said that meeting minutes for the entire year will need to be added to next week's agenda for Commissioners to ratify.
"We have never voted on meeting minutes before, have you in the past," Commissioner Sandie Egley asked Commissioner Tony Amadio?
"We never took minutes," Amadio responded.
Although the Board of Commissioners had always taken minutes from public meetings where votes occurred, they only began taking minutes of work sessions following the election of Commissioners Dan Camp and Sandie Egley.
Commissioner Tony Amadio repeatedly stated his concern about the minutes being altered and expressed unease at the prospect of now being asked to vote on nearly a year's worth of them.
"My problem here is the minutes are the minutes, they keep changing," said Amadio. "The minutes that I had in my packet are different from the ones that we have now […] Where are these minutes? Where do we keep them? Is there an electronic file?"
Solicitor Fedeles told Commissioners that the minutes are saved as electronic files on a shared network drive for the Board, and that a hard copy is filed by the Chief Clerk. All personnel in the Commissioner's Office, the Law Department, and the Information Technology (IT) Department have access to the electronic files.
The hard copy of the minutes kept by Chief County Clerk Cynthia Cook did not match the electronic version of the minutes which were printed out and provided to the Beaver Countian in answer to its Right-To-Know request. Cook told the Beaver Countian earlier this week that she was not the one who added the "correction" to the May 31st meeting minutes at issue. All three Commissioners and their administrative assistants also told the Beaver Countian they were unaware of who made the changes.
Commissioner Amadio continued to express his concerns in response to questions about how the security of public records is maintained by the county.
"There was a change in the minutes recently that doesn't even make any sense," said Commissioner Amadio, referring to the May 31st minutes. "It doesn't make any sense. That's the question."
"That's why this issue is being discussed," agreed Commissioner Egley. "Looking at this we have to review our security because obviously something was done and there are no answers as of today and we recognize this."
Amadio asked the Law Department to review if the Board is actually required to keep meeting minutes for work sessions, or if Commissioners could return to a past practice of only keeping minutes for the public meetings where resolutions are voted on.
"You don't take official action [at work sessions], you talk about things in front of the public," said Amadio. "What are we trying to keep a record on?
Solicitor Fedeles advised the Board they were required to take minutes at all public meetings including their work sessions. By the end of yesterday, the Law Department had provided Commissioners with a copy of the law.
"I think we have created a problem for ourselves and quite frankly I don't know how I am going to vote for 40 sets of minutes in one motion," said Amadio. "God only knows what's in there […] I don't know what's in what set of minutes now. The ones I have didn't have that 'correction' in there."
County Commissioners and the County Law Department had met with staff from the IT Department prior to yesterday's work session and were informed there was no practical way of identifying who altered the public meeting minutes.
"I think that all three of us, everyone at this table, was surprised to hear that at looking at that file you can't tell who opened it and made those changes," said Egley. "So that's the concern."
"I have a hard time believing that, I don't know why," added Amadio.
At one point during yesterday's meeting, a citizen who was present in the audience looked toward the Chief County Clerk, saying, "That's the person who keeps the minutes."
"It's not her fault at all, it's somebody with the knowledge was able to get into that file and alter it," responded Amadio, later adding, "This lady takes meticulous notes, she's good at what she does, but I have no idea how somebody could have gotten in there."
Following the public work session, the Beaver Countian had a discussion with county officials about the concept of "metadata." Metadata summarizes basic information about a computer file, including its author, creation date, which user account last modified the file and when those modifications occurred. The Beaver Countian told county officials it was considering a Right-To-Know request for copies of the digital files so they could be analyzed — officials then accessed that data for themselves from a user interface in the Windows operating system.
The County Law Department subsequently held another meeting late yesterday afternoon with the IT Department to discuss what they had discovered. IT Staff told county officials they had been confused about the nature of the controversy involving modifications to the meeting minutes, initially believing that changes to the minutes had been made and printed but not actually saved to the file. County officials say the IT department has now confirmed that the metadata can reliably be used to determine which person's account last made alterations to the files and when.
County Solicitors are expected to schedule a meeting with Commissioners, IT Staff, and the Human Resources Department to discuss the latest findings and decide what steps should be taken next.