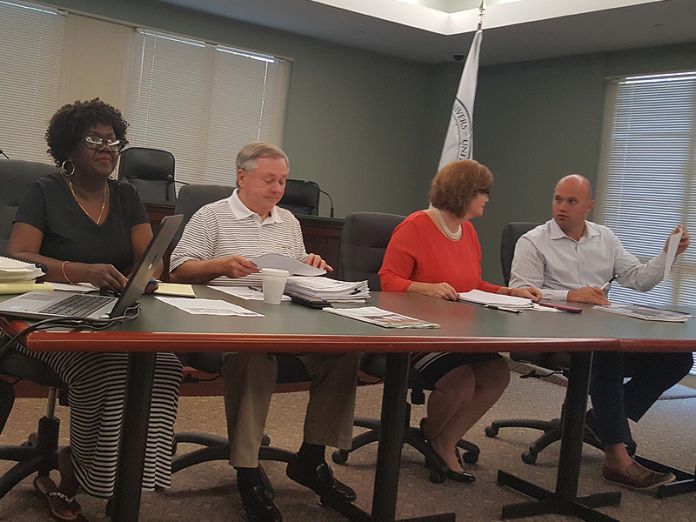 Beaver County Commissioners will not be approving any of the meeting minutes from their public work sessions for 2017 to date. The decision comes after it was discovered that unauthorized and inaccurate changes had been made to the minutes without the knowledge of the Board.
Although Chief Clerk Cynthia Cook had been keeping minutes of the Commissioners' work sessions throughout the year as required, the Board failed to formally adopt those minutes at each subsequent meeting. Alterations to the public work session minutes were discovered in October after the Beaver Countian obtained a copy of all minutes for 2017 in response to a Right-To-Know request. All three County Commissioners told the Beaver Countian they did not authorize or know that the changes had been made, and all three of the Commissioners' administrative assistants — including the Chief Clerk — also insisted they were not the ones who modified the records.
Minutes from a May 31st meeting did not accurately reflect a question-and-answer exchange between the Beaver Countian and Commissioner Tony Amadio about Friendship Ridge and former County Solicitor Joseph Askar, and were modified after being reviewed by the Board to include additional inaccurate information.
Commissioners had originally planned to cast a single vote to approve the 40 separate sets of weekly minutes, but Chief County Solicitor Garen Fedeles said the Board has now decided against the measure because the integrity of those meeting minutes is in question.
"The previous minutes will be unofficial meeting minutes and moving forward they will be put on the agenda as they come up," said Fedeles.
Solicitor Fedeles said his office has been in contact with the county's Information Technology Department to beef up security of the files, "We have also been working with the IT department as far as securing a way for the Chief Clerk to be able to put minutes on their computer that no one would have access to except for the Chief Clerk."
Previously, all employees working in the Commissioner's Office, the Law Department, and the Information Technology Department, had access to the digital meeting minute files.
County officials say no further action is expected to be taken in the matter and declined to elaborate further for this report.