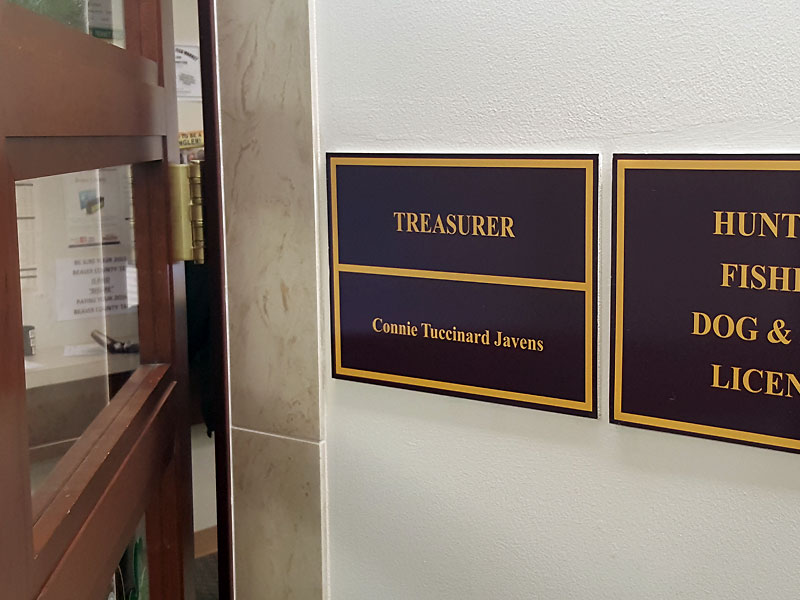 The Beaver County Board of Commissioners has notified the District Attorney's Office that Treasurer Connie Javens made unauthorized changes to the county's tax bills.
Commissioners told Treasurer Javens during a public meeting yesterday that they would be the ones mailing out the county's tax bills this year — a change that came after Javens told the Board she would refuse to send out tax notices unless they approved two hires for her office. Along with telling Javens that they were taking over control the county's tax notifications, they also informed the Treasurer that her name was removed from the bills.
"People would ask me all the time, why do I have to make my tax check payable to Connie Javens," Commissioner Sandie Egley told the Beaver Countian. "The answer is you don't. We simply changed the tax bills so citizens make their taxes payable to the County of Beaver. Removing her name from the bill takes away her ownership."
Treasurer Javens berated the Board for removing her name from the bill, asking them during yesterday's meeting to change it back. The Board refused, with all three Commissioners unanimously signing off on the new tax bill template. The county's Financial Administrator and Chief Solicitor also signed off on the template.
According to County Commissioners, Treasurer Javens was not going to take no for an answer.
"One of our administrative assistants told us today that she saw the tax bills had been changed to re-add Javens' name," said Commissioner Egley. "The Board responded quickly to change the templates back. This is a serious document, this is the template for the county's tax bills, you can't mess with it like that."
Commissioner Dan Camp said he was able to confirm that Treasurer Connie Javens was the one who had the tax template altered by calling an outside software vendor after yesterday morning's public meeting.
"I contacted [the software vendor] and confirmed that Treasurer Connie Javens called sometime around 2 p.m. yesterday to have her name put back onto the tax bills so the checks would be made payable to her," Commissioner Dan Camp told the Beaver Countian. "I notified the District Attorney's Office that the county's official tax bill template the Board signed off on had been tampered with by Connie Javens."
Commissioner Egley said she and Commissioner Camp have had their hands full dealing with the Treasurer.
"Connie is lashing out," said Egley. "She went against the Board of Commissioners and against everyone in Beaver County who voiced their opinion about not wanting to make checks payable to her."
Commissioner Camp told the Beaver Countian that the outside software vendor has been directed to not accept any changes from the Treasurer's Office. Camp and Egley say they are willing to take whatever legal actions necessary against Javens to ensure the integrity of the county's tax collections.
Beaver County Treasurer Connie Javens previously told the Beaver Countian to never contact her again seeking comment, which she dubbed "harassment."