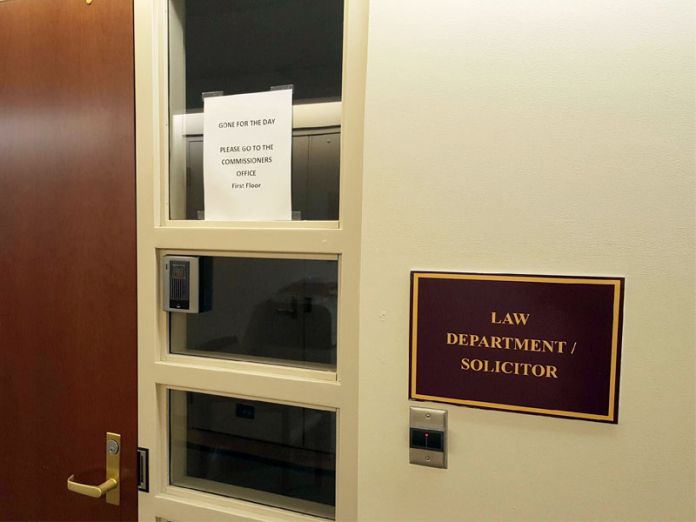 The Beaver County Board of Commissioners has hired new Chief and Assistant Solicitors to fill the county's vacant law department.
Attorney Garen Fedeles has been hired as Chief Beaver County Solicitor, a part-time position with a salary of $80,000 per year. Fedeles replaces Andrea Cantelmi, who was fired by Commissioners on March 22nd. His official start date with the county was April 5th.
Attorney Nathan Morgan has been hired as the county's Assistant Solicitor, a full-time position with a salary of $75,000 per year plus benefits. Morgan was previously an attorney with the Beaver law firm of Reed, Tosh, Wolford & Douglass. His official starting date with the county is set for April 16th. He replaces attorney Jessica Sullivan, who resigned her position with the county at the end of last month (Morgan had previously interviewed for the position that was instead given to Sullivan).
County Commissioners made their newest hires following a desperate search for attorneys to staff the county's law department that saw Human Resources Director Sidney Shaw being ordered to cold-call lawyers asking them to apply for the positions.
Former Chief County Solicitor Bernie Rabik submitted a letter to the Commissioners asking to be hired back after being fired from the same position last year. Rabik stressed his "loyalty" in the letter and offered to work full-time for $100,000 per year — he then began sending friendly greetings to Commissioners in random text-messages. Although Commissioner Tony Amadio pushed to have Rabik rehired, Commissioners Dan Camp and Sandie Egley were strongly opposed. After his offer was rejected by the Board, attorney Bernie Rabik went on this week to use his position as a columnist at the Beaver County Times to write in "Ask Attorney Bernie" that Commissioners had violated state transparency laws when removing former Chief Solicitor Cantelmi. The column contained no disclosure that he had unsuccessfully applied for the job.
Along with serving as the new Chief County Solicitor, attorney Garen Fedeles will also be maintaining his position as a partner in the Beaver law firm of Santicola, Steele & Fedeles — formerly the firm of Sainovich, Santicola, Steele. Garen Fedeles replaced Sainovich as a partner in the firm last year after Sainovich was removed by the other principals.
Attorney Myron Sainovich was himself once Chief Beaver County Solicitor until being fired by Commissioners back in 2011, following a high profile dispute over billing. The county was eventually forced to file a lawsuit against Myron Sainovich and the firm of Sainovich, Santicola, Steele, to recoup nearly $45,000 in taxpayer monies that had been improperly paid to them.