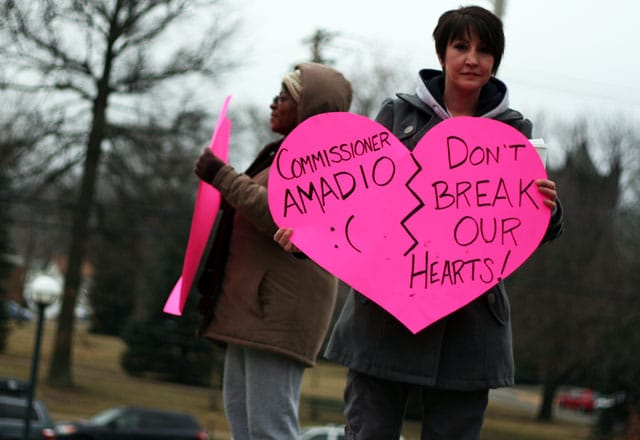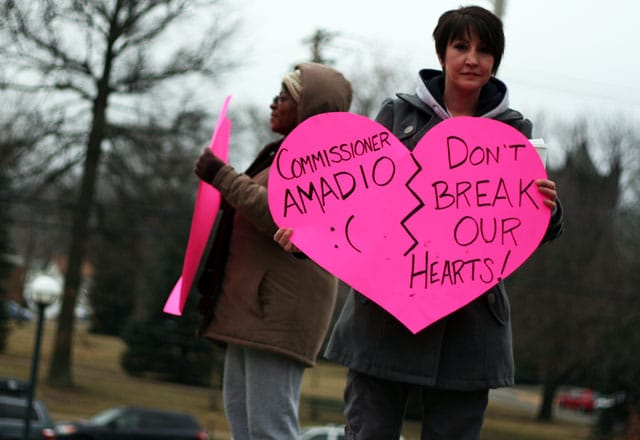 Commissioner Dennis Nichols believes the time has come to sell Friendship Ridge to a private entity. Commissioner Joe Spanik is convinced the facility can remain county owned. Commissioner Tony Amadio said he wants to keep the nursing home publicly run, but believes the county may soon be out of options. Workers took to the steps of the county courthouse today to protest any attempt to privatize the facility.
"We have three options available to us," Commissioner Tony Amadio told the Beaver Countian. "First, we can see Friendship Ridge go bankrupt, and I just can't deal with that happening. The only two options left are to get concessions to make up for the deficit, or to sell the place."
Commissioner Amadio said he would only consider a sale as a matter of last resort. "I want to give every opportunity to make this work, to keep Friendship Ridge publicly owned," he said. "This is not easy for me. Friendship Ridge has been there almost as long as I have been alive … We've been working on this for a year and a half, trying desperately to cut costs and do whatever we can to keep Friendship Ridge afloat … But unfortunately I don't have any magic up my sleeve."
Commissioner Joe Spanik spoke at a rally held by union workers at the courthouse today, vowing to return to the table to work with labor to come up with a solution to the budget deficits.
"I give them credit for reopening their contract and trying to do what they need to do," said Commmissioner Spanik earlier this week. "I've told the union point blank, we're $5 million in the hole, we have got to reach that number, and I believe if people keep working toward that goal we can reach it."
The union representing Friendship Ridge insist they already met the goal set by Commissioners to close deficits at the facility. "Our proposal was reviewed by Friendship Ridge's CFO. He agreed with our numbers and helped explain them to the Commissioners," said Friendship Ridge employee and union representative Denise Cox in a statement. "It's frustrating that Commissioner Nichols is now talking about a different set of numbers."
County Financial Administrator Vince LaValle noted that Friendship Ridge's CFO, Mike Kessler, resigned at the end of December.
"From everything that I've seen since I've been in office, Friendship Ridge needs to be sold," Commissioner Dennis Nichols told the Beaver Countian. "We've gotten three proposals from the union now, all of them filled with management advice and concessions, but it's not even close to getting us to the break even mark."
All three Commissioners agree that an independent audit conducted of the latest union proposal showed it saved just $3 million, instead of the $5 million claimed. Officials have told the Beaver Countian that if something isn't done soon, the County could start having trouble meeting payroll as early as this September. So bad is the financial predicament, say officials, that even if the Commissioners voted to raise property taxes to the maximum allowable by law, the county still wouldn't be able to close the budget gaps being accrued by Friendship Ridge. The Board of Commissioners have already taken such tax hikes or property reassessments off the table.
Commissioner Joe Spanik said there are still many potential avenues that could be explored to help close budgetary gaps. "For example, we had the option of selling some beds to a firm in Lawrence County, but we haven't done that," he said. Commissioners Amadio and Nichols said the option of selling beds to Lawrence County has already been considered, but ultimately rejected as a viable solution to the current budget crisis. "If Joe wants to sell beds, why doesn't he sell off all 589 beds at once instead of just pieces at a time," countered Commissioner Nichols.
Employees at Friendship Ridge say a sale of the facility could affect the care of its residents. "We have many concerns regarding Friendship Ridge being sold to a for-profit corporation," said nurse Kerri Theuerl in a written statement. "Our residents are like family to us, and we don't want to see our facility turned into a facility that puts profits over our residents."
At the public meeting of Commissioners held today, one woman personified those fears as she spoke out during a period set aside for public comments. "I'm here for my husband. I'm very emotional about this, we want to know what's going to happen to our families. I think you shouldn't do such a thing," said senior Evlyn Nicolosi, fighting through tears. "My husband can't speak so I have to speak for him … I'm in the neighborhood so I can go every day by bus to see him. If you take it away I won't be able to see him … Please think about it."
"We have a real financial crisis here, that's what we have, a financial crisis," Commissioner Nichols told the Beaver Countian. "People are creating unfounded fears about the level of care for the residents of Friendship Ridge if the facility were sold. I don't want those poor people scared to death like that, they're being used as pawns and it's shameful."
Commissioner Nichols believes a private entity could now manage Friendship Ridge better than the County. "A private operator will get better reimbursements, and will be able to better manage their costs. The quality of care for the residents will not be affected in any negative way — The Board of Commissioners wouldn't allow it, state regulations wouldn't permit it, and a private organization would have a financial interest in making the facility an attractive option for people needing care."
"We have worked very hard on this proposal and will continue working to protect our seniors, because we know a county-owned nursing home is better than a corporation who puts profits over people," concluded union representative Dennise Cox. "Commissioner Nichols is set on selling, while we are trying to protect the home to hundreds of our most vulnerable citizens … We provide quality care and we give our residents dignity. We take care of the people who built this county."
Today saw Commissioners Tony Amadio and Dennis Nichols huddled in an office with County Solicitor Joseph Askar and Financial Administrator Vince LaValle, as Commissioner Joe Spanik stood on the steps of the courthouse with labor union officials. At least for now, the county remains divided on how best to handle the crisis.