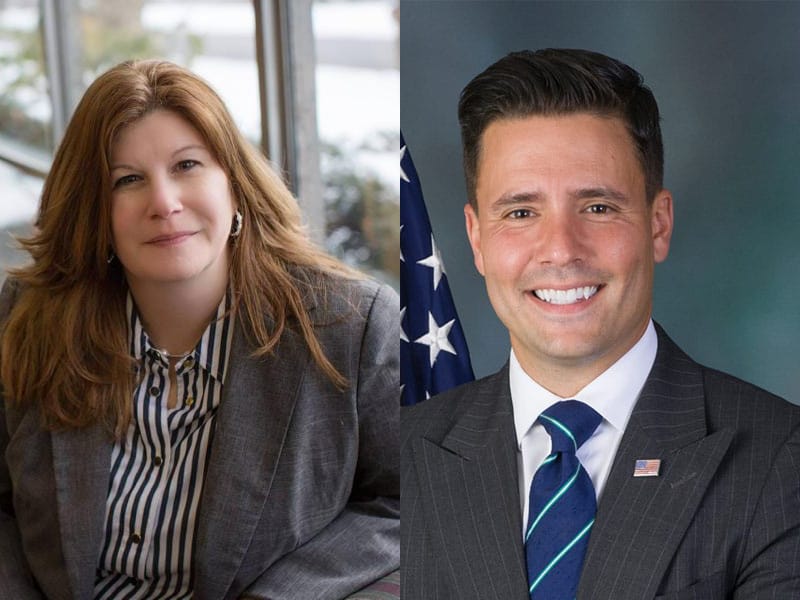 Republican Beaver County Commissioner Sandie Egley is calling for a meeting of the Executive Committee of the Republican Party of Beaver County to discuss what she calls "back door sneakiness" being perpetrated by Republican State Representative Jim Christiana to influence county government.
Political operatives and public officials in both the Democratic and Republican parties were in a tizzy today after it was reported that Republican Commissioners Sandie Egley and Dan Camp are going to appoint former Democratic Sheriff candidate Wayne Kress to fill a position on the county's Drug and Alcohol Advisory Council.
The political eruption started last night at around 11:00pm when State Representative Jim Christiana shared a Facebook post from the Pittsburgh Chapter of the "Not One More" anti-drug nonprofit. The post contained a leaked copy of an internal document signed by Commissioner Sandie Egley denying controversial former Sheriff Deputy Randy Tallon's appointment to the Drug and Alcohol Advisory Council. The document shows Egley recommending the Board consider Wayne Kress for the position instead.
Commissioners Dan Camp and Tony Amadio, who both have a good working relationship with Kress, have said they are in support of the retired State Troopers' appointment.
Representative Christiana shared the post containing the leaked document without adding any comments of his own. Democratic and Republican operatives both began speculating about how the internal document was leaked to a Pittsburgh area nonprofit organization (whose leadership is said to have ties to Tony Guy) which then found its way into a Facebook post that was shared by Representative Jim Christiana.
Christiana's sharing of the leaked document was followed by a series of text messages between various members of the Republican Party expressing outrage that Sandie Egley would move to appoint Republican Sheriff Tony Guy's former opponent to the position. Democrat Wayne Kress has made it clear he intends to run for Sheriff again in the next election, and has been a vocal critic of Sheriff Guy during public budget meetings and work sessions held by the Board of Commissioners.
"I feel that everything I do here is public, and I'm not going to make a stink about how this internal document was leaked out," Commissioner Egley told the Beaver Countian. "I couldn't care less that it got out. I am proud that the public got to see it. I say what I mean and I mean what I say, I am always up front with my intentions. I think Wayne Kress is good for the board, and I said I think he's good for the board. I think Randy Tallon would be bad for the board, and I said I think he would be bad for the board. There are no mysteries about what I am thinking, I am upfront."
Egley noted that the position on the advisory board is an unpaid post that does not have the authority to independently approve contracts or set policy, "It is not like I am trying to find a paid position for a friend or family member."
Commissioner Egley said that she and Commissioner Dan Camp are attempting to revitalize some of the county's various boards that have grown stale and stagnant over the years.
"Republicans haven't been in a position to appoint any members to any of the county's advisory boards in something like 60 years," said Egley. "I want to see new vendors get a fair shake at recommendations based on their bona fides, I want to see energetic people bringing new ideas to the table, so that means I want to see new people and that can't happen if the old people on the advisory boards get to pick their replacements. The first suggestion that we gave for one of these advisory boards is a man who happens to be a Democrat, that should say something […] I want people who are going to do the job, put in the time, and serve the community well; I am convinced Wayne Kress will do that."
Commissioner Egley told the Beaver Countian she believes that Representative Jim Christiana has been acting surreptitiously behind the scenes in an attempt to undermine the appointment of Kress, and that Christiana has repeatedly gone on the attack against her because of her critical dealings with Sheriff Tony Guy.
"Jim Christiana has been working quietly been behind the scenes trying to undermine me as Chairman of the Board of Commissioners, and he has been trying to do that without having his name attached to it," Egley told the Beaver Countian. "I called the Republican Party today and asked the Director to call a meeting of the Executive Board, inviting Representative Jim Christiana to the table so he has an opportunity to address me directly instead of using other people as his pawns to act against me […] He is a State Representative going after a County Commissioner in the same party over a volunteer position, that's not normal."
Political operatives have accused Christiana of attempting to use an intermediary to pressure Commissioner Dan Camp. State Representative Jim Christiana denies he has been trying to spike the appointment of Wayne Kress to the Drug and Alcohol Advisory Council.
"I could not care less who they appoint to an advisory position," Christiana told the Beaver Countian. "I haven't weighed in with Dan, Sandie, or the public, because it has no bearing on me as a legislator or me as a Republican official […] I have no professional opinion on who the board appoints; that is their day to day operations."
Although Christiana insists he has not used an intermediary in an attempt to influence county appointments, he does acknowledge having differences with Commissioner Sandie Egley.
"I think Chairwoman Egley would do best by getting back to running the business of the county government," said Christiana. "As far as my criticisms of Sandie Egley, they have been very public in that I was opposed to her desire to raise taxes by 30 percent. Her campaign literature said she was going to stop tax increases, end pay to play politics, and run county government like a business. She has violated all three of those promises in her first year."
Commissioner Egley characterized Christiana's criticisms of her as well crafted political theater and insists his real motivations are to protect Sheriff Tony Guy, whose performance in office she has been publicly critical of. Several Democratic and Republican political operatives have said for months that Tony Guy is positioning himself for a possible run for Commissioner in the next county elections.
"I don't have any problem with Jim Christiana using social media to criticize me and I don't have any problem with Jim Christiana criticizing the decisions I have made on behalf of the people of Beaver County," said Egley. "What I have a problem with is Jim Christiana's back door sneakiness in trying to be the one who makes the decisions; he has his own agenda and he is not being upfront with people about it."
Wayne Kress said he is disappointed but not surprised by all of the controversy that has arisen over his proposed appointment.
"Yes, I think everybody in the public can see that this is totally ridiculous," said Kress. "We're talking about a job that pays nothing for a seat on an advisory board that has no direct authority and only meets six times a year. But the advisory board involves fighting the drug epidemic, it deals with something that is a huge problem in Beaver County. I'm somebody who wants to do something, who wants to make a difference. People have seen me at budget meetings, they have seen me at public meetings, they have seen me at the Commissioners' work sessions. I won't be on a ballot again for years, I show up because I care."
Kress said his involvement with the board has become a political issue because others have tried to make it a political issue.
"I am a Democrat who was invited to be a member of the board by two Commissioners who are Republicans, this is not about politics. Drugs don't ask you if you're a Democrat or a Republican before they kill you," said Kress. "This is a political issue because [Sheriff] Tony Guy and [Representative] Jim Christiana made it an issue. I don't know what those two short sticks are so afraid of but they're both acting like children. I would not even show my face in public if I was acting the way they are, I would be utterly embarrassed."
Wayne Kress says he has his own ideas about what needs to be done to fight the drug epidemic in Beaver County. "If you want to stop the flow of drugs, the first thing you have to do is fight the corruption," said Kress. "Don't think for a minute that the two aren't connected."
Commissioner Dan Camp told the Beaver Countian that he was not the one who leaked internal county documents to Tony Guy supporters, and that despite the political drama over the past 24 hours nothing has pressured him into changing his mind — he will still be voting to appoint Wayne Kress to fill the open position on the county's Drug and Alcohol Advisory Council.
"As for Christiana's vendetta against me, there is plenty more for the public to know about," concluded Commissioner Egley. "But I will save that subject for another day."