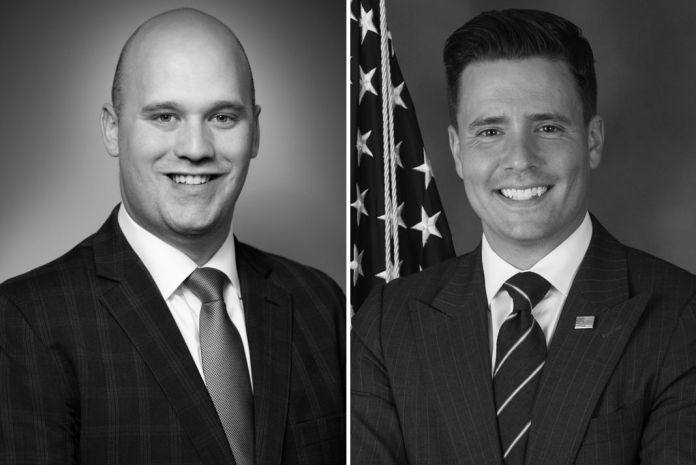 Beaver County Commissioner Dan Camp has sent a letter to State Representative Jim Christiana responding to his recent criticisms about the county's current contract impasse with Gateway Rehab. Camp also forwarded a copy of his letter to State Representatives Rob Matzie, Jim Marshal, Aaron Bernstine, Mark Mustio and Jason Ortitay, State Senators Elder Vogel and Camera Bartolotta, along with Speaker of the House Mike Turzai.
Commissioner Camp's letter is being published by the Beaver Countian in full below:
Dear Representative Christiana,
Behavioral Health Patients Have, and Will Continue to Have the Care They Need
Without checking with the Board of Commissioners or the Administration of Beaver County Behavioral Health for the facts, you have leveled accusations that Beaver County Medicaid recipients have been denied access to drug and alcohol services because of the County's inability to contract with Gateway Rehabilitation Center. You have asked the State Department of Human Services to conduct an investigation, and you have alleged that "the decision by the County not to use Gateway's services means people are forced to get treatment outside the county." Further, you have charged that going outside the County is "an irresponsible use of state dollars."
Nothing could be further from the truth.
A contract requires two parties, and agreements must be reached concerning what is a fair and reasonable payment for services that are to be provided. This is particularly the case when it comes to using tax dollars to purchase those services. As County Commissioners, we have the responsibility of using your tax dollars wisely, and efficiently. That often means refusing to pay unreasonable rates to a contractor who may not have the ability to provide all of the services our behavioral health population requires.
Here are some of the facts:
—— The Agreement which had existed between the County and Gateway was terminated by Gateway, not the County. The County refused to pay Gateway the rates it was demanding which, in some instances, were as much as 50% more than what the County had previously been paying and without Gateway providing additional services or improved patient outcomes.
—— The rates for services now being sought by Gateway continue to be far in excess of reasonable. Gateway's last two set of proposed rates for Detox services were the highest in the state, and exceeded the average of the rates paid by all other counties for Fiscal Year 2015/16 by 81% and 99%. Gateway has rejected the rates being offered by the County, which we believe are fair and reasonable, although they are lower than what Gateway is demanding.
—— Gateway's most recent proposal for Detox and other services included an estimated $927,000 of budgeted costs that are not permissible under federal regulations.
—— That proposal also included, without justification, 8 budgeted and full—time equivalent positions which would cost between $250,000 and $500,000.
—— As part of the contract negotiation process and entering into an agreement, the County may require its behavioral health service providers to sign an attestation that it is in compliance with federal and state regulations, particularly those that apply to the expenditure and accountability of funds. In the current contract negotiations, Gateway has declined to do so.
—- County residents continue to have Dr. Neil Capretto as a resource in the provision of drug and alcohol services. Dr. Capretto has served and continues to serve as a consultant to the County in the development and operation of its drug and alcohol programs and BCBH has relied greatly upon his expertise with these programs.
—— The tax dollars that the County receives to pay for drug and alcohol treatment services, whether for Medicaid or non—Medicaid recipients, are not unlimited. In fact, the tax dollars available to pay for non—Medicaid recipients are very limited and if the County were to acquiesce to Gateway's demands with regard to the requested rates, the number of county residents to whom treatment service could be funded will be greatly reduced. Although the funding streams are different, the same holds true for the funds available to pay for those treatment services for Medicaid recipients.
County government, whether the Board of Commissioners or the agencies who serve at its direction, has an obligation to be accountable stewards of the funds given to it, whether those funds are from a federal or state source or raised through real estate tax dollars. As such, it is our responsibility to spend those funds judiciously, getting everything we can for each and every dollar spent in our efforts to assure that County residents who need these services will have access to them. We believe we are doing just that. To further increase the number of county residents that can receive treatment services, BCBH sought competitive bids from providers or residential Detox and Rehabilitation Services. In addition to having a comprehensive drug and alcohol treatment service network (both in and outside the County when the need for a service not provided within the County arises), we have worked hard to efficiently manage and apply available funds to the cost of service, while at the same time ensuring that any eligible individual who needs service is getting it. In fact, the treatment program and facility targeted for Beaver Falls is funded with dollars, some $2.8 million, saved and earned through good management of the HealthChoices (Medicaid) funds entrusted to the County, and which we are now being permitted to "reinvest" in a program that will allow us to provide more services to our residents in a cost efficient manner. With the good management of the HealthChoices funds and the earnings of "reinvestment" dollars for use in developing new and alternative programs, the County is essentially getting the use of those dollars twice. As an aside, Gateway was offered the opportunity to submit a proposal for that $2.8 million and that program. The proposal Gateway submitted did not provide for additional treatment beds or services, but instead, wanted to apply those earned savings to enhancements for its administration (i.e., its overhead), a proposed use of those funds which were not part of the program that had been approved by the State Department of Human Services. Gateway's proposal was rejected by an independent committee established to review and make recommendations regarding all of the proposals submitted.
—— While Gateway is recognized as a quality provider of drug and alcohol treatment services, it does not provide all of the services required by County residents and it does not accept all County residents presented to it. Part of the reason BCBH contracts with a facility in Ohio is because it provides specialized services not available within the County boundaries.
The Board of County Commissioners are proud of the drug and alcohol treatment services we make available to eligible County residents and the cost-effective manner in which we use the tax dollars entrusted to us to provide those services and meet the needs of those recipients. Our performance and the manner in which we conduct that business is an open book. We would be happy to meet with you and any other interested legislator as well as the Pa Department of Human Services and make available our BCBH administrative staff to share the facts with everyone. The county looks forward to hear from you.
Respectfully,
Daniel C. Camp, III
Beaver County Commissioner