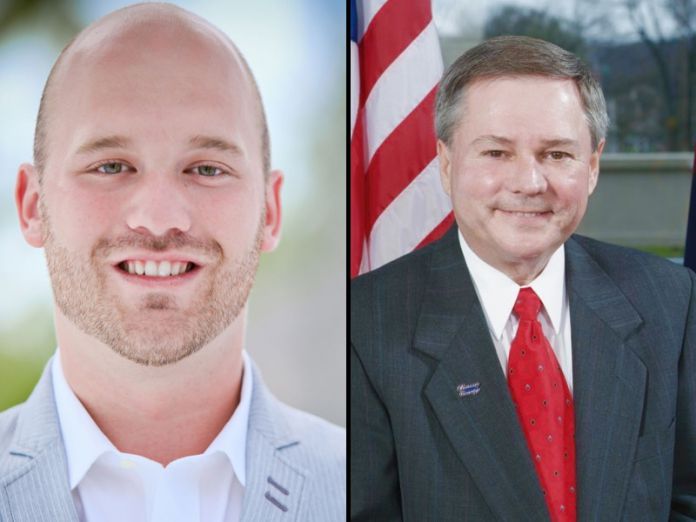 Republican Commissioner Dan Camp is now siding with Democratic Commissioner Tony Amadio to approve an agreement with Comprehensive Healthcare Management Services that will end the county's lawsuit against the company, according to multiple sources familiar with the matter.
Commissioners Egley and Camp voted to file a lawsuit against Comprehensive last July, seeking to recoup over $1 million a forensic auditor determined is still owed to the county from the sale of Friendship Ridge. Although the county initiated litigation against Comprehensive, it never filed a complaint in its case and instead chose to immediately enter settlement negotiations with the company.
The settlement agreement approved last week by Commissioners Dan Camp and Tony Amadio does not require Comprehensive to pay any additional monies to the county, but rather will see the county paying approximately $300,000 to Comprehensive it has been holding in accounts. The funds are comprised of Medicare/Medicaid payments collected by the county after the sale to Comprehensive was finalized.
Sources familiar with Commissioner Camp's political strategies tell the Beaver Countian he will attempt to explain his dramatic shift by citing the county's loss in unrelated litigation filed by CJ Betters, requiring Commissioners spend up to $10 million on a county-wide reassessment. Commissioner Camp is expected to reason the county could risk losing millions if it proceeds with its litigation against Comprehensive — money the county could not afford in light of the reassessment costs.
The reassessment litigation was initiated by Betters back in 2015 — Commissioner Egley and Camp made the decision to bring litigation against Comprehensive in July of 2017. County officials anticipated at the time they would likely lose the fight to prevent a reassessment.
Treasurer Connie Javens was the first county official to allege the county owed Comprehensive money back in 2016, with Comprehensive subsequently notifying the county it believed they are owed approximately $4 million from the transaction. County Commissioners had previously spent $25,000 to have an independent forensic audit performed which concluded Comprehensive owed the county approximately $1.3 million — confirming previous findings by the Beaver County Controller's Office.
Chief County Solicitor Garen Fedeles notified Comprehensive Healthcare Management Services' attorneys last week that the Commissioners approved of the settlement agreement. The Board is expected to formally ratify the agreement with Comprehensive later this month.
The end of the county's litigation against Comprehensive comes before a complaint was filed in the case and before a "discovery" phase of litigation that could have seen current and former Beaver County officials and Comprehensive executives testifying under oath in depositions.
Commissioner Tony Amadio has remained consistent in his opposition to the litigation. Commissioner Dan Camp declined comment when asked by the Beaver Countian about his decision to now surrender the lawsuit.
"My position has remained the same, I disagree with the other two Commissioners," said Republican Commissioner Sandie Egley, who declined to comment further citing the privileged nature of executive sessions.
See Also:
– Investigative Report: Former Chief County Solicitor Represented New Friendship Ridge Owners While Still Employed By The County
– Former County Solicitor Joe Askar Hosting Big Money Campaign Fundraiser For Gov Wolf At "Friendship Ridge" Facility
– Financial Administrator: County Officials Paid $300,000 Bonus To New Friendship Ridge Owners Without Justification
– Former Financial Administrator's Email "Explains" $1.2 Million "Loan" To Friendship Ridge
– Treasurer Connie Javens Refused To Cooperate With Audit Into Friendship Ridge Sale
– New Friendship Ridge Owners Appealing Facility's Property Tax Assessment With Treasurer's Help
– Treasurer's Daughter Lands Lucrative Friendship Ridge Contract
– District Attorney Lozier: State Police Conducted An "Unauthorized Investigation" Into County Corruption
– The Beaver Countian Obtains County Detective's Notes From Investigation Into Treasurer Connie Javens
– With DA's Investigation Concluded, Comprehensive Issues New Request For Friendship Ridge Funds Held By County