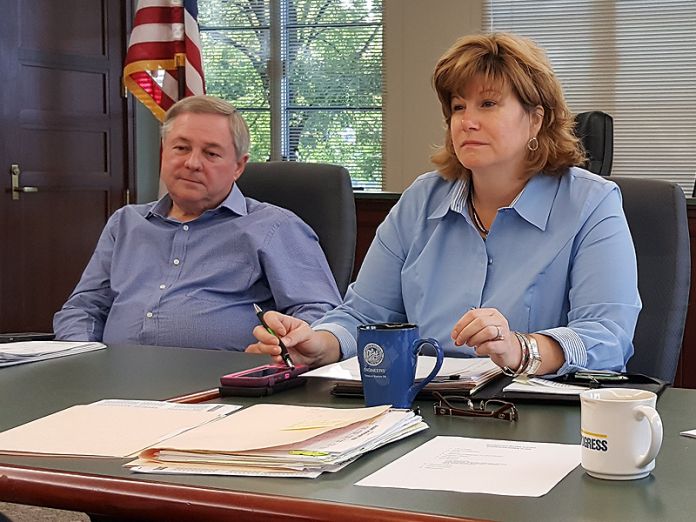 Commissioner Sandie Egley discussed the possibility of seeking an investigation into former chief county solicitor Joseph Askar with her fellow Commissioners — ultimately moving forward on her own as a private citizen after no official action was taken by the Board. The revelation of Egley's conversation with Commissioners Dan Camp and Tony Amadio came yesterday as a result of questioning by the Beaver Countian, and calls into question a previous statement made by Commissioner Amadio that the matter had never been discussed with him.
Commissioner Egley issued a statement to the press last week announcing that she was seeking an investigation into attorney Joseph Askar to determine whether he "violated the Pennsylvania Rules of Professional Responsibility in his capacity as Chief County Solicitor." Egley noted in her press release that she had made the complaint "personally."
The Beaver County Times published an article on September 20th, quoting Commissioner Tony Amadio's reaction to Commissioner Egley's announcement.
"It never ends," Amadio told the newspaper. "I cannot explain Sandie Egley. She's on her own as far as I know with this. This has never been discussed with me, nor am I going to be a part of it."
The Beaver Countian posed a series of questions to Commissioners Camp, Egley, and Amadio about the matter during yesterday's public work session.
"[I]t wasn't a Board action, there was never a public vote, there was never any public statements made about Joseph Askar, but if it was discussed in executive session is something I can not discuss," said Commissioner Camp, when asked if Commissioner Egley had ever talked with the Board about filing a complaint against Askar.
Commissioner Egley also alluded to an executive session conversation when asked the same question, "What's discussed in executive session has to stay in executive session."
Executive sessions are closed-door discussions which include commissioners, the county's law department, and other officials as necessary, to discuss sensitive matters. The Pennsylvania Sunshine Act enumerates what issues can be deliberated outside of public meetings, including personnel matters, litigation, or issues in which complaints are expected to be filed.
The Beaver Countian then asked Commissioner Amadio if his statement that "this has never been discussed with [him]" was true. Amadio balked, "You asked for one question, that's two," before saying he had "no comment."
After additional questioning of Commissioners by the Beaver Countian, Chief County Solicitor Garen Fedeles finally acknowledge publicly that Commissioner Egley had in fact discussed the possibility of filing a complaint against Joseph Askar with the rest of the Board of Commissioners.
"Well at this point, I think it's fair to say that this issue came up in an executive session matter with the Board," said Fedeles. "Now, from the standpoint of what was discussed that would have led to Ms. Egley in order to file that, that was never addressed officially to the Board. I think we leave it at that."
The Beaver Countian asked Commissioner Amadio if his statement to the press that "this has never been discussed with [him]" was untrue; Amadio sternly repeated he had no comment.
Commissioners Tony Amadio and Dan Camp are both close personal friends of former county solicitor Joseph Askar.
Listen In Full To The Beaver Countian Question Commissioners About Amadio's Statement