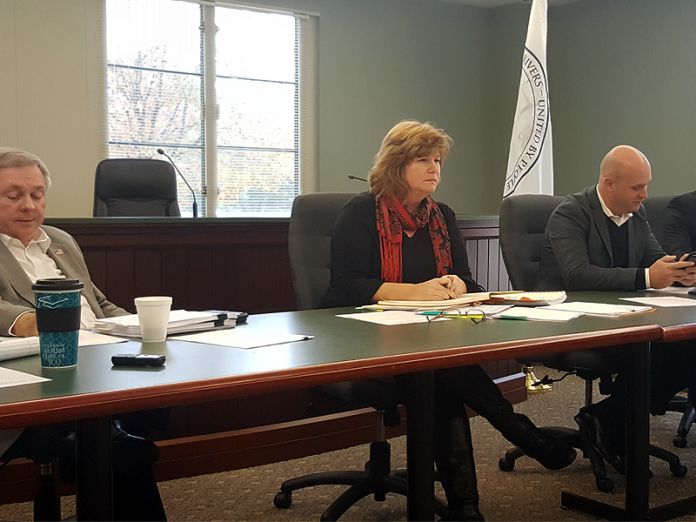 Democratic Commissioner Tony Amadio is once again attempting to rewrite history by spreading false information about the county's finances to the public.
Commissioner Amadio gave interviews to the Beaver County Times and WBVP radio last week where he renewed his false assertions that the county's budgets have been in good shape and never really were facing massive deficits. Amadio has repeatedly made similar statements in the past, although his demonstrably false assertions have never been challenged by reporters from either news organizations.
"I feel vindicated," Democratic Commissioner Tony Amadio told the Beaver County Times last week. "I have always maintained the budgets were good."
Preliminary numbers show Beaver County ended its 2017 fiscal year approximately $4 million in the black — the 2018 budget predicted the county would start the year with approximately $1.3 million in cash on hand. Although the county ended last year with additional cash in the bank due in large part to one-time cost savings measures, the county's budget will remain structurally imbalanced with reoccurring expenses outpacing reoccurring revenues. Projections by independent analysts with the Public Financial Management Corporation (PFM) show this structural imbalance will grow rapidly each year for the foreseeable future without significant new austerity measures.
Democratic County Controller David Rossi told the Beaver Countian he was stunned by reporting from the Beaver County Times last week about the county's finances.
"I am completely baffled by the Times article," said Rossi. "I don't understand how they can write this article like it is some big surprise that we had money in the bank at the end of last year. This year's budget says we were going to start with money in the bank […] They don't understand what they're writing about, they don't get it, all they do is publish people's lies."
So how did the county end the year well in the black when tic-toc projections by Financial Administrator Ricardo Luckow back in August showed the county was tracking towards a deficit?
"This is simple stuff," said Rossi. "Part of it is the bond could not be refinanced until October, and you have no clue if you can refinance it at all because you can't predict what the varying interest rates will be, you can't anticipate getting any savings so you can't budget for it. Even when you start the refinancing process the interest rates can fluctuate wildly so you don't know what the savings will be if anything. [Financial Administrator Ricardo Luckow] told the Commissioners those figures were not included in his estimates and he was right to make sure they were not relying on that money to see the county through to the end of the year."
Other savings resulted from updates in actuarial tables for the Pension Fund made by outside analysts, which are still being adjusted to account for the impacts of losing employees from the sale of Friendship Ridge.
In an interview on WBVP last week, Commissioner Amadio went even further, claiming the county never was facing major budgetary deficits at all.
"A budget is just a plan, it's a plan of revenues and expenses," said Amadio. "For example, when it was stated that it was a $16.5 million deficit two years ago, that's 1/4th the General Fund. That's impossible to come back from that in two years. So that was my concerns, my concerns were the budgets were good, the ending surpluses were good, and I'm just happy. Like I said to the reporter [from the Beaver County Times] yesterday, I feel vindicated."
Controller Rossi has said the prior Board of Commissioners ended its last year of office in 2015 by not having the money to pay off a Tax Anticipation Note by roughly $6 million at year's end, but passed a budget for fiscal year 2016 that showed the county would start with a positive $6 million in the bank. That $12 million swing to the negative — along with other shortcomings in the 2016 budget estimated at about $5 million on top of that — lead to a projected budget deficit of nearly $17 million for the new Board of Commissioners to grapple with.
The County's Comprehensive Annual Financial Reports (CAFRs), which are independently audited by Certified Public Accountants at The Binkley Kanavy Group, have proven the dire position Commissioner Amadio left the county's finances in as outgoing Chairman of the prior Board of Commissioners. The county's credit rating has been downgraded twice over the past two years by Standard & Poor's specifically due to structurally unbalanced budgets that date back years, and a state-funded study of the county's finances has confirmed the serious problems of the past and the dire financial outlook ahead.
"When that CAFRs came out I sat down with [a Beaver County Times reporter] and tried to explain this all to him," said Rossi. "I told him that if he looked back at every article he wrote he would see [Commissioner] Tony Amadio kept saying this was all made up. I told him Tony was wrong, but the Times just kept writing it. Well it's all in black and white now so why didn't they do any follow up? The Times kept publishing he-said-she-said but never wrote the facts, never let the public know what was right. Now they're letting Tony Amadio say that he was right because there is money in the bank right now, but they don't understand how that money got there or what it all really means […] Financials are not he-said-she-said things, there are facts involved and the paper doesn't understand them."
Rossi warned that the county is going to continue facing huge financial hurdles.
"I'm just happy that everyone finally realizes there's a surplus," Commissioner Amadio went on to tell the Beaver County Times last week. "My major concern is our chairman (Egley) talking about the big deficit Beaver County was having, and we're sitting on $4.7 million."
Controller Rossi said that major austerity measures combined with one-time cash saving measures were the only reasons the county did not realize a crippling deficit last year.
"If the Commissioners didn't raise taxes by 17% there wouldn't have been a surplus this year, we would have been in big trouble," said Rossi. "And the surplus you see that is there is because of a few one-time factors the county is not going to be able to rely on again. The debt service is increasing and it's increasing big time and we won't have the money to deal with it if huge changes aren't made. Our real estate revenues are going to be stagnant but our expenses are going to be going up exponentially […] Commissioners relied on one-time fixes again last year but now they're all used up."
Republican Commissioner Sandie Egley told the Beaver Countian she has "had enough of the stupid people at the Beaver County Times."
"I think it's absolutely hysterical that Tony Amadio voted against refinancing the bonds but the paper is now letting him take credit for a one-time surplus created in large part by that very refinancing," said Commissioner Egley. "This isn't 'vindication day' for Tony Amadio, this is Tony Amadio telling the public things that aren't true and the Beaver County Times letting him get away with it because they don't understand anything."
Commissioner Egley Plays Show-and-Tell With The Times' Article
Beaver County Commissioner Sandie Egley took a copy of the Beaver County Times article with her to Penn State Beaver on Thursday, using it as the centerpiece of a guest lecture she gave to a class on American government.
"I thought the article was a great example of how deceptive the newspaper is, so I took it to show to the students," Egley told the Beaver Countian. "The reporter wanted to tell a story and didn't let the facts get in his way."
Egley said she believes the article leaves the reader with several wrong impressions, among them that she was trying to avoid discussing the county's finances.
"I was in a meeting at the Ice Arena with [Recreation And Tourism Director Tim Ishman] and missed a call by the Times at 2:24 p.m.," said Egley. "I sent the reporter a message as soon as I got out of the meeting at 5:09 p.m. but he told me it was already too late."
An article that appeared in the next morning's paper quoted Commissioners Tony Amadio and Dan Camp, stating that, "By afternoon, two of the three commissioners were ready to discuss the situation," and that, "Republican Commissioner Sandie Egley, who is chairwoman of the board, didn't return calls seeking comment Wednesday."
Egley said she told students at Penn State it is an example of how easily the press can leave the public with a misleading impression.
"The article states that the Times tried to contact me and I didn't get back to them at all on Wednesday, that left the impression I was avoiding the issue, that is not the truth," said Egley. "The truth is I did contact them back on Wednesday in the span of two and a half hours. I am a Commissioner who is trying to run a county and I am a very active Commissioner. If the Times had such a very short deadline and couldn't reach me in time that's one thing, say I couldn't be reached by deadline, but they wrote I didn't contact them at all that day which leaves the public with a very different impression. They do this a lot and I think they do it on purpose […] [Financial Administrator] Ricardo Luckow has been a godsend for Beaver County but he's getting beaten up by people who are lying and people who don't understand anything they're trying to write about."
Egley said the Times offered to interview her for a follow up article, but she decided to decline.
"They have a bad habit of publishing false or misleading information on the front page of their newspaper and then burying the truth several days later in the middle of it," said Egley. "These are serious issues, Beaver County is facing big challenges and the paper isn't doing the public any favors with the way they've been writing about it all […] They never should have tried to turn around an article about something like this so fast. I've had enough of them."
See Also:
– In-Depth: Beaver Countian Challenges Amadio On Statements About The Budget – Amadio Tells Egley To "Keep Smiling"
– State-Funded Study Shows County's Budget Is Spiraling Out Of Control – Predicts Yearly Deficits Of $10 Million
– Annual Financial Report Provides Further Proof Of County's Massive Budget Deficits Caused By Prior Board
– Beaver County Taxpayers Lose $1.2 Million As A Result Of Downgraded Credit Rating Due To Budget Woes
– Treasurer Connie Javens Misleads Taxpayers About The Budget During AM Radio Interview