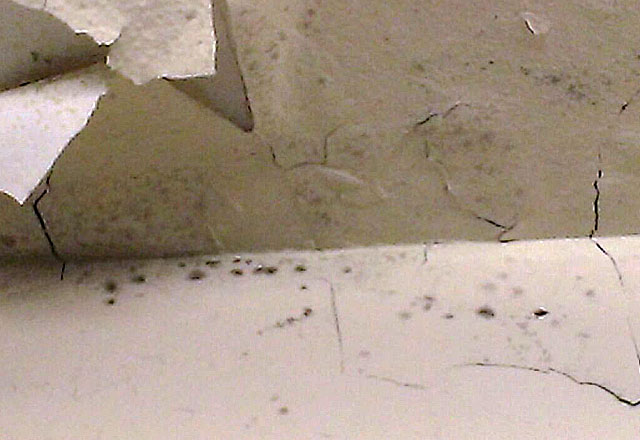 A woman who has been cleaning the Aliquippa City Building has quit, saying the facility is now too unhealthy and unsafe to work in.
Mary Barcheski of Center Township is the proprietor of Magnum Cleaning Services, which has been cleaning the Aliquippa City Building for the past decade.
"I get paid $30 per night 3 days a week, Monday, Wednesday, and Friday," Barcheski told the Beaver Countian. "I do over and beyond what I get paid for, and that's how I work. I am good at what I do and I take pride in what I do."
Barcheski said the problems in the Aliquippa City Building started two years ago, when the facility was struck by a flood that affected the entire downtown. "When it got hit by that flood I said listen, I am not hazmat, I can't go in and deal with that. It needs to be sanitized or there's going to be mold down there. They said we're not worried about that, no one goes downstairs anyway."
Mary Barcheski said her warnings were ignored, and her predictions are now coming true.
"Well guess what? That was two years ago and now it's nasty," said Barcheski. "The mold is everywhere, it's coming up from downstairs, it's coming through the plaster, the place is polluted with it […] The wall is so bowed in places that one day it's all going to end up on the ground. The plaster is breaking up and falling. I sweep it and sweep it and sweep it, and it just keeps coming down and coming down and coming down."
The 54 year old Barcheski says the problems with the building are more than she can handle. "I'm suppose to be dusting not doing construction work. My job is to sweep and mop the floors, clean the bathroom, those sorts of things. That's my job, I mean, what more do you want done for $30? I thought I was giving them a really good deal."
The woman claims the building's condition continues to deteriorate due to a lack of necessary repairs and maintenance.
"Now there is new water damage everywhere because the roof is still leaking," said Barcheski. "I clean it up and it gets all nasty again from the leaks. I can't take care of that. I can't fix roofs. Things are getting super wet, the tile keeps getting black and stained and moldy — I have no idea what's behind there that I can't see. I can't clean behind plaster."
Barcheski said City Officials put large white panels on top of the walls in places to hide some of the mold, but the dark stains have begun to work their way through those as well.
Along with a leaking roof, crumbling plaster, and the mold problem, Barcheski said the Aliquippa City Building is also infested with rodents. "I go there one day and the alarm was going off and I didn't know what was going on. The cops finally came by after a while and then left. It was the mice letting off the alarm. The mice! I don't know where they're all running to but they're up in the walls, they go up behind the heating registers […] I have to keep sweeping up piles of droppings. There's always piles of droppings places. They only have me going there three days a week not every day, so I keep up with it the best that I can. They were told about it but there's not been any exterminator or any traps, I'm still seeing the mice and their piles. I still see the remnants of the mice all over the place."
Barcheski alleges the City is now taking their troubles with the building out on her.
"After I complained about all of the problems with the building they sent me a letter saying I wasn't doing my job," said Barcheski. "Are you kidding me? They had the nerve to tell me I wasn't doing my job? I wrote them a letter back documenting all of their problems and telling them that I quit […] It's somewhere that I am glad I am out of, they can keep their $30, seriously."
Mary Barcheski provided the Beaver Countian with photographs which appear to substantiate many of her claims, and says she has contacted the EPA about the issues. "I work in a lot of other places, I've been cleaning the Monaca Borough Building for the past 24 years and will stay with places like that. I've never had to deal with anything like this before."
Aliquippa Mayor Dwan Walker did not respond to requests for comment from the Beaver Countian.