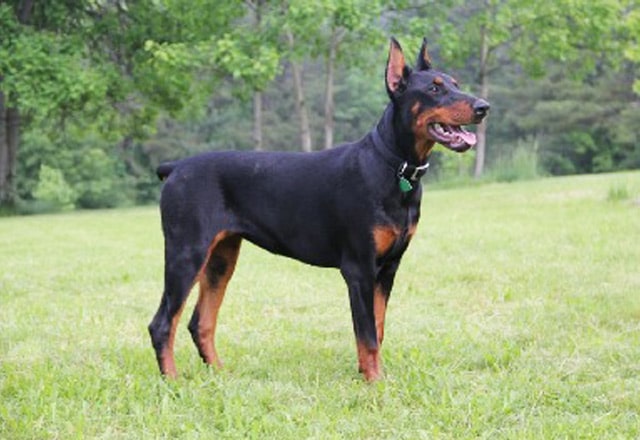 A small dog breeder in Center Township has received a Cease And Desist Order demanding he get rid of his animals. Lynn Claypoole, of 300 Bunker Hill Road, received a notice from Center's Zoning Officer citing a township ordinance prohibiting more than 4 animals being kept on a property. The letter noted Claypoole is subject to a $500 fine for each day he fails to come into compliance.
Claypoole says he's been breeding his world-class Doberman Pinschers for the past 7 years without issue "I have never had a single problem with any of my animals, no excessive barking, no foul odors, never a bite incident… none of my animals have ever escaped my property."
Claypoole lives on 5.5 acres in the township, and has another 7.5 acres which he planned on using to breed and train his dogs. He says he lives "in the boonies", and has few neighbors other than his aunt.
"We're talking about dogs that cost $5,000. Everything I do on my property is done top-notch" said Claypoole, who regularly imports champion European bloodlines from Russia, Serbia, and other parts of Europe to breed.
"They told me I could try to apply for a variance, but the more I thought about all of this, the more I felt it was wrong" said Claypoole "So I hired an attorney and I'm going to challenge the Constitutionality of this ordinance and the township's authority to enact it […] Sure townships can pass ordinances prohibiting nuisances, but they can't define a nuisance in terms of an arbitrary number of animals."
Lynn Claypoole has retained attorney Jason Plakosh to represent him at a hearing with the Zoning Board, which is scheduled for December 14 at 7:00 p.m. in the Assembly Room of Center Township's Municipal Building.
"If I lose this hearing I'll sue the Township. If they actually cite me for violating the ordinance, I'll take this before a judge" said Claypoole "I just want to be left alone."
Township Zoning Officer John Plutko could not be reached to comment in time for this report.