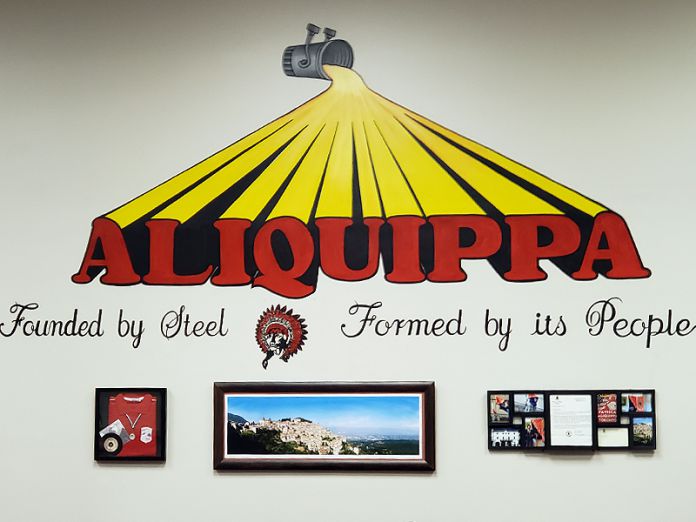 The City of Aliquippa has named its second acting police chief in less than a week.
"Council met Friday evening at 5 p.m. with our Solicitor where we voted unanimously to have Captain Robert Sealock lead our police department," Councilman Matthew Mottes told the Beaver Countian. "We feel comfortable with his leadership of our department moving forward."
Councilwoman Vicki Fratangeli was absent from the emergency session.
Captain Robert Sealock's appointment follows the arrest of Assistant Chief Joseph Perciavalle, who was in charge for less than two days before being arrested on Friday by Beaver County Detectives on charges of disseminating obscene explicit material to Aliquippa Sgt. Kenneth Watkins' daughter.
Council has not yet made a formal decision on whether Perciavalle will be suspended with or without pay — he is currently away on a scheduled vacation.
Perciavalle had been appointed acting chief on Wednesday after City council voted unanimously to place Chief Donald Couch on administrative suspension — Councilman Mottes has said Couch is the target of an investigation into local government by Pennsylvania State Police.
Acting Chief Sealock told the Beaver Countian he hopes to bring some sense of stability to the department if at all possible.
"I just want to look out for my guys down here and for our residents and hopefully keep everybody safe and sound," said Sealock. "I'm going to try to keep this department moving."
The Aliquippa police department has been working jointly with Beaver County Detectives to investigate the Mother's Day murder of school teacher Rachael DelTondo.
District Attorney David Lozier has faced intense criticism for not bringing in an outside agency to investigate the murder, due to several apparent conflicts involved in the case. Aliquippa Police had leaked sensitive law enforcement records about DelTondo to an unauthorized member of the public prior to her death; one of the last people to see the woman alive was the daughter of Aliquippa Police Sergeant Kenneth Watkins — who himself has been accused of making unauthorized entry into the DelTondo crime scene while off-duty.
Watkins is currently on a paid administrative leave from the department while the DelTondo investigation remains ongoing due to his family's ties to the woman.
District Attorney Lozier sought to reassure the public last month about Aliquippa's involvement in the investigation, saying, "They would not be part of this team if there were any question as to their capacity or their integrity."
Earlier this week, then-acting Chief Perciavalle announced he would be filing a formal request with the Pennsylvania State Police asking them to take over the DelTondo homicide investigation; it is unclear how far that process progressed before his own arrest by County Detectives.
Acting Chief Sealock told the Beaver Countian he is not yet ready to speak publicly about his plans for the DelTondo investigation.
"I've only been on this job for less than a day," said Sealock. "I hope to be able to answer other questions soon."
Aliquippa Solicitor Myron Sainovich drafted a press release today about recent events, saying in part, "The City is hopeful that any issues related to the administrative leave (of Chief Donald Couch) will be resolved in the not to (sic) distant future."
Councilman Mottes said the statement by Solicitor Sainovich was not approved by Council and that particular portion of the release does not reflect his own views.
Solicitor Sainovich's press release concludes, "The citizens of the City and surrounding communities should be aware that there will be no interruption of police services in the City. The Mayor and Council are taking the appropriate steps to ensure that the integrity of the department and all police services remain in operation."
See Also:
– Timeline: The Murder Of Rachael DelTondo
– Mother Of Rachael DelTondo Renews Calls For Outside Agency To Investigate Her Daughter's Murder
– State Police And Witnesses Contradict Statements By District Attorney About Ongoing Investigations
– Acting Aliquippa Police Chief Joe Perciavalle Arrested By Beaver County Detectives
– Acting Aliquippa Chief Says Txt Msg Was An Accident – Calls His Arrest By DA's Office Retaliation
– Aliquippa Councilman Accuses City Solicitor Of Misleading The News Media
– Aliquippa Police Chief Placed On Administrative Leave – Target Of State Police Investigation
– GRAND JURY ACTION! Subpoenas Served In County Corruption Probes – Aliquippa On The Hot Seat!
– Aliquippa Police Say Deltondo Murder Crime Scene "Could Have Been Contaminated" By One Of Their Officers
– Investigative Report: Sensitive Justice Network Info Leaked Out Of Aliquippa Police Department