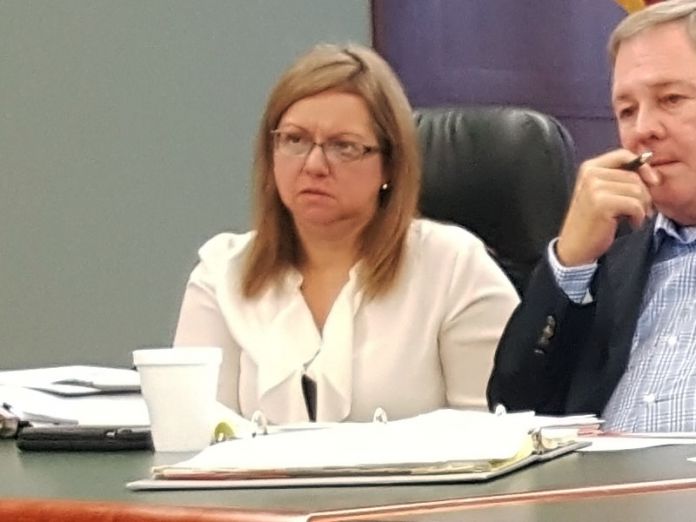 Republican Commissioner Sandie Egley and Democratic Commissioner Tony Amadio joined together today to terminate the employment of Chief County Solicitor Andrea Cantelmi.
Andrea Cantelmi was a long-time fixture in the County's Law Department where she served as an Assistant Solicitor for 15 years before being promoted to Chief Solicitor in February of last year. Cantelmi's promotion followed Commissioners Egley and Camp's termination of then-Chief Solicitor Bernie Rabik (Rabik had been promoted to Chief Solicitor in January of 2015 following the resignation of attorney Joseph Askar).
Commissioners provided no reason for Cantelmi's termination.
Courthouse sources tell the Beaver Countian that Commissioner Dan Camp was not consulted by Commissioners Egley and Amadio before they fired Cantelmi (Camp had developed a close working relationship with Cantelmi, often spending hours during the day in the law department — the two regularly went out to lunch together).
Along with terminating Chief Solicitor Cantelmi, Commissioners Egley and Amadio instructed Assistant Solicitor Jessica Sullivan not to report back to work at the courthouse. Sullivan had already submitted her resignation earlier in the month and was scheduled to finish her employment with the county before the start of April.
Egley and Amadio canceled tomorrow's scheduled Public Commissioners Meeting and a meeting of the County Prison Board, citing the need to concentrate on finding attorneys to staff the County Law Department.
With Cantelmi's termination and Sullivan's resignation, the Law Department is now only staffed by paralegal Stacey Householder (who is currently out on maternity leave) and part-time legal secretary Patricia Morack.