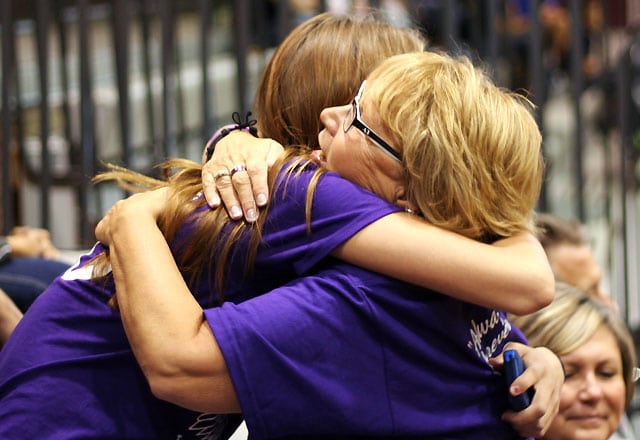 "This night means everything to me… they are still remembering her" said Janis Ford, a woman who the community has come to know lovingly as "Carlee's mom."
Carlee Houghtelin was a senior at Beaver High School when she died tragically last year, a drunk driver having plowed into the car she was riding in.
Janis Ford became an inspiration to thousands in the months that followed the loss of Carlee, an honorary mother to a generation that remained. She wrote an article for the student newspaper warning Carlee's classmates to the dangers of driving drunk, consoled her daughter's friends at events held in her honor, and spoke of forgiveness toward the young man responsible for her child's death.
Last night once again saw Janis surrounded by "her children", this time to help raise money for a scholarship fund established in Carlee's memory.
Along with being an aspiring writer, Carlee was an avid volleyball player, and her former teammates were continuing their now annual "Purple Out" fundraiser. Bright tshirts featuring Carlee's favorite color were sold by students Jennifer Kundick, Megan Misorski, and Leah Schaughency as part of their senior projects. The fundraiser and one held earlier in the year raised over $1,000 which will be used to help a student pay for college.
"It's nice to see everyone come out and support this event, a lot of these people never even had a class with Carlee, never even knew her" said Dana Fitzgerald, one of Carlee's life-long friends who graduated from Beaver this year.
"We're not going to award the scholarship based on grades" said Carlee's mom. "There are already plenty of scholarships for students with 3.5 GPAs […] We're going to award Carlee's scholarship based on the type of person they are, someone with a good heart."
While a time honored athletics tradition sees jersey numbers retired as a show of respect, last night Carlee's number was instead given new life. Worn on the backs of the young and old, by both loved ones and strangers, on this night they were all number 26.