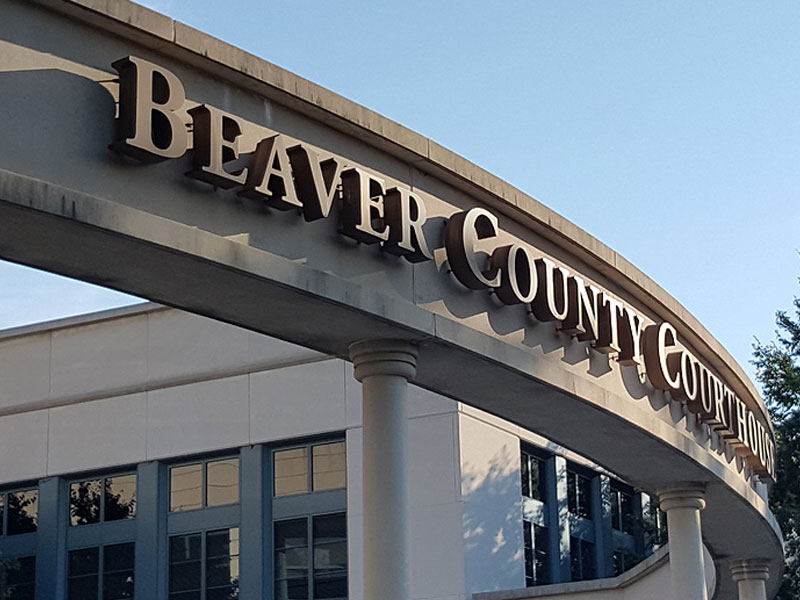 The Beaver County Law Department is researching whether public memorials and dedications of public buildings need to be discussed and voted on by elected officials in a public meeting, with Commissioner Sandie Egley now saying she wants to have discussions about a plaque that was recently dedicated in memory of a former employee.
The memorial plaque was installed outside of the Jurors' Lounge on the second floor of the courthouse, which has now been dedicated and officially renamed into the "A.R. 'Rich' DeFilippi Jurors' Lounge" — DeFilippi had worked as the county's Chief Court Administrator before his death in August of last year.
Officials say it is the first time Beaver County has ever dedicated a portion of the courthouse to an individual.
According to county officials, the monument was approved by President Judge Richard Mancini. Before the plaque was installed, an email was sent back and forth between the Courts and the Board of Commissioners asking if there would be any objection to the dedication — all three Commissioners unanimously stated there was not. No public notice was given that officials were considering a permanent memorial be installed in the courthouse, the matter was never discussed during a public work session of the Board of Commissioners, and no vote was taken by officials at a public meeting approving the dedication of the public space.
County Commissioners told the Beaver Countian they did not review any design specifications for the plaque before agreeing to it and did not inquire as to what its size would be or what would be appearing on it. Along with the man's name, the plaque also includes his likeness and a memorial statement with biographical information, the last words he spoke to his family members, and the following description of his work: "He committed himself to enhancing and pioneering the Beaver County Courts to the highest professional level which is exemplified in many other Courts across this Commonwealth today. Rich will forever be remembered for his loyalty, graciousness and professional treatment toward his Board of Judges, his employees and the public which he served and loved on a daily basis."
Several women told the Beaver Countian they were personally opposed to the memorial as they felt DeFilippi had not ensured court employees conducted themselves professionally or that female employees were being treated with due respect. Some women have previously described their working environment as at times being similar to a "frat house" and have said there is a "good ol' boys club" that is largely protective of male employees and dismissive of women's concerns.
"[Court Administrator Richard] DeFilippi was in his office smoking a cigarette, he looked up at me and said, ya chick you have your hands full there. That was it […] Like I said, it's like a frat house there and the boys all have each other's backs, they're tight and they will try to discredit everything and everyone."
– Phyllis Deluca, former county court employee
"It looks to me like [Court Administrator] Rich [DeFilippi] isn't able to do anything because he's up to his neck in all of this too."
– Rick Darbut, then-Human Resources Director
During their public work session on Wednesday, the Beaver Countian asked the Commissioners of previous concerns raised publicly by some female employees.
"It's a personnel issue so I'm not going to talk publicly about it," said Commissioner Tony Amadio. "We already said it was OK," added Amadio, referring to the memorial to DeFilippi.
Commissioner Dan Camp said he had no comment.
Commissioner Sandie Egley said she had not considered the symbolic nature of the tribute when she approved it, "I never really took into account the enormous amount of conversation that would revolve around a memorial or a dedication […] I would like to revisit this with the Law Department and have a discussion with [them]."
Chief County Solicitor Garen Fedeles said he was not prepared to answer the Beaver Countian's question about whether the dedication of a public facility, and the installation of a permanent memorial in a public space, needed to be deliberated and voted on in a public meeting rather than privately through emails.
Archived Coverage By The Beaver Countian:
– In-depth: Man Believes He And His Son Were Denied Fair Access To The Courts Because Of Ex-Wife's Relationship With Court Admin
– Former Employee: Domestics Director Got Drunk In The Courthouse – Regularly Left Work To Gamble With Court Admin
– Commissioner Sandie Egley Says She Was Disrespected By Domestic Relations Director Joe Signore During Meeting
– Investigative Report: Courthouse Employees Secretly Logged Director's Absences
– Sources: Beaver County Judges At Odds As State Begins Investigation