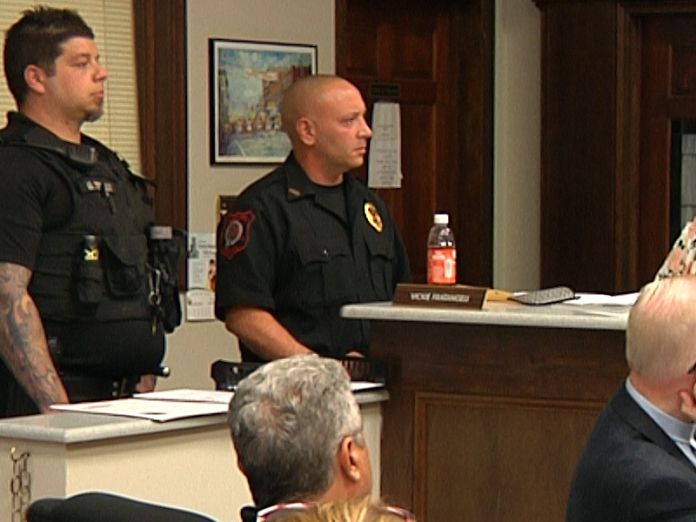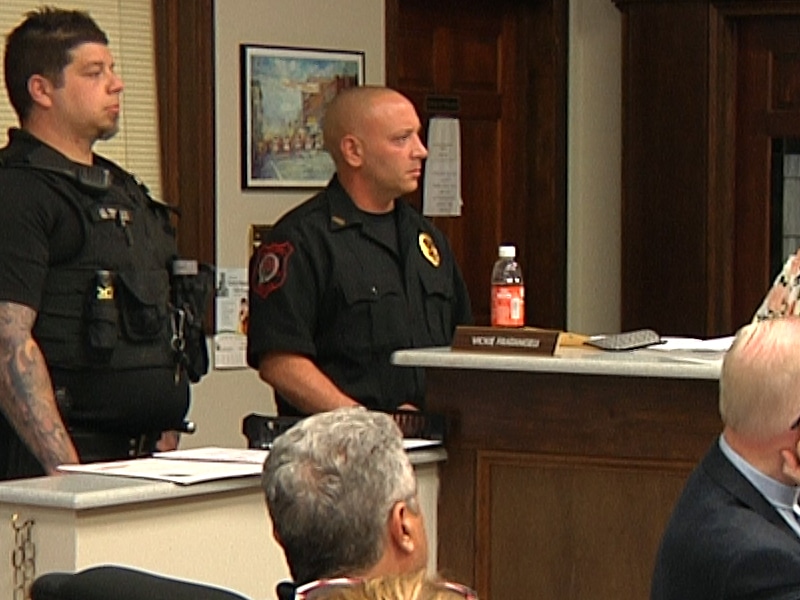 Acting Aliquippa Police Chief Joseph Perciavalle has been arrested by Beaver County Detectives.
Court dockets show Joe Perciavalle has been charged with felony distribution of sexually explicit material to a minor, felony unlawful contact with a minor for sending obscene material, and misdemeanor corruption of minors.
Perciavalle is alleged to have distributed an obscene text message to a minor, who law enforcement sources say is the 17-year-old daughter of Sgt. Kenneth Watkins. The smartphone where the messages were allegedly found was confiscated from Sgt. Watkins' daughter by County Detectives and Aliquippa Police Detectives as part of their investigation into the murder of Rachael DelTondo.
According to an affidavit filed in the case by Chief County Detective Andrew Gall, the offending text conversation took place on May 10th at around 6:35 p.m.
According to sources, the message was allegedly sent by Perciavalle as a group text to Sgt. Kenneth Watkins, his wife Stephanie, and their minor daughter. Perciavalle's number was saved on Watkins' daughter's phone under the name "Uncle Perc."
According to the complaint, the message "included a video depicting an unknown white female of indeterminate age wearing high heeled boots and a dark colored sweater or jacket. The female was nude from the waist down and was exhibiting her fully exposed vagina and buttocks. The female was on a park swing and she was urinating while swinging."
After receiving the message from Perciavalle, Kenneth Watkins replied back, "Wow." Stephanie Watkins responded, "really … perv … my daughter is too young to see this."
Perciavalle responds, "smh (shake my head) … she is 21." The girl's mother replies, "17."
Perciavalle replies, "and it's a girl taking a pee … like a true quip hoodrat."
Stephanie Watkins responds, "even worse." Stephanie replied again, "This is a quip hoodrat," along with what the criminal complaint describes as "an attached picture of a clothed woman with hands in her pants."
Watkins' daughter did not respond to any of the messages.
Attorney Steven Townsend has been retained to represent Joe Perciavalle in the matter. He tells the Beaver Countian that his client believed he was sending the video to Sgt. Kenneth Watkins only, but accidentally sent the message out to an already existing group message chain with the Watkins family that was on his smartphone.
"It certainly is a reasonable explanation," said Townsend. "You know how many times I've done that? It happens."
Attorney Townsend is calling into question the actions of the Beaver County District Attorney's Office in deciding to file the criminal charges.
"The timing of this is very suspect and I think a lot of the comments I've been reading from the public are saying the same thing," said Townsend. "The fact Perciavalle is in office as acting chief for under 48 hours before this comes out is definitely suspect … I think they need to focus their investigation on the murder (of Rachael DelTondo) not what they were doing here."
Perciavalle was installed as acting Chief on Wednesday night after Aliquippa Police Chief Donald Couch was placed on paid administrative leave by City Council. Perciavalle had said his first official action as acting Chief would be to recuse the Aliquippa Police Department from the DelTondo homicide investigation and ask Pennsylvania State Police to take over the case.
Attorney Townsend also pointed out that the group text message went to Sgt. Kenneth Watkins, who is an officer in the Aliquippa Police Department. "I understand that he is a mandatory reporter under state law," said Townsend. Based on the information he has, Townsend does not believe Sgt. Watkins made any such report to state officials.
Sgt. Watkins is currently on paid administrative leave due to his family's relationship with Rachael DelTondo and his daughter being among the last people to have seen the woman alive.
"This has been a big surprise to Perciavalle and obviously he is very distraught about it," added Townsend.
Beaver County Detectives seized Joe Perciavalle's phone when he was placed under arrest, according to two confidential sources. Following his arrest, Perciavalle was released on $5,000 unsecure bond. A preliminary hearing in the case is scheduled for July 11th.
SEE OUR EXCLUSIVE VIDEO INTERVIEW:
"Acting Aliquippa Chief Says Txt Msg Was An Accident – Calls His Arrest By DA's Office Retaliation"
See Also:
– Aliquippa Police Chief Placed On Administrative Leave – Target Of State Police Investigation
– Aliquippa Councilman Accuses City Solicitor Of Misleading The News Media
– Aliquippa Police Say Deltondo Murder Crime Scene "Could Have Been Contaminated" By One Of Their Officers