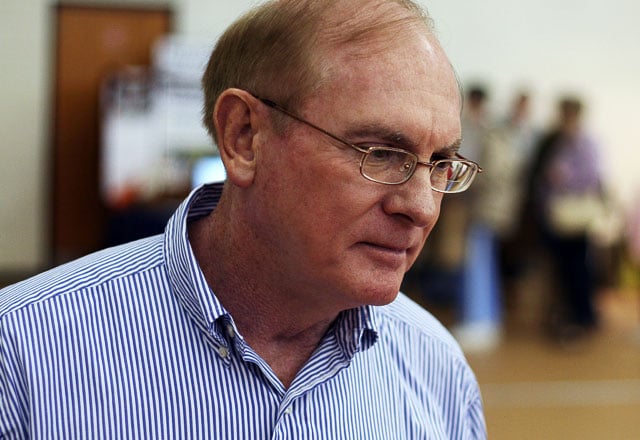 He had pancakes with syrup on the side and decaf coffee. I had lots of crispy bacon, eggs with cheese, toast (white, not wheat) with tons of butter, orange juice (from concentrate), and coffee (the real kind). Republican Candidate for Commissioner Dennis Nichols was spreading a smidgen of syrup over his pancakes with a butter knife, as I began crumbling bacon into my eggs and cheese to create a cholesterol laden goo.
So began our breakfast together at Town Square Restaurant in Beaver.
I had written Dennis Nichols, as I had all of the candidates, requesting an opportunity to shadow him for a day on the campaign trail. "I am receptive to an interview process and possibly a 'tag along' although I think I would like to limit the time frame to a shorter period" he politely responded. Fair enough, it was our first date, and I understood him not wanting to make any sort of long term commitment.
We settled on breakfast and a trip together to State Senator Elder Vogel's Senior Fair.
Dennis Nichols began our discussion by describing his 35 year career in the private sector, which he said gave him a larger perspective on local issues.
"I spent 15 years traveling throughout the United States and Canada. I was gone for 3 days every week" he told me "I appreciated living here in Beaver County more and more as I traveled […] But I've also seen enough to know our county really is in need of help."
Nichols said he's running for Commissioner partly because he believes time is running out for Beaver County to change its ways "I feel we're headed to a point where if we don't start making significant changes from an economic perspective, we're going to have real troubles over the next 5 years and beyond."
He believes the county needs to invest $300,000 – $400,000 on a firm that specializes in economic development, to provide guidance moving forward. "If you have a bad back, you can ask your wife or neighbor for help. They are all well meaning, and will give you advice. But if you want to have it fixed, you see a proper physician. We need to hire proven, knowledgeable consultants to help guide us forward."
While Nichols' politics are undoubtedly conservative, he wasn't afraid to stray from the Republican Party line in our conversation together. The candidate, whose wife is a Special Education Teacher at Western Beaver, spent a great deal of time talking about local schools.
"When I was on the Beaver School Board, I thought local control was absolutely the most important thing. But over time, I've started to change my opinion on that. You start seeing disparities. The State of Pennsylvania has a responsibility to educate each and every child — But it doesn't end there, it is their responsibility to make sure each student receives an EXCELLENT education."
That's why Nichols says he's against school vouchers.
"I think vouchers would lead to even greater disparity. I've seen them in other states, and they don't really work" he said "Low income families don't have the wherewithal to get their kids to schools outside of their district anyway, so they can't afford to go even with the vouchers."
"I know you've heard me say this a lot, and I don't want you to think it's just a talking point, but I firmly believe if there's no future for young people, there's no future for any of us" Nichols continued "To that end, great ideas don't come from certain income levels, our future is in each child."
Another area where Nichols broke from other Republicans running for local office, was on the topic of debt. Nichols said he's not particularly worried about Beaver County's current standing "We've been able to manage our debt where it is now — It looks like the county can continue to manage it. So no, I don't find our current debt level alarming."
Despite the investments into the county represented by that debt, Nichols sees an area in steep decline, and in desperate need of change. "It's unfortunate that some of our one time vibrant communities are now in decay, and others are in the process of joining them […] I think sometimes when things get so difficult, people start to realize we have to get past this provincialism which can hold us back."
Nichols believes organizations like the Council of Governments (COG), hold the key to unlocking Beaver County's future. He said an expansion of COG's efforts could allow communities to maintain their individual identities, while "efficiently and effectively" (the candidate's catch phrase) consolidate everything from schools to police and fire services. "If you start forcing consolidation and telling people what to do, you start getting push back, that sort of provincialism creeps in. But if you offer resources the way COG does, people look at those resources as opportunities to take advantage of" he said.
There is one problem Dennis Nichols identified which could be solved as early as next week. "I don't think anybody should be in office for more than two terms" he said with a grin.