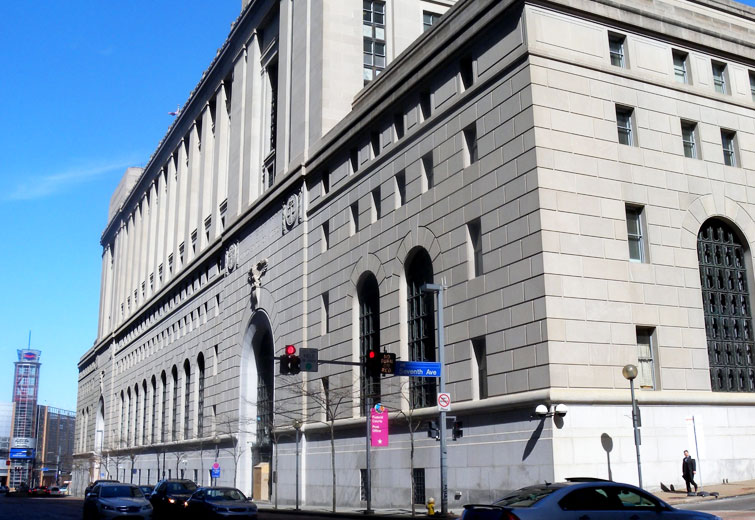 A Beaver County man filed his 66th lawsuit seeking class-action status in federal court last week, this time against the car parts store Pep Boys.
Robert Jahoda of Ambridge, who is legally-blind, alleges he was unable to shop on PepBoys.com because the online store does not make its website accessible to the seeing impaired. Jahoda alleges the company is in violation of the Americans with Disabilities Act by not implementing technical measures that allow its website to be interfaced by screen reader software which converts text to audio for those with visual impairments.
Jahoda filed similar lawsuits last month against other companies including Brooks Brothers, the Hardrock Cafe, and Foot Locker, all alleging their websites are not readily accessible to the blind.
In September of last year, Jahoda filed a federal lawsuit against Redbox, alleging movie rental kiosks operated by the company rely on touch-screen interfaces which are impossible for the visually impaired to use without assistance of a sighted person.
The Beaver Countian first wrote about Robert Jahoda back in April of 2012, when the man filed several lawsuits against area banks alleging their drive-through ATM machines violated provisions of the Americans with Disabilities Act. Jahoda alleged at the time that the ATM machines did not permit the visually impaired to withdraw money without assistance.
It appears in every case filed before July of this year the companies reached confidential settlement agreements with Jahoda to end the litigation.
Robert Jahoda has been represented in all of his lawsuits by the Pittsburgh law firm of Carlson Lynch Ltd.
Lawsuits filed by Jahoda include:
THE HOME SAVINGS AND LOAN COMPANY OF YOUNGSTOW, OHIO filed 03/26/12 closed 07/18/12
1ST NATIONAL COMMUNITY BANK filed 03/28/12 closed 05/15/12
CHARLEROI FEDERAL SAVINGS BANK filed 04/02/12 closed 04/27/12
FIDELITY BANK, PaSB filed 04/10/12 closed 05/21/12
COMMERCIAL BANK & TRUST OF PA filed 04/12/12 closed 07/10/12
FIRST COMMONWEALTH BANK filed 04/13/12 closed 07/11/12
PNC BANK, NATIONAL ASSOCIATION filed 04/16/12 closed 02/01/13
CITIZENS BANK OF PENNYSLVANIA filed 04/17/12 closed 12/10/12
FIRST NIAGARA BANK, N.A. filed 04/18/12 closed 07/19/12
HUNTINGTON NATIONAL BANK filed 04/19/12 closed 08/23/12
NORTHWEST BANCORP, INC. filed 05/04/12 closed 09/10/12
CENTURY HERITAGE FEDERAL CREDIT UNION filed 05/09/12 closed 06/06/12
DOLLAR BANK filed 05/15/12 closed 10/22/12
MARS NATIONAL BANK filed 05/15/12 closed 08/07/12
USX FEDERAL CREDIT UNION filed 05/17/12 closed 10/23/12
APOLLO TRUST COMPANY filed 05/23/12 closed 02/19/13
FARMERS & MERCHANTS BANK OF WESTERN PA filed 05/23/12 closed 09/06/12
ELDERTON STATE BANK filed 05/29/12 closed 09/07/12
STANDARD BANK PASB filed 06/08/12 closed 09/07/12
GATEWAY BANK OF PENNSYLVANIA filed 06/18/12 closed 08/20/12
FIFTH THIRD BANK filed 10/12/12 closed 05/02/13
ESB BANK filed 10/16/12 closed 02/19/13
FIRST NATIONAL BANK OF PENNSYLVANIA filed 10/17/12 closed 02/14/13
FIRST FEDERAL SAVINGS BANK filed 10/31/12 closed 12/28/12
WESBANCO BANK, INC filed 11/01/12 closed 02/14/13
FRICK TRI-COUNTY FCU filed 11/02/12 closed 03/19/13
FREEDOM UNITED FCU filed 11/05/12 closed 02/14/13
WEST-AIRCOMM FCU filed 11/05/12 closed 03/14/13
WASHINGTON COMMUNITY FCU filed 12/04/12 closed 02/14/13
WEST VIEW SAVINGS BANK filed 12/06/12 closed 01/30/13
UNITED COMMUNITY FCU filed 12/12/12 closed 05/08/13
UNION BUILDING AND LOAN SAVINGS BANK filed 12/17/12 closed 02/14/13
PROGRESSIVE-HOME FEDERAL SAVINGS AND LOAN ASSOCIATION filed 12/19/12 closed 04/02/13
COMPASS SAVINGS BANK filed 12/20/12 closed 08/26/13
WESTCO FCU filed 12/28/12 closed 04/15/13
AMERICAN EAGLE OUTFITTERS, INC. filed 09/18/13 closed 01/17/14
BURLINGTON COAT FACTORY WAREHOUSE CORPORATION filed 09/27/13 closed 05/16/14
J.C. PENNEY COMPANY, INC. filed 09/30/13 closed 01/06/14
J. CREW GROUP, INC. filed 10/02/13 closed 03/14/14
ABERCROMBIE & FITCH CO. filed 10/03/13
HHGREGG, INC. filed 10/11/13 closed 08/28/14
DSW INC. filed 10/14/13 closed 02/28/14
ULTA SALON, COSMETICS & FRAGRANCE, INC filed 10/25/13 closed 02/28/14
THE TJX COMPANIES, INC. filed 10/29/13 closed 02/04/14
HOBBY LOBBY STORES, INC. filed 11/21/13 closed 11/03/14
OFFICE DEPOT, INC. filed 12/03/13 closed 02/05/14
STERLING JEWELERS, INC. filed 12/04/13 closed 06/18/14
THE YANKEE CANDLE COMPANY, INC. filed 12/30/13 closed 04/25/14
EXPRESS, INC. filed 01/03/14 closed 03/27/14
WILLIAMS-SONOMA, INC filed 01/15/14 closed 04/03/14
CHICO'S FAS, INC. filed 01/15/14 closed 03/17/14
ZALE CORPORATION filed 01/17/14 closed 07/08/14
J. CREW GROUP, INC. filed 01/17/14 closed 03/14/14
FRED MEYER JEWELERS filed 01/20/14 closed 01/06/15
BUILD-A-BEAR WORKSHOP, INC. filed 01/20/14 closed 07/07/14
L BRANDS, INC. filed 01/23/14 closed 06/20/14
C & J CLARK AMERICA, INC. filed 01/23/14 closed 06/20/14
ASCENA RETAIL GROUP, INC. filed 01/23/14 closed 07/25/14
GANDER MOUNTAIN COMPANY, INC filed 02/04/14 closed 11/21/14
SPRINT CORPORATION filed 02/11/14 closed 06/03/14
REDBOX AUTOMATED RETAIL, LLC filed 09/17/14 closed 06/03/15
FOOT LOCKER, INC. filed 07/31/15
BROOKS BROTHERS, INC. filed 08/10/15
HARD ROCK CAFE INTERNATIONAL, INC. filed 08/27/15
THE PEP BOYS – MANNY, MOE & JACK filed 08/27/15