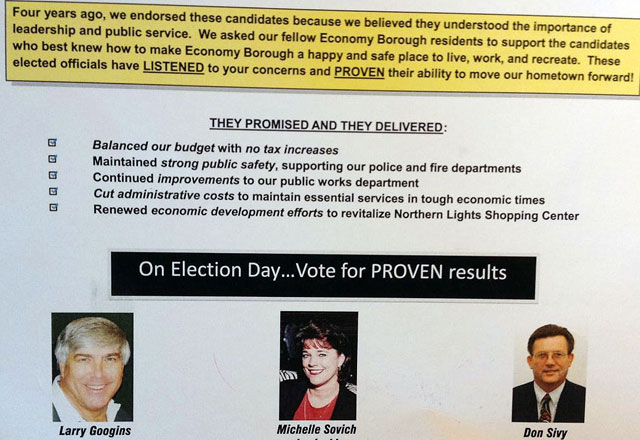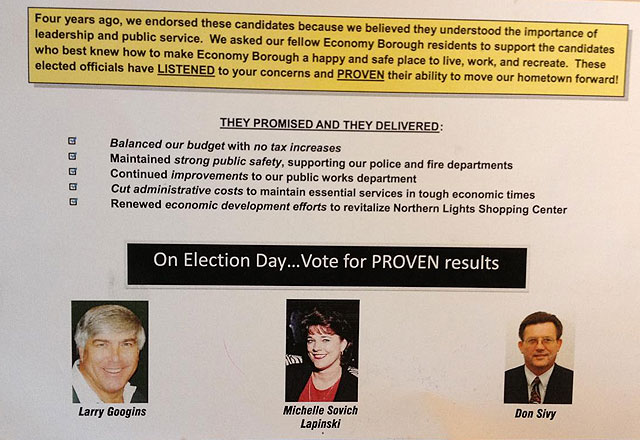 The Treasurer of the now defunct Bipartisan Committee for a Better Economy Borough says he personally made all of the monetary contributions to the group during its final reporting period, according to a campaign finance report filed by the committee.
The committee's termination report filed with the Beaver County Bureau of Elections on October 3rd shows Rick Lapinski listed as making a contribution to the group on June 28th of $844 and on July 1st of $1,431.08. His personal donations are the only ones shown for the committee, who listed no other contributors. Lapinski was named as the Committee Treasurer, and is the man who filed the report. He is also the husband of Economy Borough Councilwoman Michelle Lapinski.
The statement lists expenditures of $1,520 spent on signs, $1,011 for flyers, and $840 for postage.
The Bipartisan Committee for a Better Economy Borough officially disbanded itself in the middle of the election cycle, two days after the Beaver Countian published its first report detailing questions being raised about their finances.
The Economy Borough Democratic Committee and the Beaver County Democratic Committee filed a joint complaint with the Board of Elections last month, alleging the Bipartisan Committee for a Better Economy Borough grossly under reported both their campaign expenditures and donations. George E. Fitzgerald, who campaigned for Mayor of Economy Borough, and Mary Jo Sivy, who campaigned for Tax collector, were also listed in the complaint.
The Board of Elections voted unanimously to refer that complaint to the District Attorney's Office after the group failed to provide documentation requested by Elections Director Dorene Mandity. District Attorney Tony Berosh told the Beaver Countian that he has formally opened a criminal investigation into the matter, and has assigned County Detectives to the case.
The Bipartisan Committee's previous campaign finance report, also submitted by Richard Lapinski, reported total expenditures of just $978.27 during the primary election. Economy Borough Mayor David Poling and County Democratic Committee Chairman Michael "Doc" Sisk allege the group spent well over ten times that amount. Lapinski and George Fitzgerald have denied under reporting expenditures and donations. Mary Jo Sivy has previously failed to return a message seeking comment.