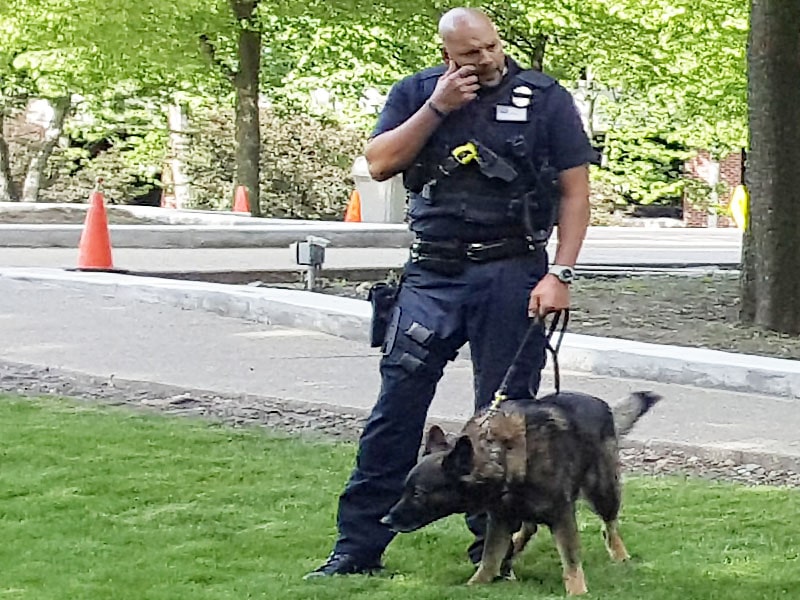 An attorney representing Beaver Borough and the Beaver Borough Police Department told a judge yesterday that a criminal defendant arrested by one of its officers must submit a Right-To-Know request for potentially exculpatory evidence in his case, which the attorney said the department will then deny because of an exception in the open records law for investigative files.
Solicitor John J. Petrush made the argument before Common Pleas Judge Dale Fouse yesterday morning during a pretrial hearing in the Commonwealth's case against James Edward Cicco. Beaver Patrolman Jeffery Wijnen-riems has alleged that Cicco resisted arrest, assaulted him, taunted his K-9 partner, and grabbed a hand drill during an encounter with the man last August. Eyewitnesses alleged the officer was aggressive and used excessive force against a man who they say was clearly trying to surrender. Cicco suffered gruesome injuries during the arrest as a result of Wijnen-riems deploying his police K-9 on the man — dash cam video of the incident appears to show the dog mauling Cicco while he is handcuffed. An investigation into the incident by the Pennsylvania State Police found no criminal wrongdoing on the part of the officer.
Defense Attorney Gerald Benyo, who is representing James Cicco, filed a motion asking for the production of certain records maintained by Beaver Borough and the Beaver Police Department, which Benyo asserted the District Attorney should compel production of in his role as the county's top law enforcement officer. Among the records being sought included documentation on policies and procedures for the Beaver Police Department, information that may demonstrate why the department's dash cam did not record audio of the incident as it was designed to, training logs for their department's K-9, and disciplinary records for Officer Wijnen-riems related to any alleged incidents of excessive force or past violations of departmental procedures.
Attorney Benyo appeared stunned as Beaver Solicitor John Petrush argued that a criminal defendant arrested by the Beaver Police Department had to file Right-to-Know requests for such information. Attorney Petrush told Judge Fouse he would be submitting a brief with the court arguing why a defendant should have to file an open records request for information that could be useful in the defense of their case, and why the Beaver Police Department should be allowed to deny those requests under an investigative file exception.
Not applicable to the criminal court system, the Pennsylvania Open Records Act defines a process by which members of the general public can gain access to public records, such as a municipality's budget or county meeting minutes. The "investigative records exception" is designed to prevent the general public from gaining access to sensitive information gathered as part of a criminal investigation.
"My client is a defendant in a criminal case," an exasperated Benyo told Judge Fouse. "He is not the general public […] he has a Constitutional right to exculpatory evidence."
If attorney Petrush's reasoning is allowed to stand, police departments in Beaver County could file criminal charges against an individual and then be allowed to keep information secret which may be valuable to their defense by invoking open records exemptions (something which would be unconstitutional under the United States Supreme Court's landmark case of Brady v. Maryland).
The District Attorney's Office took no position as to Petrush's Right-to-Know argument during the proceedings.
Judge Dale Fouse did not issue any rulings from the bench, but seemed to indicate he was not impressed with the Beaver Solicitor's argument, suggesting instead he may be inclined to compel the Beaver Police Department to provide the records for him to review and then make an independent determination as to their potential relevance in the case.