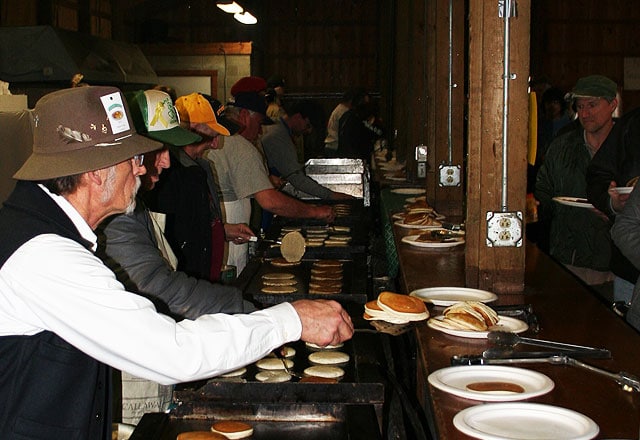 [text size="16″ width="100%" color="#000000″ font="georgia" line_height="24px"]
[dropcap_1 color=""]T[/dropcap_1]he unseasonable weather didn't stop throngs of Beaver Countians from lining up early today to claim their fair share of this year's maple syrup harvest. But having just arrived back home from the event, I am now realizing — I literally forgot to get myself some pancakes.
I went to Brady's Run Park with the intention of eating pancakes. Pancakes were offered to me by numerous people, on numerous occasions. They looked really good, they smelled really good, everyone seemed to really be enjoying them. Yet somehow, I managed to leave without actually eating any.
In my own defense, I got distracted. The sight of docents in settler's garb, the smell of burning coal from the blacksmith, the sound of cannon fire… it was sensory overload for an amateur observer such as myself.
One perfect example was Ron Taylor, Booshway of the Beaver River Buck Skinners, who stood eager to share his knowledge of the region's early settlers — Starting off by teaching me what the hell a Booshway was (put simply, he's the boss man).
Being a colonial trapper, Ron proudly showed off his collection of animal pelts (which would easily have been enough to send a member of PETA into a panic attack). He then proceeded to demonstrate his tomahawk throwing skills just a few feet away from where I was standing (which was nearly enough to send me into a panic attack.)
I won't soon forget the Booshway's telling of The Story Of Mister Crow, nor that he let me into his tent to warm up by the wood fired heater.
Back at Brady's Run Lodge the lines were long but fast moving thanks to a venerable army of dedicated volunteers, many of whom have been helping with the annual tradition for decades. Glenn Gould of Beaver Falls was there for the twenty-first year, Richard Onuska made this his twenty-second. Frankly the list of those responsible for making the festival a success is far too long for me to do justice for all who deserve recognition.
I would also be remiss if I failed to mention the vendors who were peddling their wares. While several of the other festivals that take place in Beaver County each year have been criticized for the "corporatization" of their booths, I am pleased to report the Maple Syrup Festival is not one of them. Many of the vendors were dressed in period clothing, and the vast majority were offering hand-made goods that hearkened back to the colonial era. They gave the event an authentic feel, transporting visitors to the public squares of our area's founding.
So while I might not have tasted maple syrup today, I did get to experience living history. If you haven't yet made it down to the festival, I strongly encourage you remember to do both.
[/text]
Beaver County Maple Syrup Festival Schedule Of Events
For Sunday, April 2, 2011:
Main Stage:
10:00 – 11:00am — Dena
11:15 – 12:15pm — Take II
12:30 – 1:30pm — Re-Konception!
1:45 – 2:45pm — King Beaver Barbershop Chorus
3:00 – 4:00pm — Henry Mancini All-Stars
Upper Stage:
10:15 – 11:15am — Mr. Bill's Music
11:30am – 12:30pm — For Those About To Rock Academy
12:45 – 1:45pm — James Tobin
2:00 – 3:00pm — Marianne & Co
All Day Events (Weather Permitting)
Face Painting (Children's Tent)
11:00am – 3:00pm — Kahuna Balloona Balloon Art
11:00am – 4:00pm — Montain Dulcimer
12:00 – 2:00pm — Jockular Juggler
[nggallery id=15]