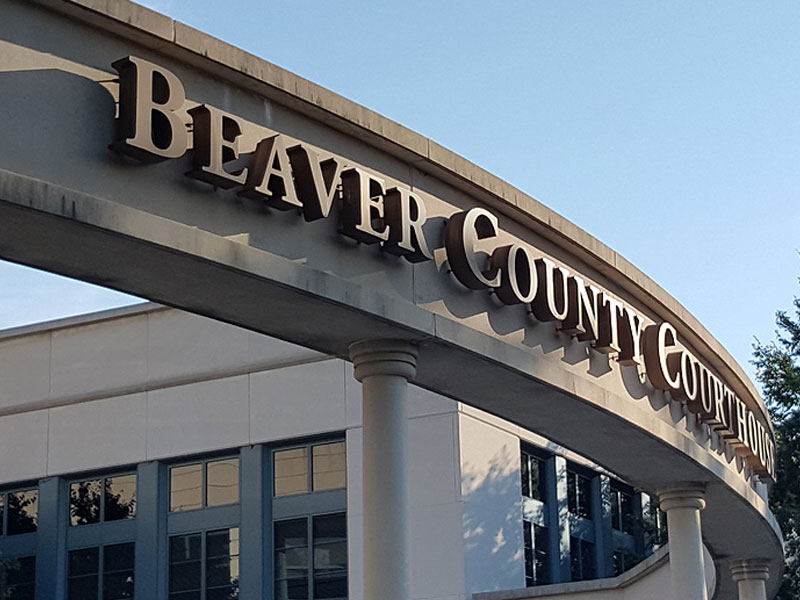 Beaver County Common Pleas Judges Dale Fouse and Harry Knafelc issued a rarely-seen joint ruling today, ordering District Attorney David Lozier to provide the public with a copy of a Beaver Police dash cam video showing the August 2016 arrest of James Edward Cicco by Patrolman Jeffery Wijnen-Riems.
The order by Judges Fouse and Knafelc comes as a result of a court motion filed by several concerned residents of Beaver Borough who sought public access to the video after reading about the controversy in the Beaver Countian. Although this publication was not a party to the action, it did provide the group with legal research on the matter.
The Beaver Countian had previously published an editorial describing the months-long acts of obfuscation perpetrated by the Beaver County District Attorney's Office in their efforts to keep members of the general public from seeing the dash cam video, including by running askew of Pennsylvania's Right-to-Know Law.
A "Motion to Intervene" in the Beaver County District Attorney's Offices' case against James Cicco was subsequently filed by three residents of Beaver Borough: retired long-time Beaver County Neighborhood Legal Services attorney James P. O'Connell, retired school teacher and psychologist Richard F. Williams, and attorney J. Lauson Cashdollar who previously served as Vice President of Beaver Borough Council and currently serves as Solicitor for the Beaver County Prothonotary's Office.
Attorney Cashdollar represented the trio in their legal action.
District Attorney David Lozier responded to the motion by accusing attorney Cashdollar, defense attorney Gerald Benyo, and the Beaver Countian of being engaged in an orchestrated conspiracy to undermine the justice system in Beaver County.
"It quickly became apparent that this case and the Video were a matter of great public interest following a Right-to-Know Law request filed with the Beaver County District Attorney's Office and a number of informal requests for the Video received by this Court ," wrote Judges Fouse and Knafelc. "Having weighed the issues and the matter carefully, this Court concludes that the public's interest in obtaining a copy of the Video outweighs the Commonwealth's right to prevent access in this case."
Judges Fouse and Knafelc noted that decisions on whether to release exhibits in pending matters before the court will continue to be made on a case-by-case basis, with a presumption of openness, consistent with guidance provided in well-established case law from the Pennsylvania Supreme Court. However, the Judges also noted that Beaver County will now likely consider establishing a mechanism to make such requests by the public easier.
"It is expected that a full panel of this Court will discuss whether a policy or local rule is appropriate regarding the request for release of evidentiary or other materials in a pending case by a non-party in the future," read their opinion.
There is precedence in the local court for developing "public friendly" mechanisms to make formal requests for access to court records. Under local rules in Beaver County, individuals who want transcripts made of court proceedings must first seek an order of court granting the creation of official transcriptions. The court adopted a policy that saw the creation of a standard request form available from the Clerk of Courts Office that allows a member of the public to easily fill out the document and submit it for a judge's consideration. The simple form eliminates the necessity of hiring an attorney to draft a formal motion seeking a transcription order, but still provides a judge an opportunity to maintain oversight and control of the court record.
Beaver Countian founder John Paul issued the following statement after learning of the court's order:
"I applaud today's joint ruling by Judges Dale Fouse and Harry Knafelc, who together saw the importance of providing transparency in this specific case. Even more importantly, these two judges also took notice that residents of Beaver County are slowing starting to take greater interest in the workings of their government and courts, and will now be considering possible ways to make the process of requesting access to judicial records less complicated and intimidating.
"Three residents of Beaver Borough, Lauson Cashdollar, James O'Connell, and Richard Williams, were forced to listen to slanderous and baseless accusations being made by the elected District Attorney of Beaver County as a result of their simple request to gain access to a public record. What these gentlemen accomplished was not part of a concerted effort to undermine justice in Beaver County, as the District Attorney so wrongly alleged in his courtroom tantrum, but rather, was an important step in helping to restore public confidence in our judicial system. For this their efforts should be celebrated."
The Beaver Countian will publish the Beaver Police dash cam video in full when District Attorney Lozier complies with the order by Judges Fouse and Knafelc. Their 9-page ruling can be read in full here.
---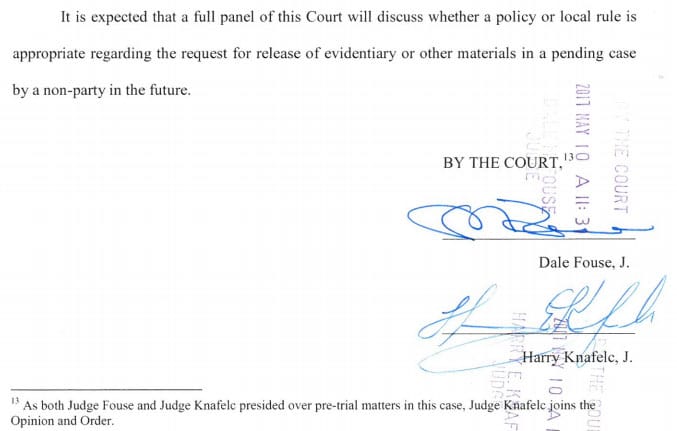 ---