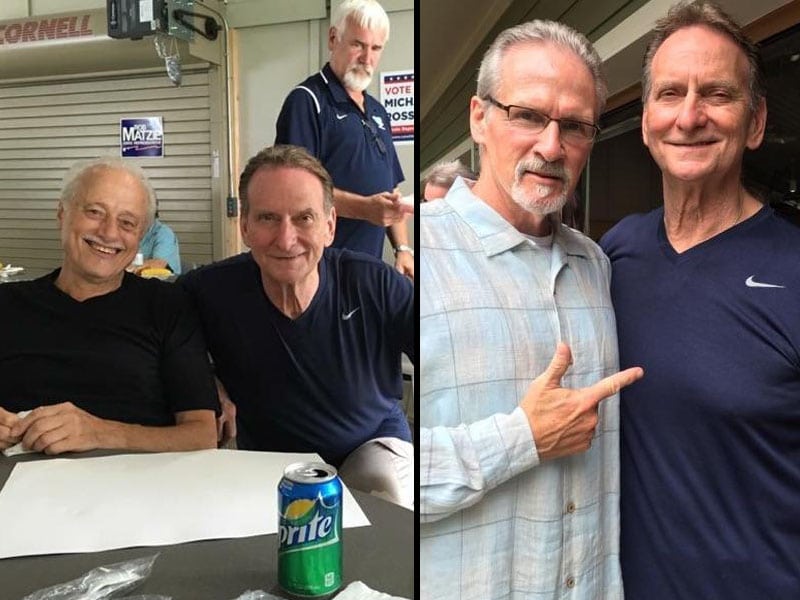 The Beaver County Democratic Party's annual picnic at the Four Seasons Shelter in Bradys Run Park Sunday was intended to reunite and reinvigorate Democrats following their historic defeats in last year's county elections, but may have instead fractured the party even further.
Some Democratic officials and party operatives who spoke to the Beaver Countian over the past 24 hours are expressing grave concerns that newly elected Democratic Chairman Lou Gentile is attempting to reinvent the party by playing a game of "out with the old, in with the old."
"I don't know what to say, Lou Gentile, our new Chairman, thanked Mike Veon in front of everyone for coming to the picnic and George David was going around telling people he's running for Sheriff again," said one senior Democratic operative who spoke on condition they not be quoted by name. "It's out with the old, in with the old."
The function was well attended with sources estimating a crowd of approximately 250 people, many of whom were individuals not regularly seen at Democratic party functions.
"There were a lot of new faces in the crowd, I have to wonder what must have been going through their minds," said an elected Democratic Committee person, who also spoke on condition they not be named in this report. "Some of us got together after the picnic, we don't know what we're going to do… something has to be done."
Photos taken by newly elected Democratic Party Treasurer and State Committee Member Denise Cox of Democratic Chairman Lou Gentile with Mike Veon and George David at the picnic have been circulating widely since she first posted them to Facebook, becoming focal points for divisions within the party.
Sources who attended the function tell the Beaver Countian that Mike Veon spent considerable time talking one-on-one with WBVP Programming Director Mike Romigh, who recently attended a Democratic Committee meeting offering to help the party retake majority control of the Board of Commissioners (Romigh once worked as a staff member at the Veon-backed Beaver Initiative for Growth).
Veon is currently on parole after serving five years in state prison for handing out taxpayer-funded bonuses to reward state workers who assisted in political campaign efforts.
Former Sheriff George David (who was acquitted at trial after being charged by State Police with pulling out his firearm and threatening to murder several people and had unrelated charges dismissed of threatening to cut off a man's hand and eat it) spent much of the picnic seated with Bobby Williams of Center Township (a former candidate for Aliquippa City Council who was convicted at trial in 2014 of perjury under the elections code).
Some within the Democratic Party insisted to the Beaver Countian that an individual's attendance at their picnic does not necessarily equate with relevance or power within the party, but other Democratic operatives provided the Beaver Countian with copies of emails which reveal Chairman Lou Gentile has been including several of the same controversial figures in his internal discussions about the party's future. Among the individuals included as recipients in Gentile's recent emails discussing party strategies include Mike Veon and Nick Trombetta (the former Pennsylvania Cyber Charter School CEO who is currently under federal indictment for alleged tax fraud).
Several other current and former Democratic officials in attendance are also the subject of legal controversies, including former Democratic Commissioner Joe Spanik (who is currently under active investigation by the Pennsylvania Ethics Commission for allegedly using taxpayer resources for campaign purposes), and Treasurer Connie Javens (who is currently under investigation by the District Attorney's Office for unilaterally withdrawing millions of dollars from county accounts for Friendship Ridge where her family has lucrative contracts).
The brouhaha over the Democratic picnic comes on the heels of a political firestorm that was ignited when the Beaver County Times quoted Democratic Chairman Lou Gentile expressing support for newly elected Republican Sheriff Tony Guy, who is currently engaged in a budget dispute with the Board of Commissioners. In a subsequent interview with the Beaver Countian Gentile attempted to pull back his purported support for Guy, alleging he was misrepresented in the Times' reporting — former Democratic sheriff candidate Wayne Kress remained extremely critical of Gentile's remarks. Gentile had previously invited Sheriff Tony Guy along with newly elected Republic District Attorney David Lozier to speak at an event hosted by the recently revived Beaver County Young Democrats.