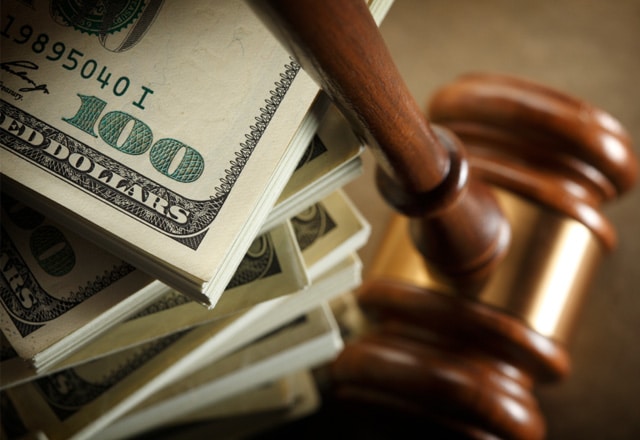 A broad spectrum of attorneys in the Beaver County Bar Association have begun to quietly question whether our courthouse has the resources to justly try death penalty cases. While attorneys in the bar are reluctant to talk about the issues involved publicly, court filings in the county's capital cases are beginning to speak volumes on their own. As with many things, the problems seem to revolve around money.
Beaver County currently has four defendants who are awaiting trial that are facing the possibility of receiving the death penalty if convicted.
The Capital Defendants And Their Attorneys
Stepbrothers Joseph Arlott, age 25, and Beau Chermer, 22, both of McKees Rocks, are accused of brutally beating 82 year old Daniel Santia in his Hopewell Township home on April 29th of last year. Santia later died in the hospital, and prosecutors say his death was a result of an attack that amounted to torture. District Attorney Anthony Berosh announced his office would be seeking the death penalty against both men last August.
Robert Burgess, age 35, and Devon Shealey, 26, both formerly of Pittsburgh, have been charged with the 2008 killing of a Beaver Falls couple. Authorities say Richard and Demetria Harper were shot execution-style in the basement of their home while their two young girls were locked in a nearby room. District Attorney Anthony Berosh announced his office would be seeking the death penalty against both of those men last November.
All four of Beaver County's capital defendants have been declared indigent, and under the United States Constitution each is entitled to have representation appointed by the court at no cost to them.
With each defendant having two attorneys to handle their case, four capital defendants means eight defense attorneys. Pennsylvania requires special certification from the State Supreme Court for attorneys defending death penalty cases. Of the nearly 10,000 licensed attorneys in Beaver, Butler, Allegheny, and Lawrence Counties, only 29 are Capital Case Certified, according to statistics compiled from the PA Supreme Court Continuing Education website. Of those attorneys, only 1 works in the Beaver County Public Defender's Office.
Although it was widely known the county would be seeing an influx of capital defendants months before the District Attorney officially announced he would be seeking the death penalty, the Beaver County Public Defender's Office had no attorneys certified to handle capital cases, including Chief Public Defender Paul Steff. It wasn't until Assistant District Attorney Kevin Kindred transferred to the Public Defender's Office last year, and became certified by his own initiative, that the county had anyone capable of defending a capital case.
Without qualified attorneys in the Public Defender's Office, the county courts were forced to seek private outside council to augment the representation of capital defendants. Beaver County defense attorney Mitchell Shahen and Pittsburgh attorney Thomas Farrell were appointed to represent Robert Burgess. Beaver County Assistant Public Defenders Kevin Kindred and Dirk Goodwald (who is not Capital Case Certified) represent Devon Shealey. Defense attorneys Dennis DeMartini and Gerald Benyo were appointed to represent Beau Chermer. Assistant Public Defenders Kevin Kindred and Thomas Phillis (who is not Capital Case Certified) were left to represent Joseph Arlott.
Having spent his time as an Assistant District Attorney, Kevin Kindred, the only employee of the Public Defender's Office who is Capital Case Certified, has never defended a felony case in trial much less served as defense in a homicide case. But with no other certified defenders, Kindred now finds himself appointed by the courts to serve as lead defense council in two separate death penalty cases simultaneously.
Outside council means third-party billing for the county, and attorneys Mitchell Shahen, Thomas Farrell, Dennis DeMartini, and Gerald Benyo set out to establish budgets for their cases. A series of court filings reveals one of the largest areas of contention between appointed defense council and the courts… their hourly fee.
A Trial By Numbers
A filing by attorney Mitchell Shahen on February 21st titled "Motion to Approve Counsel Fees and Costs" outlines the argument of defense attorneys. Shahen's motion quotes from The American Bar Association Guidelines for the Appointment and Performance of Defense Counsel in Death Penalty Cases, "Counsel in death penalty cases should be fully compensated at a rate that is commensurate with the provision of high quality legal representation and reflects the extraordinary responsibility inherent in death penalty representation … Flat fees, caps on compensation, and lump-sum contracts are improper in death penalty cases."
Shahen had previously proposed an hourly rate of $125 to the court in his original budget, a sum summarily rejected by Judge John P. Dohanich. Shahen's newest motion sought just $75 per hour, a "rate to be an amount much lower than the prevailing rates for similar services performed by retained counsel in this jurisdiction."
The motion noted that rates set for Federal cases can go up to $178 per hour, and provided statistics for other counties in Pennsylvania that have recently tried capital cases.
Attorney Mitchell Shahen compiled his bill for the court, covering a total of 152.6 hours he spent working on the case to date. The total included .81 hours of In Court time and 151.79 hours of Out of Court time. At $75 per hour, Shahen sought compensation in the total of $11,578.16. But Shahen also included a second calculation in his motion, in case the court felt it appropriate to bill In Court and Out of Court time at differing rates, $75 and $60 respectively. Using that calculation, Shahen's alternative bill submitted to the court totaled $9,168.15.
He would see neither.
On February 26th, Judge Dohanich issued an order requiring Beaver County to pay Mitchell Shahen $7,101.55, an effective hourly rate of just $46.
A similar motion filed by defense attorney Gerald Benyo asked the court to approve payment for 50.5 hours spent to date preparing a defense for Beau Chermer. Benyo noted that his normal hourly rate in Beaver County for non-Capital criminal cases is approximately $200, but was asking the court for $75 per hour, "an amount much lower than the prevailing rates for similar services performed by privately retained counsel in this jurisdiction, and no more than the currently approved hourly attorney fee set by the Court for less serious cases for which any licensed attorney is eligible to be appointed."
While the itemized bill submitted by Mitchell Shahen remains public record, the courts have sealed the invoice submitted by attorney Benyo. What is known, is that on March 4th President Judge John D. McBride ordered Beaver County to pay Benyo $2,201.25, an effective hourly rate of just $43.59.
Hourly attorneys fees are not the only fiscal matters of contention in the county's current capital cases. A flurry of court motions reveal another matter of concern, the costs of investigations, and mitigation experts.
Mitigated Mitigation Expenses
If a jury finds a capital defendant is guilty following a trial, the case proceeds to a "penalty phase" where jurors decide if a convicted murder should be given life in prison or be executed. Jurors are instructed to weigh aggravating factors, relevant circumstances presented during trial that make the harshest penalty appropriate, against mitigating factors, evidence presented about the defendant's character, past or other circumstances of the crime, which would weigh in the defendant's favor.
Mitigation experts work as investigators throughout the course of a case, preparing for the potentiality of that "penalty phase."
In January of this year, defense attorney Dennis DiMartini submitted a motion asking the court to approve payments to retain a "Capital Mitigation Specialist" for the case against Beau Chermer. "The United States Supreme Court has repeatedly emphasized that the Sixth Amendment right to effective representation demands, in a capital case, the thorough investigation and development of mitigating circumstances," DiMartini wrote.
The defense asked the court to allow them to retain Ingrid Christiansen, from the Center For Capital Mitigation, at a rate of $100 per hour. In an accompanying letter submitted by Christiansen, she writes "I estimate that the first phases of my mitigation investigation, including interviewing the client, locating and interviewing family, friends, teachers, professional persons with whom he has had contact, summarizing and organizing interviews, obtaining, reading, summarizing, and organizing records, beginning a Bio-Psycho-Social History, outlining the themes and mitigation requirements of the case, and locating and assisting expert witnesses in evaluating the client, will take a minimum of 400 hours."
On February 8th, defense attorney Dennis DiMartini received a simple 4 word response from President Judge John D. McBride, "The Motion is Denied."
Defense Attorney Mitchell Shahen submitted a similar request to hire Mitigation Expert Louise Luck on behalf of capital defendant Robert Burgess. Shahen noted for the court that the American Bar Association Guidelines "require every criminal defense team facing a capital punishment sentence to have at the minimum two attorneys, a private investigator, and a mitigation specialist." Ms. Luck would be paid $100 per hour not to exceed an initial budget of $10,000.
On February 25th, Shahen's request was similarly denied.
Assistant Public Defender Kevin Kindred asked the court for $5,000 so that he could pay a retainer to a mitigation specialist on behalf of capital defendant Joseph Arlott. He was likewise denied by President Judge McBride, who noted that Arlott was represented by the Public Defender's Office, and said any funds for a mitigation specialist should come from that department's budget. But an examination of the Beaver County Budget by the Beaver Countian showed funds for the Public Defender's Office are on the decline. In 2012 the county budgeted $1.21 million to the PD's Office, compared to just $1.16 million in 2013. Officials say any money spent by the Public Defender's Office on capital cases would have to come in the form of a special disbursement of county funds.
County Commissioners will likely be the ultimate deciders of how much will be spent on mitigation experts and investigators, if anything, for capital defendants represented by the Public Defender's Office.
Investigating Investigative Costs
Defense Attorney Mitchell Shahen submitted an "Open Records Request" on March 4th, attempting to determine just how much money the county spent investigating the case against his client. Along with seeking documents that would reveal budget totals for the District Attorney's Office ($2.42 million in 2012 and $2.39 million in 2013), Shahen also requested a "list of all approved expenditures for any County employee for services or expenses related to the June 30, 2008 killing of Richard Harper and Demetria Harper in Beaver Falls."
District Attorney Anthony Berosh told the Beaver Countian that he received a copy of the records request, and that his office was in the process of compiling documents.
A court motion by Defense Attorney Gerald Benyo earlier this year reveals the magnitude of the effort he believes has been spent investigating his client. "It is estimated that the Commonwealth in bringing this case to bare against Defendant utilized over 5,000 man hours with over a dozen police officers, county detectives, volunteers and other individuals reviewing and collecting evidence," Benyo wrote.
The Beaver County Courts have approved a single investigator each for capital defendants Beau Chermer and Robert Burgess, to be paid no more than $55 per hour, up to a maximum of $4,000 per capital case.
Trial Execution
County Officials declined to speak on the record about just how much they expect the rare influx of capital cases to ultimately cost local taxpayers.
One public document which seems to hint at a figure, is the county's budget for the Court Administrator's Office. It is from this budget that outside counsel appointed to capital defendants will likely be paid. The line-item budget for "Contracted Legal Services" in the Court Administrator's Office saw a bump this year, from $110,000 in 2012 up to $200,000 in 2013. That line-item is budgeted to go back down to $110,000 in 2014, appearing to reveal an anticipated increase in expenses due to the capital cases. Likewise, the line-time for Jury Expenses has gone from $83,000 in 2012, up to $100,000 in 2013, and is set to go back down to $83,000 in 2014.
The figures correlate to a total case budget of $45,000 for each of the two capital defendants being represented by outside court appointed counsel, an amount that defense attorney Dennis DiMartini had sought to spend on a mitigation expert alone.