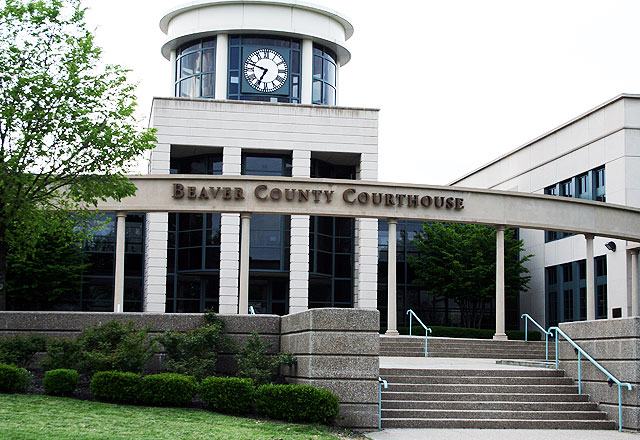 A woman made it through a security checkpoint at the Beaver County Courthouse on Friday with a concealed handgun, the Beaver Countian has confirmed.
"One of my deputies made a mistake, and he missed it. It's as simple as that" Sheriff George David told the Beaver Countian in a telephone interview about the incident.
Sheriff David said an investigation conducted by his office determined it was Friday afternoon, when a woman entered through the front lobby of the courthouse. She put her purse through an x-ray machine and walked through a metal detector, without the gun being noticed by Sheriff's Deputies who were stationed at the doors.
It wasn't until she later opened up her purse, that the woman realized she was carrying a weapon around inside of the courthouse.
"The deputy who was manning the x-ray machine was distracted answering a question for two officers at the same time her purse went through" said Sheriff David. "He didn't catch the gun."
The woman, who is engaged to a Hopewell Township Police Officer, went to the Sheriff's Office to inform them she was carrying the weapon. The gun was secured by Captain James McGeehan, who then questioned her.
The woman has a concealed carry permit, and reportedly told Captain McGeehan she forgot she had been carrying the weapon when she went into the courthouse on Friday. The handgun the woman was carrying had no bullet in its chamber, but there was ammunition in its magazine.
Ironically, one of the things the woman came into the courthouse to do that day, was to renew her gun permit.
"The lady didn't have bad intentions. She came to my deputies when she realized she had made the mistake, and said she was embarrassed and scared" said Sheriff David.
She was later escorted from the courthouse by deputies.
"The deputy who was manning the x-ray machine has been appropriately disciplined, and is being sent for retraining" said Sheriff David.
Beaver County President Judge John D. McBride was informed about the security breach by the Sheriff shortly after the incident occurred.
"First thing on Monday morning my Sergeants will be reviewing policies and procedures with my men. We are also going to be implementing some additional security measures as a result of this incident" said Sheriff David. "Some of which will be visible to the public, including tinting the windows on the front of the courthouse and altering the positions of x-ray machines — And some of which will not be visible to the general public."
Sheriff David would not confirm the woman's name, and said his office has decided not to file criminal charges against her.