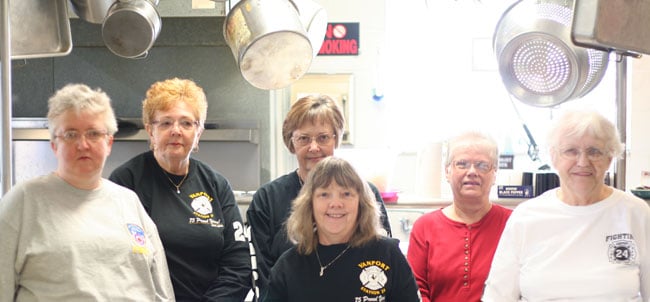 [dropcap_1 color=""]A[/dropcap_1] long walk on a brisk day seemed like an appropriate way to work up an appetite for the nearly dozen different bowls of chili I was about to sample — Armed with a notepad, camera, and a crisp new five dollar bill, I set out on foot for my mile and a half march toward the annual "Valley's Best Chili Cook-Off."
I arrived about twenty minutes before the event began, where I was greeted by Randy Morrow, a Vanport Volunteer Fireman who founded the Chili Cook-Off five years ago. "Hi! Thanks so much for coming, I really appreciate it!" Honestly Randy had absolutely no idea who the hell I was, or what the hell BeaverCountian.com is, but he welcomed me as he did everyone this day… like a good friend he hadn't seen in one too many weeks. More importantly though, he let me in early to take photos of the contestants and their tables.
For five bucks each of the attendees, or perhaps more aptly named "judges", were given a ballot and then sent to sample the eleven different entries. After taking obligatory photos of the contestants, I stood in a corner and watched as people began to arrive — Hundreds upon hundreds of people.
I eventually scouted out a spot to do my "judging" from, and found myself sitting next to Elmer Snaverly of Vanport. We were soon accompanied by a woman he would only introduce as "his wife."
"When you've been married as long as we have, you'll understand" he quipped.
It turns out Elmer, like many of those in attendance, was something of a chili aficionado.
"Chili is all about the beans" he began "the pieces of meat shouldn't be larger than the beans, that's called stew." Too much broth — soup. Too sweet — Sloppy Joes. "He'll talk forever" his wife interjected before excusing herself from the table to get a piece of cake from Krechmar's Bakery, one of the event's many sponsors.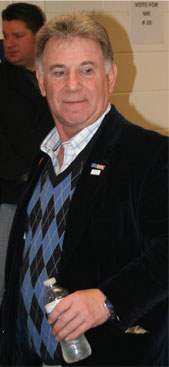 [dropcap_1 color=""]H[/dropcap_1]aving watched far too much Food-TV in the past, I took my role of "judge" seriously. Top Chef's Tom Colicchio wasn't present, nor was Iron Chef's Jeffrey Steingarten. Making sure the best chili came out on top was my responsibility (with a little bit of help from the nearly 500 other people who would end up casting votes).
I tried all eleven bowls of chili, admittedly some more than once. As I began taking notes on each of them, I quickly figured out I had absolutely no idea what I was doing. After scribbling down "chili-like" to describe the flavor of one of the entries, I realized a Steingarten or Colicchio I was not. I resorted instead to taking notes on the people responsible for creating the dishes.
I met Frank Dodson of Brighton Township, who said he entered so he could put a check next to "Enter A Chili Cook-Off" on his bucket-list.
Tina Rosensteel, a Miami native now residing in Beaver, proudly told me she worked as a full-time stay at home mother. Her daughter helped to dish up chili while her husband grinned at each compliment she received from the tasters.
Gail "Momma" Coffey was also dishing up her home-made recipe, accompanied by a violin toting tyke playing his rendition of "twinkle twinkle."
The Presbyterian Church of Vanport was represented by "Grandpa's Gang", and Bob Gwin of Patterson was promoting his June 12th "Support Our Troops" rally along with his chili.
Billy Morrison of Independence Township was there serving his "Prison Chili", an authentic penitentiary recipe he got from his cousin, a retired prison guard from El Paso Texas.
Then there was Mary Jo "Mo" Schwarz of Vanport, who attended last year's cook-off while undergoing chemotherapy for cancer. Bald at the time from its effects, Mo swore she would return the following year to enter the competition as a contestant – A promise well kept.
Local food establishments were also vying for first place, with entries from Rocco's Hot Dog Shoppe, Texas Roadhouse, Janice's Catering, and the Pit-Stop.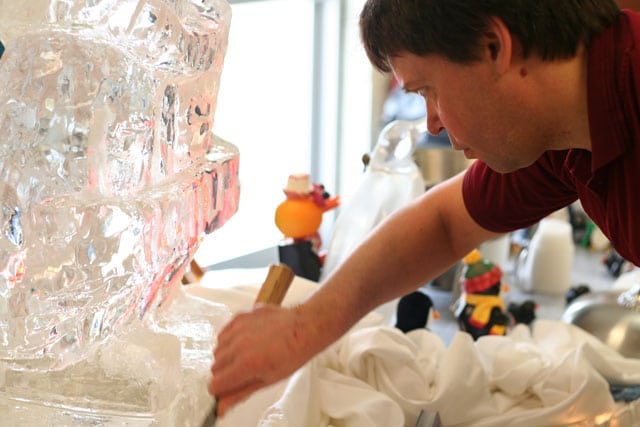 [dropcap_1 color=""]U[/dropcap_1]ltimately I cast my vote for Janice's Catering — who didn't make the official top three, but did win first place for "Best Display", thanks to their ice sculpture of Chili the Snowman.
My nearly five hundred co-judges collectively decided on Bill Morrison's Prison Chili for first place (his 3rd year in a row winning top honors), Mo Schwarz took second, with Rocco's Hot Dog Shoppe of Midland getting third.
The real winners though, were undoubtedly the volunteer firemen who raised much needed funds. As Elmer so eloquently put it, "these guys get up at all hours without getting paid, to do a hard, thankless job."
Here's to them.