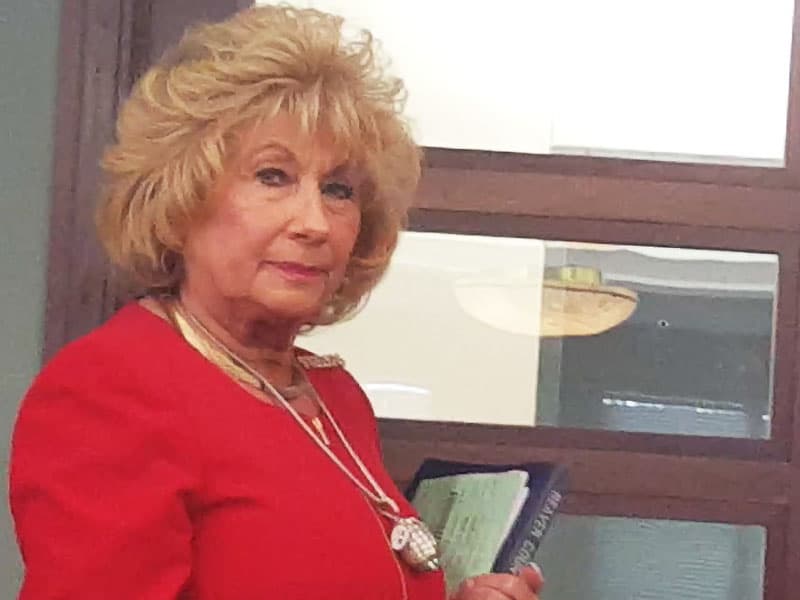 The Beaver Countian has obtained a copy of the case file for the County Detectives Bureau's criminal investigation into Treasurer Connie Javens' unilateral withdrawal of funds from county accounts for Friendship Ridge.
The 47-page file contains the investigating detective's reports of interviews conducted of county officials, including interviews of the then-Board of Commissioners, Financial Administrator, Solicitor, Controller, and Treasurer Connie Javens. Also included is an investigative summary written by county detectives and a "Decision Not To Prosecute" memo written by District Attorney David Lozier.
The Beaver Countian submitted a formal Right-to-Know request seeking the documents shortly after the District Attorney's Office announced they would not be filing criminal charges against Treasurer Connie Javens as a result of their investigation. Although the public release of investigative reports can not be compelled under Pennsylvania's Right-to-Know Law, District Attorney Lozier exercised his discretionary authority and released the file in full to the Beaver Countian.
District Attorney David Lozier's four page summary — as transcribed into digital format by the Beaver Countian — is being published below in its entirety, followed by scans made by the Beaver Countian of the remainder of the case file as released by the District Attorney's Office.
Memo
TO: Connie Javens Investigative File
Beaver County Detective Bureau File No. 15-115
FR: David J Lozier, Esq.
RE: Decision Not To Prosecute
I concur with Det. Staub's recommendation. I discussed this matter with my senior ADA staff and with the exception of ADA Torrence there is agreement that the matter should not be prosecuted. ADA Torrence sees a technical violation of the county code although none of the funds were county funds at the time of the transfer. It is my policy never to file a criminal charge for the sole purpose of punishment by charging. While the Feds often charge to force a plea, I refuse to do that. If there is no likelihood of a successful jury verdict I will not charge. We are not in the business of forcing pleas but only in pursuing cases that can be ethically taken to a jury. For the reasons set forth below this case cannot succeed in front of a jury. Therefore I cannot ethically prosecute no matter how easy and popular the decision would be to do so.
1. Three ILC's were negotiated by Commissioners Amadio, Spanik, and Nichols, Chief of Staff LaValle and Solicitor Askar. These complex contracts were beyond the understanding of all of them and all but Askar admitted to not having read the contracts or understanding the details. Treasurer Javens was not in the negotiating team and had no knowledge of the details or reasons for the transfers.
2. The ILC's put Friendship Ridge under the management of Comprehensive prior to the final closing. Comprehensive had been providing the care and services, was being paid by the carriers and federal agencies, and was being paid for that care.
3. The final closing document, ILC Section 4.2 (m) transferred ownership of the funds in the account on the date of transfer to Comprehensive (they had been providing the care that thus the payments were benefits and reimbursement for the period of their care), assigned ownership of all future funds coming into the accounts to Comprehensive (they would be providing the care and thus all payments after closing would be reimbursed for the period of their care), and stated that the county held any funds in the accounts "in trust" for Comprehensive. The county had no claim of ownership to any funds passing through the accounts. Although the accounts were public, meaning they were county accounts under the county code, there could be no criminal charge for misappropriation, theft or misapplication of public funds or property because the county had no claim of ownership.
4. Interviews of all personnel involved in negotiating the ILC's made it clear that the commissioners, solicitor, chief of staff and controller's personnel, assumed that Treasurer Javens would convert the accounts to "in and out" or "pass through" accounts. This would mean that those who negotiated the agreements, those who gave Treasurer Javens the task of disbursing the funds to Comprehensive, intended for her to set up a process so that the transfers would happen automatically. Upon receipt of the funds, the funds would jump from the county account to the Comprehensive account with no signature or human intervention at all.
5. Interviews of all personnel involved in negotiating the ILC's made it clear that the commissioners, solicitor, chief of staff and controller's personnel agreed that the funds were owned and/or due and owing to Comprehensive, they consented to the transfers, they just complained of the process she used.
6. I find it disingenuous at least that any county official who knew the contract better than Treasurer Javens, negotiated the contract, directed her to make the disbursements, consented to the transfers, knew the transfers were happening, and even assumed she would do it by automatic pass-through — would then claim she had violated the public trust when she interjected her signature when they had envisioned pass-through accounts with no signature at all.
7. Responsibility for the transfers was given to Treasurer Javens and Chief of Staff LaValle because theirs were the only signatures left on the signature cards. Before Javens made the subject $275,000 transfer, the Commissioners, Solicitor and Controller changed the signature cards from two-signature cards (accounts requiring two signatures) to one-signature cards (accounts requiring only one signature), and then allowed officers of Comprehensive to be signators on several of the accounts.
8. Again, I find it disingenuous at least that any county official who knew the contract better than Treasurer Javens, negotiated the contract, directed her to make the disbursements, consented to the transfers, knew the transfers were happening, even assumed she would do it by automatic pass-through — would then claim she had violated the public trust when she used her signature when they had changed the cards to make it possible for Treasurer Javens, and even Comprehensive's own personnel, to make the transfers without normal public processes in place. The single signature authority, and allowing Comprehensive to sign a signature card for a county account, was as offensive to the County Code as anything Treasurer Javens was accused of doing.
9. No jury of twelve would unamimously convict Treasurer Javens of the violation of the County Code, i.e., using her one signature to make transfers rather than the normal county disbursement process, because:
a. Those who negotiated the agreement gave Javens no direction on what they expected and even assumed she was using a different and also improper process (automatic pass through).
b. Those who negotiated the agreement expected her to use a transfer process with even less human intervention (automatic pass through) than the process she chose (single signature authority).
c. Those who negotiated the agreement executed the new signature cards allowing Treasurer Javens to do exactly what she did.
d. Those who negotiated the agreement executed new signature cards allowing Comprehensive Personnel to transfer funds with no county process or supervision at all, so how could Javens be prosecuted for a violation of the process set forth and made possible by the commissioners, controller, and solicitor.
e. Javens never read nor understood the agreement, and every county official interviewed (except Solicitor Askar) agreed they had not read or understood the whole agreement either.
f. Those who negotiated the agreement consented to the transfers, and clearly did not really care about the form.
g. No county funds were transferred, misplaced, misappropriated, or misdirected.
h. A jury trial based on these facts and these defenses is doomed.
10. Prosecution of Javens, or Javens and LaValle, would be correctly seen as selective prosecution. Commissioners Amadio, Spanik and Nichols; Solicitor Askar, Chief of Staff LaValle, Controller Rossi, Deputy Controller Calhoon, and then-Asst. Controller Luckow, knew the agreements and the purpose of the transfer far better than late-comer Javens, and are responsible for grossly mismanaging the accounts. They set no deadline on when Comprehensive would have its own accounts in place and failed to provide any guidance to Treasurer Javens. Their creation of new signature cards as described above was as egregious as Treasurer Javens' attempts to carry out the purpose of the contracts. They directed Treasurer Javens to carry out the agreement they had crafted and then turned their back to the process. To prosecute only Treasurer Javens would be unethical, and you cannot prosecute every official whose hands touched this mess of a deal. She would defend herself as a scape goat for county inefficiency and would be correct.
11. The $300,000 Bonus. The original management agreement transferred daily control of Friendship Ridge to Comprehensive. The agreement entitled Comprehensive to either eat its losses, or share 1/2 of any savings its new management brought to Friendship Ridge. $300,000 is an oddly even number for a savings from management a multimillion dollar nursing home. The bonus was paid on the authority of Chief of Staff LaValle with the consent of the Commissioners. When questioned as to how the $300,000 figure was arrived at there were few answers and even fewer documents. Officials agreed that the payment was approved but not where the figure came from. The best answer came from Chief of Staff LaValle who stated that someone provided him with a range, a high and low figure, for the money/costs saved by Comprehensive. Solicitor Askar suggested splitting the numbers and rounding it off. This figure appeared baseless. No document supports how the figure was computed or whether there were any savings at all. The forensic audit questioned the bonus and it is properly the subject of civil litigation.
12. Mystery Deposits. During my personal review of the extensive account records I identified a number of deposits from unknown sources. The account income should have been only reimbursement by insurance companies and Medicare/Medicaid for services rendered, and Social Security benefit payments. The codes for some deposits could not be interpreted as to source. Ricardo Luckow was also asked to provide a list of mystery deposits. We asked banks for help identifying the sources of the deposits and got none. Ultimately, I determined that tracking down each payment source was a waste of our resources and beyond the scope of this investigation. Instead, as these accounts involved the payment and disbursement of federal funds, I discussed this matter, and the entire disbursement scheme, with an auditor from a relevant federal agency and also with personnel from the US Attorney's Office. I provided no records to any federal investigators because they already had access to everything I had or could ever find about the sources of the accounts and the banking transactions involved. As is typical of federal investigators all you receive is a blank stare, brief not talking, and no commitment to act or not act. Improper funds coming into or through these accounts is best investigated by the feds and it was left in their hands.
13. Corruption Charges. Individuals made claims and innuendo that Treasurer Javens or her family received kickbacks or campaign contributions in exchange for these transfers. I found such allegations baseless and spurious at best. Javens had nothing to do with the Friendship Ridge sale. She only became involved after the fact, after the ink was dry. The transfers discussed above were of money due and owing to Comprehensive. The only issue was the form of the transfers not that Comprehensive was due the funds under scheme set forth in the contracts. Why pay off the Treasurer who was not involved in the negotiating the deal and who was only transferring money to its rightful and legal owner? Individuals making such claims never provided any documentation or detail and had no firsthand knowledge of any impropriety. Treasurer Javens' campaign accounts were reviewed and nothing related to the sale of Friendship Ridge, or the transfers, was found. There were accusations that several retiring individuals were paid bonuses by Comprehensive and that this was some sort of deal worked out by the Treasurer. Javens had no influence and if she did it was Comprehensive that paid any bonuses, not the County.
14. Finally, some point to contracts which may have been steered to family members of Javens. Again, these would be contracts made by Comprehensive and not the County. If Javens had influence on these contracts being let by a private company there could be no criminal charges as a matter of law. During the course of my investigation two appeal court decisions came down clearly ruling that an elected official can only be charged with "corruption" if they personally and financially benefited. The US Supreme Court dismissed very serious corruption charges against former Gov. McDonnell. The court agreed that he had used his position as governor to help a friend gain sales in a business but as McDonnell did not personally and financially benefit there could be no corruption charge. The same result occurred with the recent decision ordering a new trial on some counts against former State Representative Mike Veon. While he was rightly charged with misusing government resources, he could not be charged with corruption by using his influence to help others if he was not actually and directly paid off. There could be no charge of corruption against Treasurer Javens even if she did use whatever influence she may have had to get Comprehensive to pay a bonus to a third party or to let a contract to a relative. The case law on criminal corruption is no clear, no matter how little sense it makes.
DJL
The District Attorney's Investigation Into Treasurer Connie Javens
(Note: Not included below are some records previously obtained and reported on by the Beaver Countian, including bank records and a forensic audit report.)
– Incident Report
– Interview of Carol Ord (Citizens Bank Teller)
– Interview of William Rodgers III Esq. (Treasurer's Solicitor)
– Interview of Lichtman Law (Attorney For Friendship Ridge)
– Search Warrants
– PSP Evidence
– Shredder
– Interview of Charles Gibbons (former First Deputy Treasurer)
– Interview of Dennis Nichols (former Commissioner)
– Luckow Request
– Interview of Tony Amadio (Commissioner)
– Interview of Attorney Joe Askar (former County Solicitor)
– Interview of Joe Spanik (former Commissioner)
– Interview of Vince LaValle (former Chief of Staff)
– Interview of Connie Javens (Treasurer)
– Interview of Ephram "Mordy" Lahasky (Friendship Ridge owner)
– Second Interview of Ephram "Mordy" Lahasky
– Interview of Kristen Kolodychak (former Friendship Ridge Controller)
– Interview of PNC Bank
– Citizens Wire Transfers
– Meeting With District Attorney Lozier
– Second Interview of Kristen Kolodychak (former Friendship Ridge Controller)
– Interview of Janet Turbish (former Friendship Ridge Payroll Supervisor)
– Report To District Attorney Lozier
– LaValle Email
– Social Security Inquiry
– Investigative Findings
– District Attorney Lozier's Decision Not To Prosecute