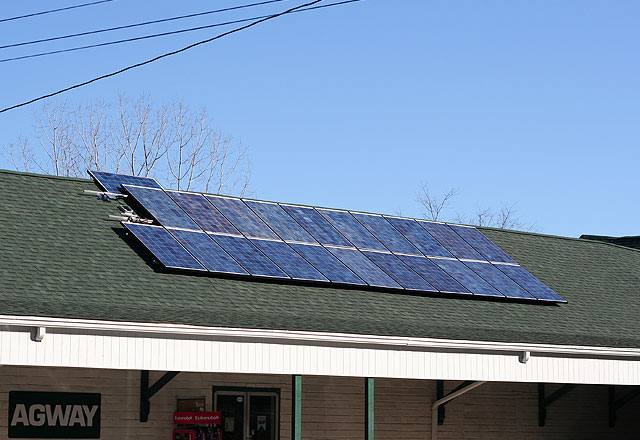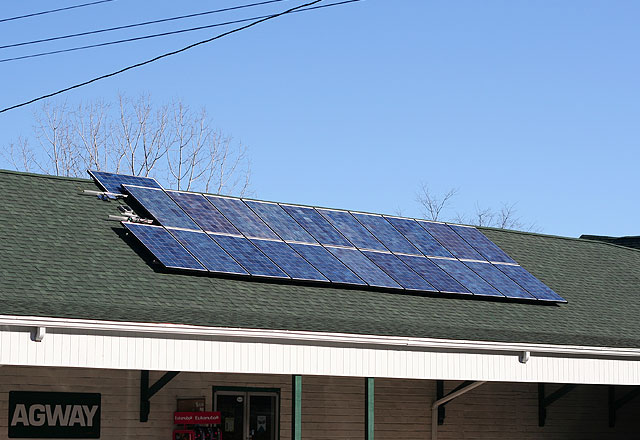 The Beaver Agway is getting greener this week, thanks to a large array of solar panels being installed on its roof. The 64 panels will generate enough electricity to meet 75% of the building's current energy needs.
"We just got a new roof put on a couple of years ago, and it's a pretty big roof, so I thought we should capture some of the sun that was hitting it" said Curt Whelpley, whose family owns several Agway locations. "We're going to work on getting more energy efficient lighting next, and hope to eventually meet 100% of our energy needs with solar power."
"It took a little bit of convincing from Curt" said his father Chet Whelpley, who opened the Beaver location nearly 25 years ago. "But when I found out it would pay for itself in 7 years, it made sense."
The panels are rated for 20 years of service, and any power they generate above what is needed by the store, will be sold back to the electrical grid.
About 30% of the project's cost is being funded by state and federal grants, something Chet Whelpley said made the project possible "This is a pretty big investment for a small business like ours, so we're going to wait a while now and see how it performs before making any decisions about other locations." Along with the Agway in Beaver, the family also owns stores in Butler, Imperial, New Castle, and Eighty Four PA.
The solar array comes from Astrum Solar, a company based out of Maryland. Cory Hay, a lead electrician with the company, was onsite with a team from Philadelphia to install the system. "We travel all over the North East installing our systems, which are becoming more and more popular" he said "This is a great roof for us."
The Agway will have a large array of solar panels on the side of its building, with a smaller section of panels on the roof which faces the parking lot.
[nggallery id=54]