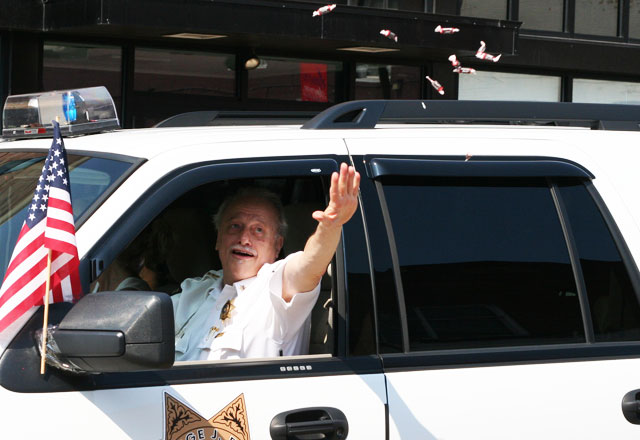 Sheriff David has been illegally handing out free and discounted concealed carry gun permits for years, a routine audit released today by Controller David Rossi has determined. The audit confirms an investigative report published by the Beaver Countian back in July, which showed that Sheriff David had been providing the favors for friends and political cronies.
Sheriff David's activities were first exposed by a confidential journalistic source who provided this publication with a secretly recorded video from the Sheriff's Office. The video showed David illegally giving a $1 concealed carry gun permit to Raymond Dushac, who could be heard offering to testify as a character witness for him.
Fees for permits are dictated by state law as $5 for the application and an additional $15 fee upon successful issuance of the permit. Of those fees, $1 goes to the state with the rest being earmarked for the county. By collecting $1 for the permits, Sheriff David was able to pass routine audits conducted by state auditors, who primarily concern themselves with the Commonwealth's portion of the funds.
After the Beaver Countian published details about Sheriff David's abuse of public funds, he contacted the District Attorney's Office alleging he was simply pretending to break the law when caught on video in order to entrap one of his secretaries.
But Controller Rossi's audit confirms the Beaver Countian's initial reports, that Sheriff David has indeed been illegally providing free and reduced gun permits to select individuals for years.
"During [2010 – 2012], we observed that several gun permits were issued for fees less than those legally prescribed. Approximately 47 permits were issued at no charge and 370 at less than the required fee. Additionally, an estimated 178 denied applicants were either not charged or refunded their fee payment, as opposed to collecting $5 per application," wrote Controller Rossi in the audit. "During the years 2008 and 2009 we found that approximately 30 permits were issued at no charge and another 396 applicants were charged less than the $20 or $5 fee, as appropriate."
The audit concluded that Sheriff David's illegal discounts had cost taxpayers $13,133 since 2008.
Citing confidentiality provisions under state law which protect the identity of those obtaining concealed carry gun permits from public disclosure, Controller Rossi declined to name any of the individuals who were given discounts by Sheriff David.
But confidential sources have helped the Beaver Countian piece together a few of those names, including: President Judge John McBride, Chief County Detective Joseph Fennych, State Representative Jim Christiana and one of his campaign staffers Jennifer Price. Sheriff David also illegally gave a free permit to his attorney and political crony Myron Sainovich.
Sources say these names represent just a fraction of the politically influential people who were illegally given discounts by Sheriff David.
"The law department has been given a copy of the audit report by Controller Rossi and is going through it to determine what issues we need to discuss with the Commissioners," County Solicitor Joseph Askar told the Beaver Countian.
Note: In the interest of full disclosure, this reporter is a named victim in criminal charges filed against Sheriff George David by the Pennsylvania State Police.