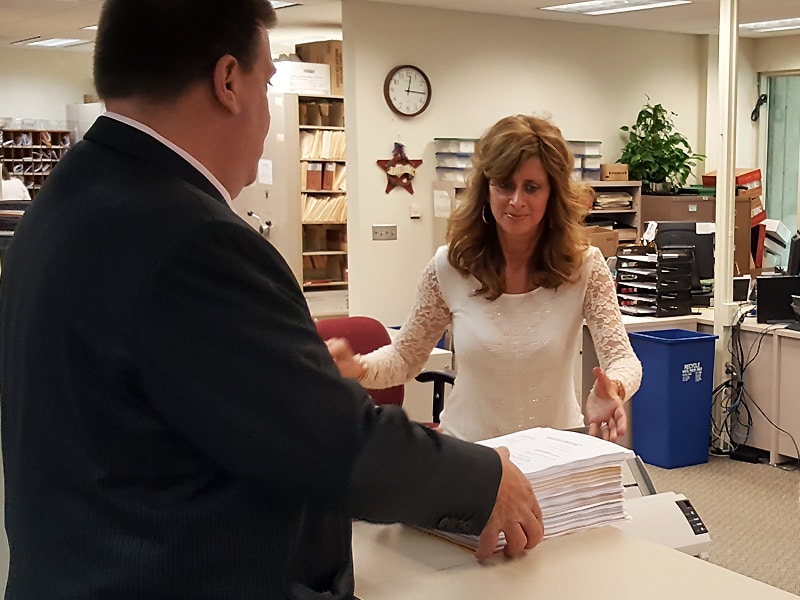 A local attorney has filed a 1,000 page court motion on behalf of "John Q Taxpayer," a commenter on the Beaver Countian who is being sued for defamation by elected Beaver County Treasurer Connie Javens. Along with asking a judge to quash a subpoena issued by Treasurer Javens seeking records she can use to identify the anonymous commenter, attorney Gerald Benyo is also asking the court to sanction Javens in excess of $10,000 for her "vexatious conduct" in filing the "frivolous" lawsuit.
The Beaver Countian was served with a subpoena by Treasurer Connie Javens and her adult daughter Renee Javens Zuk earlier this month, seeking email addresses, IP [Internet Protocol] addresses, or other records this publication may have which could help ascertain the true identities of six anonymous commenters the women are suing for defamation. The six "John Doe" defendants named in the lawsuit are aka thebigdigger, THE EXECUTIONER, Slicer, Courthouseconvicts, ConnieintheSlammer, and John Q Taxpayer.
As part of a court order issued by Judge Deborah Kunselman, the Beaver Countian made attempts to contact the six defendants to inform them they had been sued by Javens and Zuk. The court provided each of the defendants the opportunity to take legal actions to protect their anonymity.
As of yesterday, only an attorney representing "John Q Taxpayer" had filed a court motion seeking to quash the subpoena. The commenter retained Gerald Benyo after the attorney left a comment of his own on the Beaver Countian offering his services to the so-called "BC6" who face litigation.
"John Q Taxpayer is one of the citizens, taxpayers, voters and residents of Beaver County who has taken issue with Treasurer Javens' unilateral, unreported and unauthorized actions in withdrawing millions of dollars from Beaver County bank accounts," wrote Benyo in his court motion on behalf of the commenter, "and, as a public elected official, taken issue with her refusing to explain, account or otherwise take responsibility for what appear to be self-serving, illegal, unethical and otherwise improper actions."
Attorney Benyo cited several prominent cases from the Pennsylvania and United States Supreme Courts that teach of individuals' rights to anonymous speech, and of the balancing test a judge must employ before ordering identifying information about anonymous commenters be divulged.
"As to establishing the existence of a defamatory comment or statement, Treasure Javens failed to established and DID NOT PLEAD in her Motion For Issuance Of Subpoena that she: (1) did not 'take money on her own and without authorization from anyone else and make no record of it'; (2) was not 'stealing tax money'; and (3) did not 'confiscate documents' and was not 'tampering with public records or tampering with evidence' in context of the forum where the speech was published," argued attorney Benyo. "Notably, Treasurer Javens does not aver that she did not unilaterally take monies out of a Beaver County bank account or that such withdrawals were done with proper authorization, proper recording and/or were done in accordance with the specific provisions of the Pennsylvania County Code."
Attorney Benyo noted that Treasurer Connie Javens is currently being represented by two separate law firms and has been the subject of criminal investigations under former District Attorney Tony Berosh and current District Attorney David Lozier.
Along with asking for the subpoena seeking identifying information on "John Q Taxpayer" to be quashed, attorney Benyo also asked the court to impose sanctions on Treasurer Connie Javens.
"Bluntly stated, Treasurer Javens' filing of the Motion For Issuance Of A Subpoena appears designed only to chill political free speech rather than assert any legitimate cause of action that has any possibility of success as to John Q Taxpayer," wrote attorney Benyo. "Sanctions are requested based upon the 44.8 hours of attorney time expended in this matter to date at a billable rate of $225 per hour made payable to undersigned counsel within 10 days of the quashing of the subpoena as to John Q Taxpayer – preferably by certified check from a bank account not owned, maintained or established by Beaver County and one that contains funds belonging to Treasurer Javens."
Included with the 18 page legal arguments, attorney Benyo attached 57 articles published by the Beaver Countian about Treasurer Connie Javens and her family (along with all of the reader comments left as responses) as exhibits to the motion. The resulting 1,000+ page printed document was filed with the Prothonotary's Office on Friday.
Beaver Countian founder and investigative reporter John Paul has vowed to defy Treasurer Javens and Renee Zuk's subpoena, and is expected to formally invoke the Pennsylvania Journalist Shield Law next week to protect confidential and legally privileged information this news publication may have which could possibly be used to identify the six anonymous commenters. Philadelphia attorneys Brian Collins and Mark Gottlieb with the law firm of Offit Kurman will be filing a motion with the court on Monday seeking to quash Treasurer Javens' subpoena as to all six defendants on behalf of the Beaver Countian.
About The Beaver Countian's Legal Representation
Founded in the 1980's in Baltimore, Offit Kurman is now one of the fastest-growing full-service law firms in the region. The group has a keen understanding of the importance of the intersection of law and technology, having recently expanded their attorneys with technology focused practices including intellectual property, data and cybersecurity, and privacy issues. With 120 attorneys on staff, the firm offers a comprehensive range of services in virtually every legal category. Offit Kurman's twelve offices serve individual and corporate clients in the Philadelphia, Washington DC, Baltimore, and New York City metropolitan areas, and markets including Maryland, Delaware, New Jersey, and Northern Virginia.
Legal representation for the Beaver Countian was arranged by the Electronic Frontier Foundation (EFF), the world's leading digital civil rights organization. The EFF was founded in 1990 to ensure that rights and freedoms are enhanced and protected as our use of technology grows. The international nonprofit organization champions causes of user privacy, free expression, and innovation through impact litigation, policy analysis, grassroots activism, and technology development. The EFF is currently leading federal litigation against the National Security Agency's mass surveillance program.
PILCHESKY BALANCING TEST

The Superior Court in Pilchesky v. Gatelli, 12 A.3d 430 (Pa.Super), established a four-part test to ensure the proper balance between a speaker's right to remain anonymous and a defamation plaintiff's right to seek redress. The four requirements that must be met to enable a plaintiff who petitions the court to disclose the identity of an anonymous communicator are as follows.

a. The "John Doe" defendant must receive proper notification of a petition to disclose his identity and a reasonable opportunity to contest the petition.

b. The defamation plaintiff must present sufficient evidence to establish a prima facie case for all elements of a defamation claim so that it would survive a motion for summary judgment – and the defamation plaintiff must do more than simply plead their case and make a bald assertion that the defamatory statements harmed their reputation "in the social, civil, professional and political community". Further, a defamation plaintiff may not satisfy the summary judgment requirement by relying on the averments contained in a complaint and must present actual evidence.

c. The defamation plaintiff must submit an affidavit asserting that the requested information is sought in good faith, is unavailable by other means, is directly related to the claim and is fundamentally necessary to secure relief.

d. The reviewing court must expressly balance the defendant's 1st Amendment Rights against the strength of the defamation plaintiff's prima facie case by examining the defamatory nature of the comments, the quantity and quality of evidence presented and whether the comments were privileged in light of the forum in which the speech was expressed.