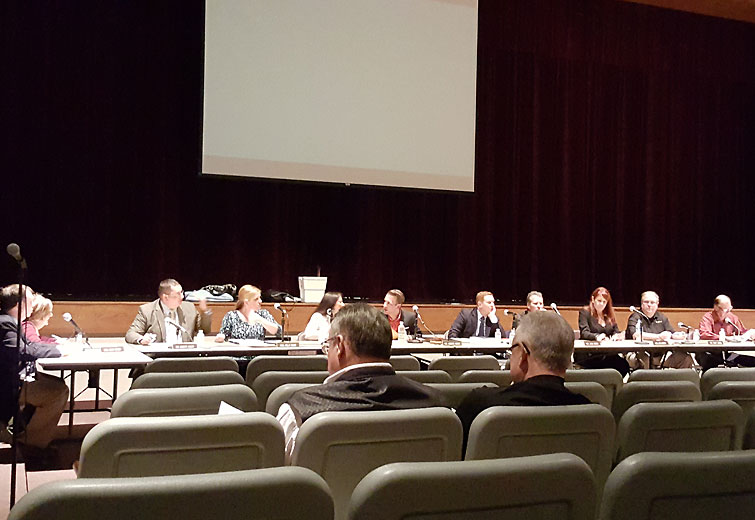 The Superintendent of the Ambridge Area School District is now on "sick leave" for the rest of the school year and the Assistant Superintendent has resigned.
The Ambridge School Board approved "sick leave" for Superintendent Dr. Cynthia Zurchin tonight in a 7-1 vote, with Robert Keber dissenting. Zurchin's time off will be effective from October 13, 2015 through June 30, 2016; the reason for her leave was not formally made public.
The Board appointed former Ambridge Superintendent Joseph Dimperio to fill in during Zurchin's leave, paying him a rate of $490 per day with no health benefits.
Jennifer Ruprecht, a parent in the district, took Board members to task about their decision.
"We the people voted you here, you work for us. You're not doing a very good job," Ruprecht said. "You shouldn't be paying our Superintendent sick leave for her stress that is self-induced. Why are we paying for her to be out and for someone to do her job. That is ridiculous and you are wasting our money […] Don't let this woman who has threatened everyone and bullied everyone to get away with this. You are not teaching our children the right thing."
Vicky DeBona of Harmony Township also raised concerns about the "sick leave" approved for Superintendent Zurchin. "I just have one question and you can answer it whenever. It says that it's recommended sick leave for Dr. Zurchin until June 30th, well, how do you know she's going to be sick that long? I'm being serious. That's an awful long time. You get the flu it could be 2 days or 2 weeks, but, to be sick for months? Is she getting paid for that? Does she have enough sick leave for that? Or are we going to have to pay for her to be sick and a new superintendent? That's just my question, how do we know she's going to be sick that long?"
DeBona's remarks drew laughs from her fellow citizens in attendance, several of whom could be heard quipping about the absurdity of the board's vote.
School Board members also approved a settlement agreement for Assistant Superintendent Megan Mealie (the terms of which were not made public) and voted unanimously to accept her resignation effective October 30th. Mealie was suspended in March as an internal investigation was being conducted into allegations involving another female teacher.
Several in attendance at the meeting spoke up in support of Mealie, including her mother and her sisters Laura Nichi and Terry Mylan (who is a candidate for school board).
"I have known Megan Mealie since she was a little girl," said Kathleen Sabol of Ambridge. "I've watched her grow, I've watched her become a teacher, and then I watched her become the principal of the junior high school […] When she was coming here to be assistant superintendent I think, along with most people, that was just a stepping stone to her running this district."
The School Board ended the meeting by adjourning into executive session to discuss additional personnel issues.
As residents of the community exited the meeting and returned to their cars, they were greeted with fliers that had been left on windshields. The leaflets featured Superintendent Cynthia Zurchin's photo surrounded by stop signs reading, Stop The Bully. "Cindy Zurchin is destroying the Ambridge Area School District and its time for her to leave or be fired," the paper continued, listing alleged problems she caused during her tenure.