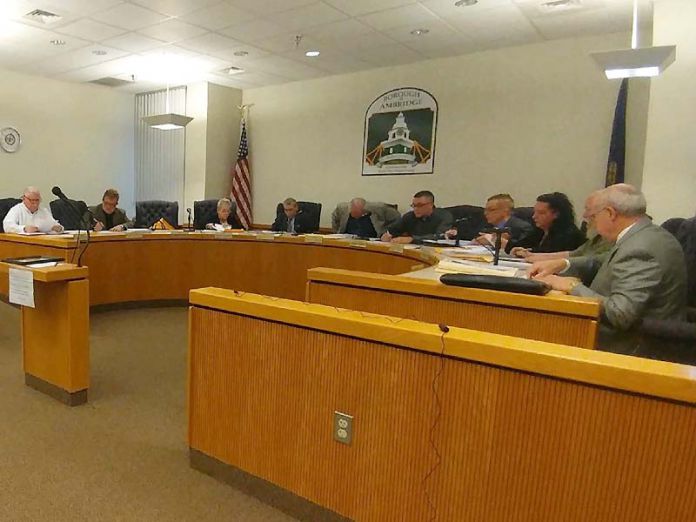 Ambridge Borough Council voted unanimously during tonight's meeting to place Police Chief James Mann on paid administrative leave and to hire a private security firm to investigate the town's police department. The move by Ambridge Council comes after over a dozen officers with the town's department provided statements to the Pennsylvania State Police who are conducting an ongoing criminal investigation into Chief Mann.
Council voted to place Mann on paid leave pending their own investigation to be conducted by CSI Corporate Security and Investigations, a private investigative firm run by Lou Gentile. Gentile is a former Chairman of the Beaver County Democratic Committee and has previously served as Campaign Chairman for Sheriff George David.
"The motions that were added to the agenda this evening under items 10, 11, and 12, address matters of personnel," said Ambridge Solicitor Richard Start during the meeting. "As such, they are confidential and privileged in nature. I notice that the media is present tonight, you are welcome. I know that your job is to report the news, and certainly this is news. I know that you will probably ask questions. I will tell you in advance as a courtesy, that at my direction I have instructed members of Council and the Mayor to not give any comment on these matters because of the very nature of them being privileged and confidential […] They would like to share with you insight, but not now […] These people donate a great deal of their time to their community and it's a hardship for them and I'd ask you to respect that."
Along with placing Chief Mann on leave, Council also voted unanimously to place an unnamed officer on an unpaid disciplinary suspension for 30 days. Multiple law enforcement sources tell the Beaver Countian the officer suspended was placed on administrative suspension last week, and that his disciplinary suspension is not related to accusations made by officers in the Ambridge Police Department against their Chief. Law enforcement sources say the patrolman has the support of his fellow officers whose bargaining unit has retained counsel to represent him in disciplinary proceedings.
News of the criminal investigation into Ambridge Police Chief James Mann by the Pennsylvania State Police was first revealed early thismorning by the Beaver Countian.
See Also:
– State Police Investigating Ambridge Chief As His Officers Come Forward With Complaints
– Democratic Chairman Gentile Calls Veon Courageous – Touts Trombetta's Job Creation – Defends David Relationship
– Controversial Beaver County Democratic Committee Chairman Resigns After Less Than 9 Months In Office
– Leaked Email: Democratic Chairman – I Don't Have The Time Nor Desire To Be Chasing People Down
– Prominent Democrats Planning Revolt Against Chairman Lou Gentile – May Abandon Party To Form New Committee
– Beaver County Democratic Party Fractures Further After Mike Veon Makes Featured Appearance At Annual Picnic
– Democratic Chairman's Remarks About Republican Sheriff Tony Guy's Budget Causing Political Firestorm
– Democratic Chairman Warns Committee About Leaks To The Beaver Countian – Extends Olive Branch To Nichols
– WBVP Radio's Program Director Strategizing With Democratic Party About Retaking The Courthouse
– Democratic Party Of Beaver County Names Louis Gentile As Its New Chairman
In the interest of full disclosure: In 2014, Chief James Mann was called as a defense witness on behalf of then-Sheriff George David during his criminal trial — the Beaver Countian's John Paul was one of the named victims of George David in the Grand Jury's presentment against him. Then-Sheriff David was acquitted by a jury of the criminal charges filed by Pennsylvania State Police.