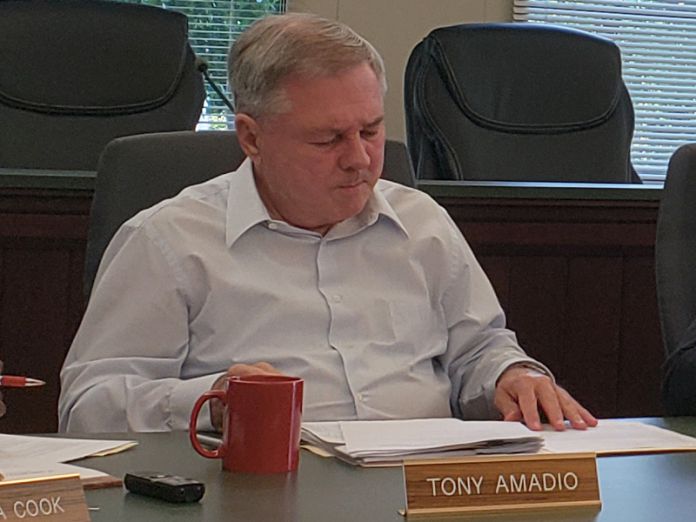 Beaver County Commissioners held private interviews last Monday of the three candidates being considered for a contract to replace former Children And Youth Services (CYS) Solicitor Robert Masters.
Commissioners Camp and Amadio, along with the county's CYS and Human Resources directors, met privately on Monday with attorneys Robert Alsko, Dana Kwidis, and Joseph Askar.
Commissioner Sandie Egley, who had pushed for the interviews to occur, did not show up to the courthouse last Monday. Egley told BeaverCountian.com she did not attend the interviews because a member of her immediate family was sick that day. She did not attempt to have the interviews rescheduled and did not seek to participate via phone conference.
Egley had originally proposed holding the interviews during a public work session instead of in private, but that proposal did not find support with Camp and Amadio.
Commissioners decided in August to not renew a long-standing contract the county had with attorney Robert Masters after it was revealed that, when serving as district attorney in 1964, he had terminated an investigation into a priest accused of child molestations.
BeaverCountian.com has repeatedly raised objections to the process being used to contract an attorney to serve as CYS solicitor, including during a public meeting held September 12 where Commissioner Camp attempted to keep confidential the names of finalists being considered.
The Beaver Countian again raised objection last Wednesday, September 19, when it became clear that Amadio and Camp had held discussions about the matter.
Camp and Amadio announced during the public work session that following their private discussions they now felt the county should contract two attorneys to fill the CYS role, instead of one as originally planned.
The Pennsylvania Sunshine Act, which regulates the meetings of a quorum of the board, contains an exception to public meeting requirements that allows the board to discuss personnel matters during an executive session that takes place in conjunction with an advertised meeting. Monday's interviews were not held in conjunction with such a public meeting, and Commissioners decided against hiring an individual as a county employee to serve as CYS solicitor, opting instead to contract a law firm or attorney as a services vendor to fulfill the duties.
Deliberations about county contracts must generally be held in public.
Solicitor Garen Fedeles asserted that the meetings involving Camp and Amadio on Monday constituted "information gathering sessions" and not deliberations as defined by law.
Commissioner Tony Amadio became visibly agitated last Wednesday at BeaverCountian.com's repeated objections to the lack of transparency in the contracting process.
"This government is so crippled right now. I am up to my boiling point now. We meet one day a week, we don't even talk. We meet one day a week, for what, an hour? Because we're afraid to do government. This is not direct democracy, this is a representative democracy."
Amadio told Fedeles that he wanted to review an updated copy of the Sunshine Act. The law was last amended in 2011, and mandates not only that official votes be held in public, but also that most deliberations be held during public meetings as well.
"I want a copy of that new update," said Amadio. "I want to know what the changes are in the law. I mean, are we not allowed? We used to meet with our department heads to discuss problems. The door was always open, people were free, department heads were free to talk. Now if they come in here they're afraid to talk."
Amadio went on to criticize the prior public work session, where BeaverCountian.com asked the board about its interactions with CYS Director Dayna Revay. Camp invited Revay to answer the question; she went on to describe a private meeting she had with Camp that narrowed the candidate field to three attorneys who had prior experience working with her office.
"What happened to Dayna Revay last week was unconscionable. Unconscionable," said Amadio. "That's all I'm going to say. And you wonder why morale is so bad here? Let's move on, I'm just so frustrated."
Revay had originally recommended in writing that commissioners hire attorneys Alsko or Kwidis, but after her private meeting with Camp added Askar's name to the new list of "attorneys with experience."
Askar is a close personal friend of both Amadio and Camp, while Egley has filed a still-pending ethics complaint against him related to his involvement with the new corporate owners of Friendship Ridge when serving as chief county solicitor.
Commissioners are expected to discuss the contract again at a public work session scheduled for 10:00 am on Wednesday. The meeting will be held in the Monaca Borough Building, rather than at the courthouse, as part of an initiative by the board to increase public participation.
See Also:
– LISTEN: Beaver Countian Pushes For Transparency In Commissioners' Contracting Of Solicitor For Children & Youth Services
– Commissioners Consider Hiring Attorney Joseph Askar As Solicitor For Beaver County Children And Youth Services
– Beaver County CYS Solicitor Halted Investigations Into Accused Pedophile Priest When He Was District Attorney