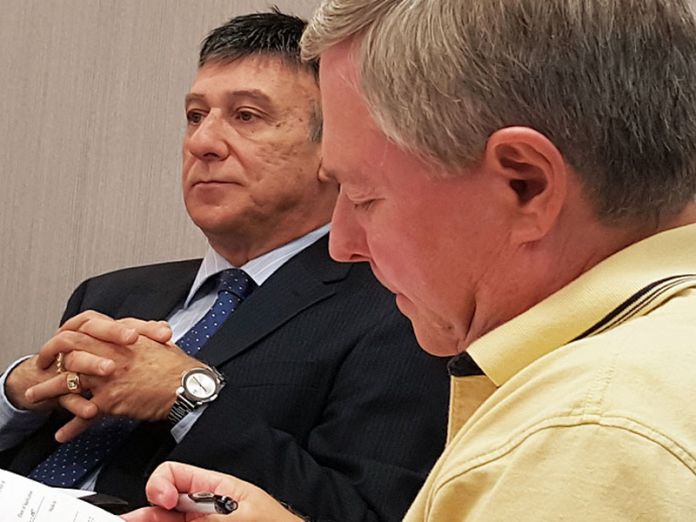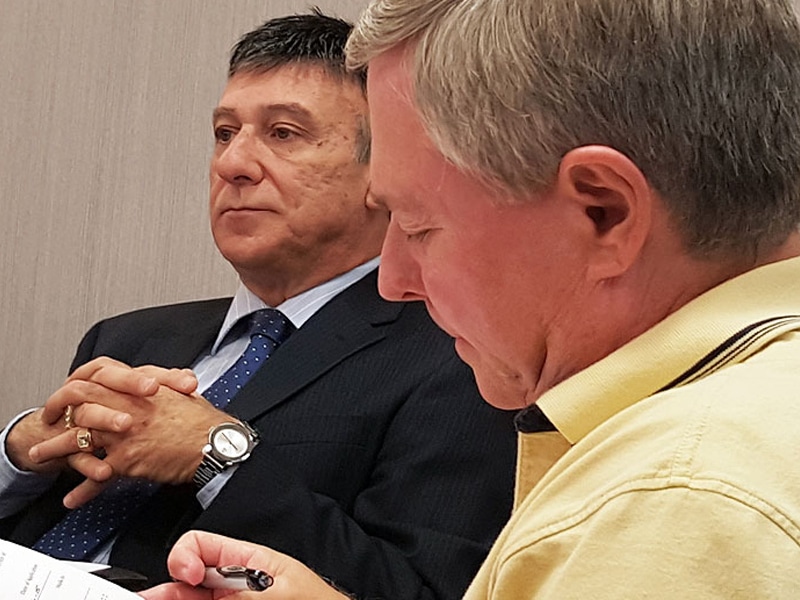 Beaver County Democratic Commissioner Tony Amadio went on the radio last week where he told the station's listeners that the county never really was facing a projected $17.5 million budgetary deficit when the new Republican Board of Commissioners took control of government in 2016 — Amadio instead claimed the county ended its fiscal years 2015 and 2016 with surpluses. In actuality, the county had outstanding checks in excess of any cash available in 2015 by close to $6 million, causing a deficit in available funds that had to be carried over to the following year.
WBVP published Commissioner Amadio's remarks as part of an article posted to its website, titled, "Beaver County Commissioner Tony Amadio Not Buying Ricardo Luckow's Nine-Million-Dollar 'Scare Tactics'." His latest assertions came during an interview by the station about next year's budget which is currently being crafted by Commissioners. Amadio has been critical of public statements made by Financial Administrator Ricardo Luckow (a Certified Public Accountant) that initial budgetary projections show the county is facing a projected $9 million budget deficit for 2018, based on preliminary budgets turned in by department heads and elected row officials.
"First of all, do you remember the $17.5 million deficit? That wasn't true," said Amadio, referring to projected budgetary deficits for 2016 that had been widely reported online by the Beaver Countian and in the newspaper through coverage by the Beaver County Times. "If you go to page 124 in our CAFR report, which is the final audit, it shows a $3.1 million surplus, not a deficit, that was ending 2015. So, and they kept always saying, adding it on and on and on. In 2016 we had a $7.1 million surplus. How could there possibly be a deficit?"
Commissioner Amadio's statements to the public misconstrued numbers in the county's financial reports in trying to justify his budgetary claims, pointing to numbers that contain restricted funds unavailable for general budgetary purposes. Amadio has been repeatedly corrected by other county officials about the facts of the county's actual financial situation.
During the county public work session held last Wednesday in the courthouse, the Beaver Countian's John Paul challenged Amadio on his statements that the county had not been facing budget deficits: "Your statement, with all do respect sir, is simply false. What the CAFR report says [for 2015], is we had $3 million in the bank, but we had written checks to the tune of $9 million to cover [a tax anticipation loan], that the bank lucky for us didn't cash, because if they'd cashed them they would have bounced to the tune of $6 million."
Beaver County had written checks at the end of 2015 to pay off tax anticipation loans taken throughout the year (as required), despite there not being enough money in the county's account to cover them. The bank did not cash those checks until the county had secured new tax anticipation loans in 2016 and the necessary funds became available. The resulting carry-over of about $6 million in deficits came contrary to the 2016 budget, crafted by then-Financial Administrator Vince LaValle, which showed the county would start the year with about $6 million in its account; a negative swing to the budget of roughly $12 million. Other shortcomings in the 2016 budget were estimated at about $5 million on top of that, including overstated revenues and expenses that had not been accounted for, amounting to a total projected budgetary deficit for 2016 of approximately $17 million.
The new Republican-majority Board of Commissioners reopened the budget when they first took office in 2016 as a result of warnings issued to them by the County Controller's Office, slashing expenses, diverting payment of subsidies to future years, and generating one-time revenue streams (such as the refinancing of bonds) to prevent the county from realizing a financial catastrophe.
In April of 2016, Standard & Poor's (S&P) downgraded the county's credit rating due to the "persistent deficits."
"At this point if you still don't believe that the county was facing a huge deficit, please call me and I'll send you an application to the Flat Earth Society," said then-County Chief of Staff Joe Weidner in an article about the CAFR report published by the Beaver Countian in June of 2016.
The Beaver Countian asked Commissioner Amadio about why he made the statement to WBVP's listeners: "My question to you sir, with all due respect, is did you go on the radio to intentionally lie to the mostly elderly people who were listening, or are you still after all of this time that legitimately confused about the county's budget?"
Amadio did not directly address his assertions about deficits, instead saying that no audit ever found "anything was fraudulent," apparently alluding to remarks made by Commissioner Sandie Egley earlier in the week.
"I was on the radio because I got a call to be on the radio, and based on what is in the CAFR is what I reported," responded Commissioner Amadio. "This CAFR as well as the last ten CAFRs prior to this has been examined and audited and nowhere did it say anywhere did it say anything was fraudulent, and that is all that I'm going to say."
The Beaver Countian continued to press Amadio on his statements about what the CAFR was actually saying.
"Did you actually read up to page 124 sir or were you going off of information [former County Financial Administrator] Vince LaValle gave you," asked John Paul?
Multiple sources within the Democratic party have repeatedly told the Beaver Countian that Amadio continues to discuss county finances with LaValle, a close personal friend of Amadio who was forced out of his position in the county by Republican Commissioners Dan Camp and Sandie Egley at the beginning of 2016.
Commissioner Amadio gave a rambling response: "I did not go… this is the CAFR re… you really know what you're… you, you just assume a lot of things when you write in your article, like exactly what's going to happen here, what can happen, what's going to happen, and quite frankly I'm a little beside myself with some of the repo.. I have never seen this government this bad before, I really haven't […] You know what, every time something happens, the Egley action team goes into effect, the next thing you know they divert away and cast aspersions on other people and I'm tired of it. So you go ahead and continue to write whatever you want. I don't care anymore. I have been in government 34 years and never has my integrity ever been questioned, 34 years. Ok? I'm done."
Commissioner Amadio then looked over to Commissioner Sandie Egley, saying, "Keep smiling, go ahead."
Tensions between County Commissioners have been high since Commissioner Camp and Amadio issued a joint statement about the budget back on September 15th — Commissioner Egley responded with critical remarks of her own about Camp and Amadio during an interview with the Beaver Countian that was published last Tuesday.
From Page 4 Of The Audited CAFR Report For 2015:
The County's government, on the other hand, faced one of its most challenging financial outcomes […] The sale of Friendship Ridge in 2014 provided funds that were applied to the General Fund's 2015 operating budget, evidenced by the originally budgeted $6.9 million deficit […] Reality proved to be more disconcerting than budgeted, with an actual net decrease in fund balance amounting to roughly $9 million. The end of the year was particularly challenging, leaving County officials with little choice but to repay Huntington National Bank $9.5 million plus interest for the outstanding balance of Tax and Revenue Anticipation Notes issued during 2015. As seen on the Balance Sheet […] the General Fund had checks outstanding in excess of any cash available by close to $6 million ("bank overdrafts").
Listen In Full To The Beaver Countian Challenge Commissioner Tony Amadio About His Statements
---
Correction:
During the Beaver Countian's questioning of Amadio, it named Price Waterhouse Coopers as one of the firms that had reviewed the county's finances, when the firm was in fact Standard & Poor's (S&P),
which downgraded the county's credit rating due to deficits
.
---
See Also:
– In-Depth: Beaver County Hid Massive Deficits – Wrote Millions In "Bad Checks" At The End Of Last Year
– Annual Financial Report Provides Further Proof Of County's Massive Budget Deficits Caused By Prior Board
– Emails Show Commissioner Amadio Falsely Claimed He Received No Information About Budget Deficit
– S&P Downgrades Beaver County's Credit Rating – Has A "Negative Outlook" Due To "Persistent Deficits"
– Treasurer Connie Javens Misleads Taxpayers About The Budget During AM Radio Interview