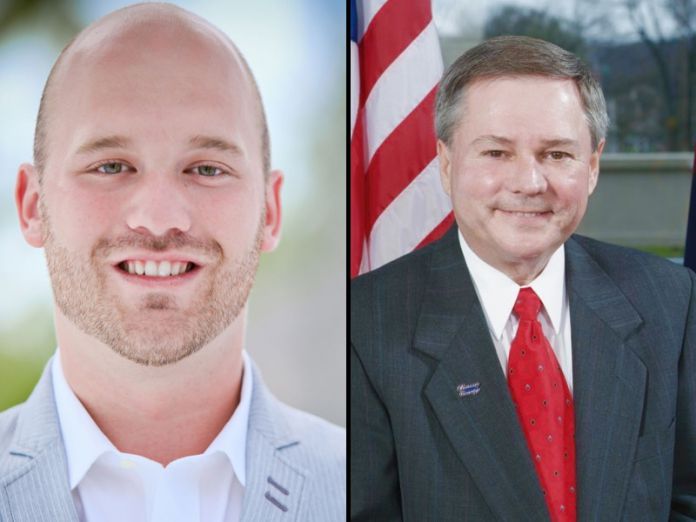 Democratic Commissioner Tony Amadio and Republican Commissioner Dan Camp voted to remove Republican Commissioner Sandie Egley as Chairwoman and to open up the position of Financial Administrator occupied by Ricardo Luckow.
The motions to remove Egley as Chair and fire Ricardo Luckow were both made by Commissioner Amadio, with Camp seconding. Amadio then motioned to appoint Camp as Chair with Camp voting in favor.
Commissioner Egley asked Camp why he would side with Commissioner Amadio in having her removed as Chairwoman.
"Uhm, he called for reorganization, this is the first I'm hearing about it and I'm OK with it," replied Camp, who declined to provide a reason when asked again by Egley.
Commissioner Egley told Camp that she had won the popular vote as a Republican, to which Amadio replied, "What Am I just a pretty face?"
"No, you're a misogynist," responded Egley. "Oh god," said Amadio.
Although Egley is no longer Chairwoman, she will continue as a County Commissioner under Chairman Dan Camp, who now serves as the new head of county government. County Commissioners vote together as a Board, although the Chairman has additional functions including setting the agenda and running public meetings.
The motions by Commissioner Amadio come the same week he once again falsely told the Beaver County Times and WBVP radio that the county never really was facing massive budgetary deficits as Financial Administrator Ricardo Luckow had warned.
Luckow packed up his office in the Commissioners' unit following the vote.
"The actions Commissioner Amadio and myself took today were about reprioritizing the county's objectives," Republican Chairman Camp told the Beaver Countian after the meeting. "Our sole intention is to refocus county government on improving the lives of our residents. We will work on increasing economic growth, fighting the opioid epidemic and bringing those in county government back together. Beaver County has an incredibly bright future and I look forward as being Chairman of the Board to ensure that is achieved."
Some Democratic operatives were quick to applaud the news of Luckow's firing, including Steven Kochanowski, who worked last year on attorney Myron Sainovich's unsuccessful campaign for Common Please Judge. "This was the right move," tweeted Kochanowski. "You can't say the sky is falling when it's not even close."
But Democratic County Controller David Rossi spoke highly of Luckow after today's public meeting, "Since he has been with the county Ricardo Luckow has been a very detailed, thorough, honest worker for the people and he will be missed."
Luckow worked as a contracted consultant for the County Controller's Office before being hired as Chief County Financial Administrator in 2016. His contracted work helped to identify or verify some of the most high profile examples of waste and abuse of public funds in the county over recent years. He led the audit of the Sheriff's Office that proved George David had been giving away free and discounted gun permits, and discovered the major deficiencies in the county's Tax Claims Bureau and Assessment Offices. It was also Luckow who first brought it to the county's attention that Treasurer Connie Javens and the prior Financial Administrator Vince LaValle had been unilaterally withdrawing millions of dollars from public accounts for Friendship Ridge, and who identified a massive budget shortfall that had not been previously disclosed to the public.
Commissioner Sandie Egley told the Beaver Countian she was not yet ready to comment about today's actions by Commissioners Camp and Amadio. Commissioner Tony Amadio has not returned a call seeking comment.
Listen To Commissioners Amadio And Camp Fire Ricardo Luckow And Remove Commissioner Sandie Egley As Chair: