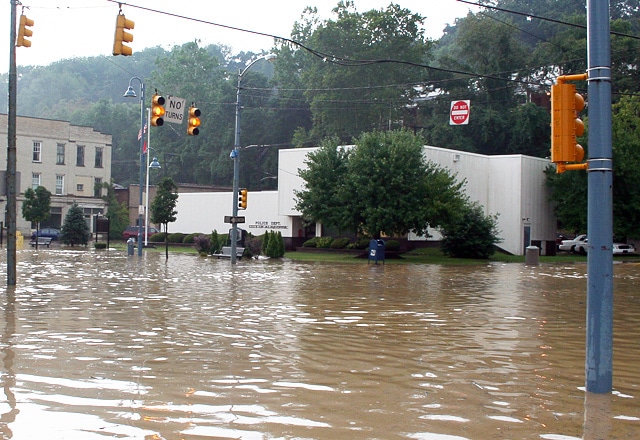 "They said it would never ever happen again. They said they fixed it. Well, it happened again" said Yvonne Dixon from the front porch of her home on Elm Alley. She sat quietly watching Franklin Avenue which runs parallel to her house, just as she watched it back in 2007… the last time heavy rain submerged Aliquippa's streets.
"The water might not be running as deep this time around, but the sense of despair is flowing just the same" said Reverend Marvin Moreland. "But even now as you can see, the community is out here. Some are even shoveling the sewers out" he said. A block away from where the Reverend was standing, men could be seen on their hands and knees unclogging storm drains.
Jackie Rodgers was standing in front of the Aliquippa Police Station with her friend Theresa Williams when the flood finally started to subside. Water could be seen swirling down storm drains as the streets slowly came back into view. "I just feel so bad for these businesses. They work so hard for the community" said Rodgers.
That hard work was on display just minutes after the water level began dropping. Stacey Henry, proprietor of "Today's Kidz Childcare And Activity Center", started sweeping out her daycare shortly after floodwaters retreated from her door. "Well this is one big mess, but we'll keep working and be open tomorrow" she said. The children under her care had been taken to safety on the second story of the building.
"At times like this, we want to share our love for the city of Aliquippa" said Cailee Anastas, a volunteer at Uncommon Grounds (a unique coffee shop / community center / church) that stands on Franklin Avenue. "My expectation is that we'll be open as usual on Tuesday" said Dudley Parr, another volunteer "Until then, we hope to be a base of operations for volunteers who want to help this city in its time of need."
Frank Stevenson said his entire first floor apartment became submerged under inches of water. A flood-line was clearly visible in his home, about 6 inches up the walls. Many of his belongings were drenched, and puddles of water could still be seen throughout his apartment. "I don't have a lot, and a lot of what I have is wet" he said.
There is no official word yet on just how deep the floodwaters got on Franklin Avenue, but many people could be seen wading through water that in some areas reached up to their waist.
[nggallery id=39]
Photographs by John Paul