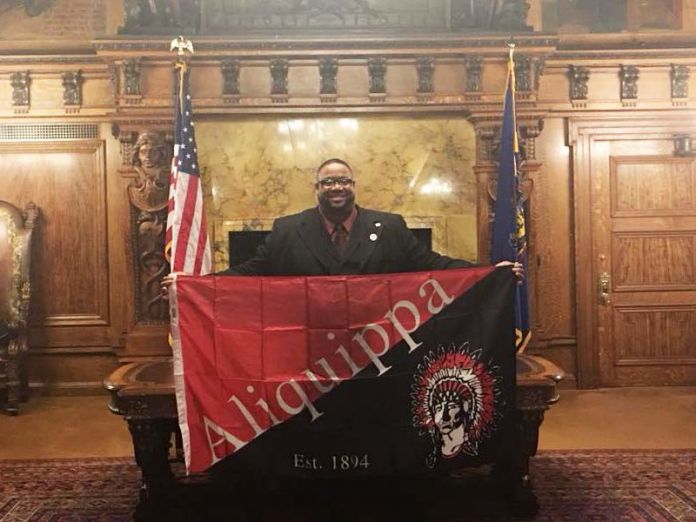 Aliquippa Mayor Dwan Walker has refused to meet with the Pennsylvania State Police who have been conducting a series of investigations involving the City of Aliquippa and the Aliquippa Police Department, according to multiple sources with knowledge of the matter.
Sources in Aliquippa tell the Beaver Countian that Police Chief Donald Couch and Assistant Chief Joe Perciavale have both been interviewed by the Pennsylvania State Police — as have other current and former officers within the department.
Aliquippa Mayor Dwan Walker has refused requests to meet with state investigators to answer any of their questions, according to sources with information about the investigation.
Dwan Walker has enjoyed a showering of positive press by the Beaver County Times since taking office and recently told his political supporters he intends to run for Beaver County Commissioner in 2019. Walker was in Harrisburg this week at the invitation of Governor Tom Wolf to attend his budget address before the Joint Session of the General Assembly, followed by a luncheon held at the Governor's Residence.
The Beaver Countian left messages for Mayor Dwan Walker but has been unable to reach him for comment.
The Pennsylvania Statewide Investigating Grand Jury is convening next week to begin hearing testimony about alleged corruption in Beaver County, although the precise topics to be covered are not yet clear due to the secretive nature of the proceedings.
See Also:
– Editorial: The Naked Emperor Of Aliquippastan
– Chairman Of Aliquippa Zoning Board Resigns – Expresses Concerns For City
– Mayor Dwan Was At The Inauguration – Where The Hell Were You?
– You'll Never Guess Where Aliquippa's Mayor Is Headed To Next
– Aliquippa Mayor Calls For Boycott – Beaver Countian Begins Receiving Death Threats
– Aliquippa Mayor Says He's Filed Criminal Charges Against The Beaver Countian
– Inspection Of Aliquippa Mayor Walker's Ethics Statements Raise Questions
– Source: Aliquippa Mayor Dwan Walker Called At Midnight And Threatened Me
– Update: The Tweets And Mayor Walker's Claim Of Criminal Charges
– Aliquippa Police Refusing To Hand Out Cards With Mayor's Campaign Slogan
– Sources: Aliquippa Police Department Has Been Thrown Into Chaos
– Seismic Mapping: Devices Left In People's Yards Causing Alarm In Aliquippa & Hopewell
– Aliquippa Cited After Lying To The Department of Environmental Protection
– Cleaning Woman: Aliquippa City Building Is Nasty And Unhealthy